The Best Drones for Kids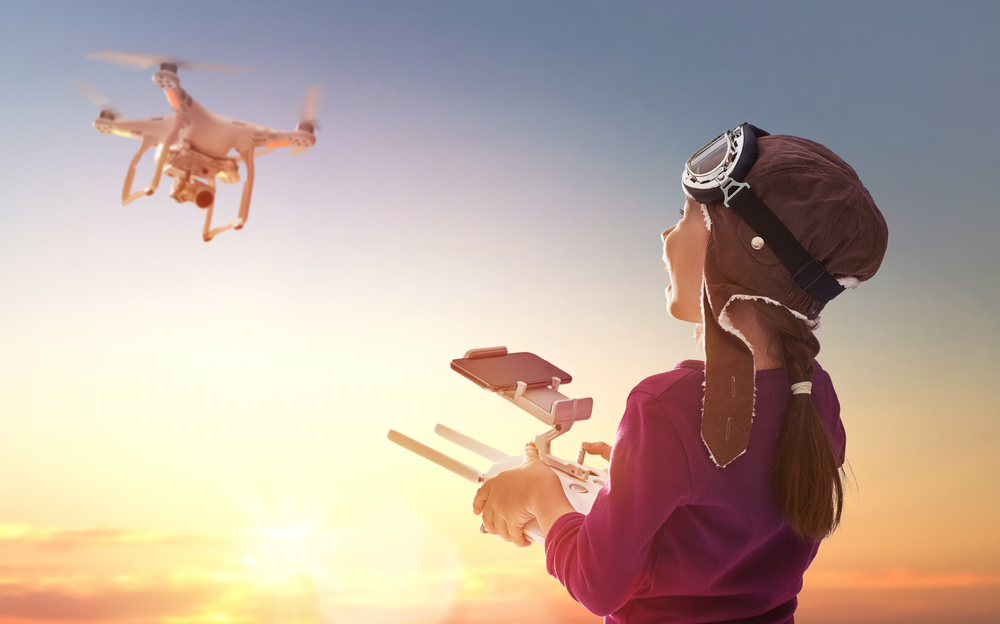 Not just for the biggest kids anymore, drones are taking over the world of kid's toys, too. With options ranging from the simplest, most child-friendly drones to more complex ones, drones are a great option for kiddos interested in exploring drone flying. Additionally, they're excellent toys for introducing a youngster to photography, videography, and geography, and they're perfect if you're trying to help develop a love of the environment in your child. Drones show a unique perspective that can't really be found in any other way. And if you're looking for a toy that'll really create some positive one-on-one time with your growing youngster, drones are definitely a great option. After all, there's nothing more bonding than mutually exploring a toy that excites both of you equally.
Potensic A20 Mini Drone
Our favorite kid's drone on this list, this drone features all the bells and whistles when it comes to a kid-appropriate drone.
The Potensix A20 Mini Drone is number one on this list due to the fact that it offers the perfect blend of functionality, durability, and truly fantastic image clarity. It's quality that's unmatched when it comes to a drone that's appropriate for your child. With stabilizing features such as altitude hold, one key take-off and landing, and multiple speeds, this is a drone that's ideal for learning how to fly one. It's also insanely lightweight, making it easy for small hands to hold and ideal for taking with you to scout out new and exciting locations to fly and explore.
Pros:
Three different flight speeds.
With headless mode, you can control this drone with a remote controller.
Budget-friendly option.
Cons:
The drone's battery life isn't the greatest.
Force1 Scoot Hand-Operated Drones for Kids
Fully surrounded by a cage, this drone keeps the safety of your youngster's small fingers in mind.
This hands-free mini drone is an absolute blast as far as kid-friendly drone options go. With infrared sensors to avoid objects, this drone feels a bit like an extra-terrestrial flying unit. And don't worry if it accidentally bumps into something – it has a webbed shell that totally protects it. Curious how it works to fly this guy? All you have to do is gently nudge it into the air. It'll fly with no aid from a remote control; rather, it moves with motion sensors, so all you have to do is move your hand on the side or under the drone.
Pros:
Only takes 45 minutes to charge.
Easy hand-operation for beginners and kiddos.
The webbed features fully protect little hands.
Cons:
Although the charge time is quick, the battery life is pretty short
Force1 UFO Mini Drone for Kids
The lights on this are almost extra-terrestrial. We're in love.
An awesome little stunt drone for beginners, this mini has 2 speeds, an easy-to-control remote control, and a super portable design. The remote itself is compact and easy to grip, even for small hands. It's a really fun drone to fly at night, too, as the LED lights work to light this drone right up. With 360-degree flip performance and 18 minutes of fly time, you'll get some pretty fun, unique footage. Don't worry about tiny fingers getting in here, either. Thanks to its propeller guards, this is an extremely safe and durable drone.
Pros:
Great stunt drone for both indoor and outdoor use.
Altitude hold and a headless feature mode for easy, beginner-friendly flying.
Surprisingly durable.
Cons:
The range from the remote is not the greatest. Fly too far away, and it'll immediately disconnect from the remote.
Snaptain SP300 Mini Drone
As a mini stunt drone, this little guy has some pretty slick moves.
If your kiddos love magic, they're going to love this drone from Snaptain. With infrared motion sensors, this self-flying drone is almost magic in its operation. Or, at least, it's easy to pretend you're making magic with the G-sensor remote controller that seamlessly controls this drone. You can even gently toss this drone for some extra fun in flying. The headless mode and snazzy lights make it easy to capture night footage. It's a drone that appears almost alien, so sci-fi loving kids (of any age) will fall hard for it.
Pros:
Control range of 150+ feet
Includes 2 detachable batteries and comes with 2 USB chargers for convenience.
Easy to control with just your hands.
Cons:
The remote's battery is not changeable, nor is it rechargeable.
Holy Stone HS210 Mini Drone
With 21 minutes of quality flying time, this drone is a definite crowd-pleaser.
We get why this Holy Stone mini drone is so popular: it's reliable, it can execute some pretty cool tricks, and it has a long flying time of 21 minutes. On top of that, it's so dang easy to fly. With an auto-hovering function, you can also fully control the drone with a remote. If you have an accident with this drone, there's a built-in emergency stop feature that'll keep it safe. It's seriously fun to learn on, fly, and gain experience.
Pros:
Charges fully in 40-60 minutes.
Control range of 164 feet.
Cons:
It takes a bit of practice and patience to learn the ins and outs of this drone's headless mode.
Frequently Asked Questions
What's the difference between drones meant for kids and drones meant for adults?
Drones meant for kids are typically more of a toy. They're meant to explore an early interest in flying a drone, but not necessarily something that's going to deliver top-of-the-line footage or flying abilities. Drones for kids are also typically lighter in weight, have extra finger protection, and are often a bit more durable to make up for a possible increase in bumps and jolts as your little one gets the hang of flying. Although all drones have fun, unique features, we also found that kids' drones tend to have a bit more flashy lights and designs, making them fun to fly and fun to look at.
What should you look for in drones meant for kids?
When it comes to drones designed for kids, there are three must-have characteristics: durability, functionality, and ease of use. You want to have a drone that is steady, has built-in or included safety features (propeller guards, for example), and delivers quality footage. And for complete beginners, you might want to start with one that isn't too pricey. You never know what could happen when learning how to fly a drone.
And as a side note, it can be nice to find a drone that has a quick charging time. As drones don't typically have long flight times, having to spend hours charging it before you use it is a pretty big drag.
What age range is appropriate for a kiddo's first drone?
Depending on your particular youngster, parenting styles, and level of interest, drones are an awesome gift to give your child starting around age eight. While they might require some supervision, kids are typically and understandably fascinated with drones. Plus, the footage they can collect can help to get youngsters interested in geography, physics, engineering, the environment, and photography. You will, of course, want to go over proper protocol for flying a drone before using one. This is true for any age, regardless of it being a toy or not.