The Best Portable Photo Printers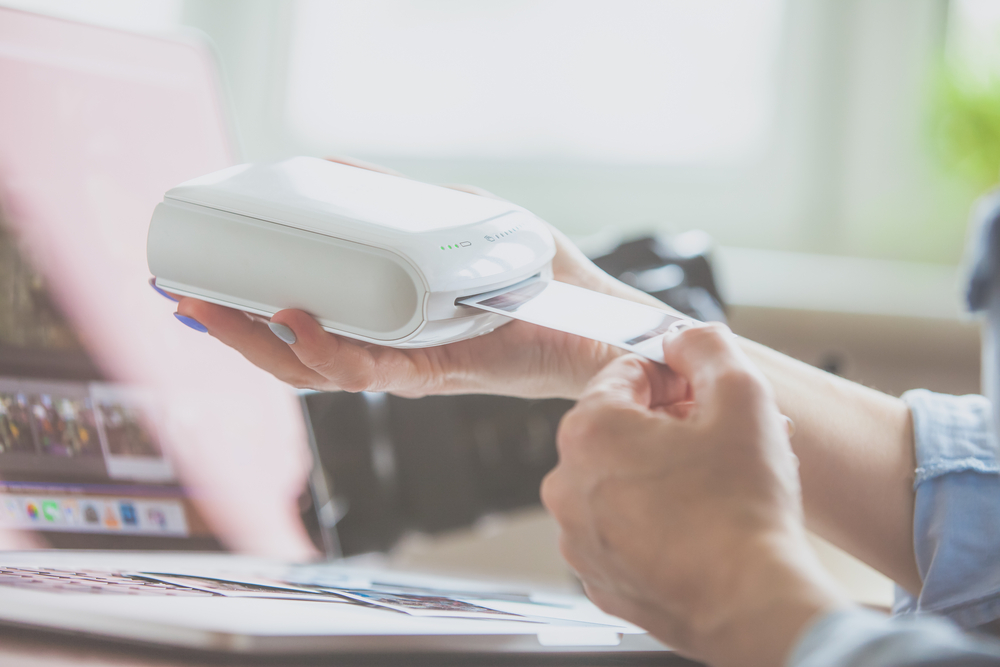 Are you that friend who always takes a million pictures because you love displaying them all over your home and office? If so, then you definitely need a portable photo printer in your life. Much more compact and lightweight than a regular photo printer, this type of printer is designed to be easy to use and easy to transport everywhere, making it a total breeze to print high-quality photos right from your Android or iPhone. Of course, not all mini-photo printers are created equal; some print higher-quality photos, boast better connectivity, and have more options for filters and frames than others. To help you make the most informed buying decision possible, we've rounded up the best of the best in portable photo printers.
Kodak Portable Photo Printer
It's no question that this Kodak printer produces the best-quality photos.
The Kodak Portable Photo Printer is, hands down, the coolest portable photo printer around. With nifty one-touch printing, you can print all your favorite photos directly from your smartphone. And the photos it produces are always high-quality, vibrant in color, and stunning in detail. Unlike with other mini-photo printers, the photos don't run or bleed easily (a must-have feature). And, not to mention, the dock design is very innovative: it's a charger and printer, all in one, so you can power up your smart devices while printing photos. Gone are the days when you had to transfer files to a computer or memory card. With this sleek, portable printer, all you have to do is plug in your Android or iPhone, press a button, and let the photo-printing magic begin.
Pros:
One-touch printing
Prints truly high-quality photos in brilliant color and detail
Thanks to the D2T2 thermal transfer technology, the photos don't bleed or fade
Dock has a 5-pin micro-USB, so you can power up to two smart devices
Compact and sleek enough to be able to take it anywhere
Cons:
It only prints one-size photos (4 x 6)
KiiPix Portable Photo Printer
The KiiPix may be low-cost, but that doesn't mean it's low-quality.
Boasting a fun, retro-fabulous design and full-scale functionality, the KiiPix Portable Photo Printer may be affordably priced, but it's of a similar caliber as the more premium options. Apart from being an excellent value buy, this printer is super-easy to take with you on the go, since it neatly folds up flat and doesn't require batteries or cords. It also allows you to edit and add fun filters to your photos, and the credit card size is perfect for your wallet or fridge. It also makes great gift photos. Talk about making forever memories.
Pros:
Exceptional value
Instantly scan retro-style photos from your smartphone
No batteries or cords required
Compact, sleek design that folds flat for easy transport
You can add fun filters to your photos
Credit-card size photos are the ideal size for wallets
Cons:
There's definitely a learning curve when it comes to operating this printer (for instance, you have to make sure that your phone's brightness is turned all the way up before printing)
Fujifilm Instax Smartphone Printer
With the Fujifilm Instax Printer, it's easy (and fun) to preserve your memories via photos.
Best Compatible with Instax Cameras
Impressively, the Fujifilm Instax Smartphone Printer can print any photo from your phone in just 12 seconds and can even print photos from your videos. This printer is also great to have on hand if you have a big batch of photos that you've been meaning to print since 100 photos can be printed continuously on a full charge. It's also very easy to use, allowing you to zoom in or out, make collages and split prints, and easily customize your photos with up to 30 colorful frames. Not too shabby.
Pros:
It's super-easy to print photos, using the Instax Mini link app
Has Bluetooth capability
You can add fun frames, filters, and other adjustments to all your photos before printing
Boasts a quick printing speed of just over 10 seconds
Prints on glossy photo paper
Cons:
You do have to be very careful not to take the paper out of the printer until the photo is finished
Victure Portable Photo Printer
Don't waste time on connectivity issues. Instead, just get this Victure mini-printer.
Best Connectivity Options
For a mini-photo printer with versatile connectivity options, you can't go wrong with the Victure Portable Photo Printer. This printer can print up to 40 photos when it's fully charged using the Instant Color app via Bluetooth. It also supports Android and IOS smartphones. Once you're in the app, you can edit your photos as you see fit, adding filters, emojis, and even stickers and subtitles. Conveniently, this printer takes just an hour to charge, and it comes with an ink cartridge and 10 sheets of photo paper.
Pros:
This printer supports IOS and Android smartphones and has Bluetooth connectivity
Can print up to 40 photos when fully charged (and it takes just an hour to charge)
In the Instant Color app, you can edit photos, add emojis, add filters, and decorate your photos with stickers
You get 10 sheets of photo paper and an ink cartridge included with the printer
Sleek size, at just over 10 ounces and 5 inches long
Cons:
The photos are a bit on the small side
Canon Compact Photo Printer
This premium printer from Canon is everything you need, and then some.
Easily one of the best portable photo printing tools that money can buy, the Canon Compact Photo Printer is your ticket to accessible, high-quality photos that can be printed on the fly, from anywhere. Unlike with most other mini-photo printers, with this Canon model, you can choose between multiple size options for photos: 4 x 6 inches, a 2.1 x 2.1-inch square, and even sticker paper. The sleek user interface makes this printer easy to use, with its intuitive control panel and tilting 3.2-inch LCD screen. Handily, you also have several printing options, so you can print photos from your phone using AirPrint, a memory card, and even Facebook and Instagram.
Pros:
Super-sleek design
There are various photo size options to choose from
The interface is really user-friendly
You can either print from Facebook and Instagram, your phone, or your camera's memory card
The photo paper is water-resistant
Cons:
The price point may be inaccessible for some
Frequently Asked Questions
Do portable photo printers print the same-quality photos as regular printers?
Yes, some portable printers are capable of producing the same-quality photos as traditional-sized printers, but the biggest difference is that many of them print smaller photos than the standard 4 x 6-inch or 5 x 7-inch prints.
Do I have to download an app to use a portable photo printer?
Some portable photo printers require that you download an app while others do not. Most options can connect to your smartphone via Bluetooth, so you can print photos super-quickly.