The Best Rowing Machines for Your Home Gym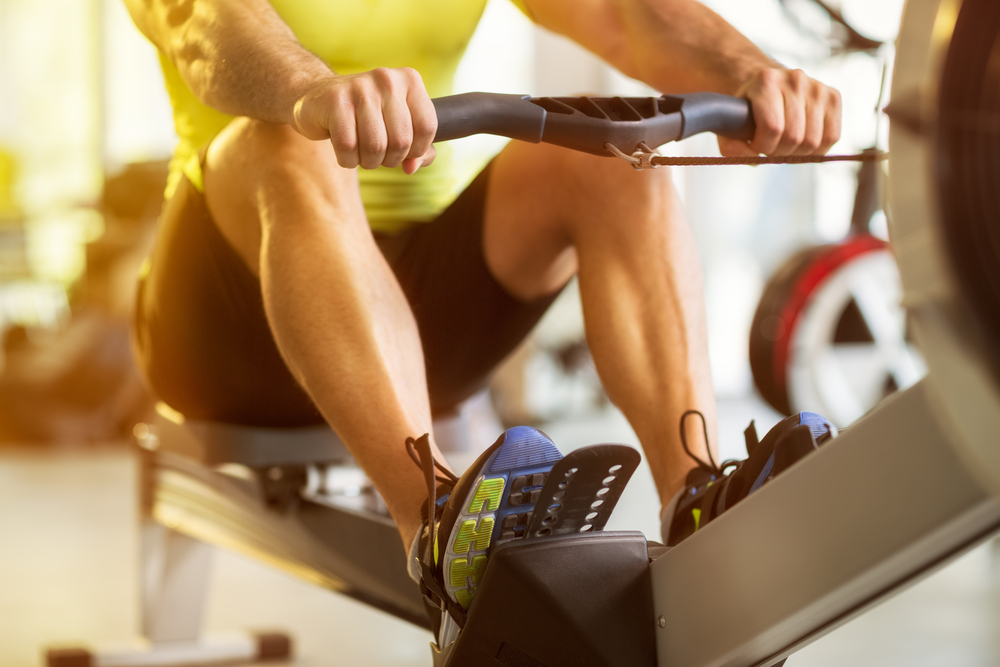 Nothing gets you toned like a rowing machine. These simple machines strengthen your back, shoulders, legs, and even the core, so you can achieve that coveted "rower's bod". If you're on the hunt for one you can use in the privacy of your own home, you have come to the right place. The market is flooded with options, but we don't want you to get stuck with one that doesn't perform, so we've decided to whittle down the list to the best of the best. Read on to discover our top five favorite rowing machines, from the best on a budget to the fanciest high-tech option.
Sunny Health & Fitness Magnetic Rowing Machine with LCD Monitor
The extra-long slide rail and pulley tension system make this pick from Sunny Health And Fitness the ideal option for tall folks.
Being tall might be glamorous, but it comes with a unique set of challenges. For one, folks with their heads in the clouds need extra-long pants. They also need extra-long slide rails on their rowing machines. That's where Sunny Health & Fitness comes in. Their pulley rowing machine features a 48-inch-long slide rail that can accommodate folks of just about any dimensions. And the comfy seat, too, can accommodate butts of just about any caliber. This pick is another great overall option, with an easy-to-adjust magnetic resistance system and wide foam-grip handlebars for comfort while you pump those muscles.
Pros:
Quiet, magnetic resistance
Fairly simple setup
Stable, solid build
Extra-long rail
Cons:
Calorie-counter is inaccurate
Fitness Reality 1000 Plus Bluetooth Magnetic Rowing Machine
For techies that like to keep track of their workouts, we recommend the Fitness Reality 1000 which offers accurate metrics and a free workout app.
Looking to take your workouts to the next level? You might want to consider a rowing system that includes fitness tracking via phone app. This pick from Fitness Reality has Bluetooth connectivity for keeping track of progress and goals. Better yet, it sports footpads on the front for additional exercises, like shrugs and tricep extensions. And if you think such a fancy-pants machine should cost a fortune, think again. Though not the cheapest on our list, this pick is surprisingly affordable considering the range of exercises and fitness tracking that it offers. Ditch the pen and paper. It's time to go digital.
Pros:
Wide range of possible exercises
Includes free fitness app
Folds for storage
Cons:
Max setting offers medium resistance
Lanos Hydraulic Rowing Machine
Easy to assemble, easy to fold, and supreme in design, this lean machine from Lanos is one of the best on the market.
In the world of rowing machines, Lanos is leagues ahead of the competition. Few other options even come close to achieving such convenience at such an affordable price. For example, the entire unit takes only minutes to assemble, so you can start rowing the day it arrives. Lanos also scores top marks in the space-saving category. With a foldable, lightweight design, it's easy to store the unit in even the closest of quarters. Plus, this machine can handle a wide range of body types, from folks as petite as 4'2″ to those as tall as 6'7″. Best of all, thanks to the flexible handles, you can work different muscle groups. When you come across a rowing machine as affordable and effective as this one, we say grab one while you can, while it's still in stock.
Pros:
Great value for the price
Easy to assemble and store
Twelve levels of resistance
Cons:
Velcro foot straps are a bit flimsy
Sunny Health & Fitness Adjustable Resistance Rowing Machine with Digital Monitor
Those strapped for cash and in need of a workout machine should consider this super affordable option from Sunny Health & Fitness which offers adjustable resistance and a smooth-gliding rail system.
Sunny Health & Fitness has made it onto our list yet again, this time with their affordably-priced inclined row machine. And although the price is low, this pick is anything but cheap. With a sturdy construction, quiet operation, and compact design, the RW1205 helps cut back on the costs of fitness. It also sports a surprisingly smooth-gliding rail system and wide handlebars for targeting different muscle groups. Of course, at this price range, you might find the maximum resistance to be a bit lacking. That being said, those looking for a machine that can deliver effective low-impact aerobic exercises for a bargain price, here it is.
Pros:
Very affordable
Folds up very compactly
Solid, sturdy construction
Cons:
Seat is narrow
Low-impact resistance
MaxKare Magnetic Rowing Machine Folding Exercise Rower
If you're looking for some serious gains and a higher range of resistance levels, your best bet is this precise machine from MaxKare.
This pick from MaxKare is another fantastic overall option that offers a little extra in terms of resistance control. With a whopping 16 different resistance settings, from light to heavy, this machine can help you fine-tune your workouts as your fitness improves. Great for those that prefer lower-rep sets, this pick can function as both a strength-building buddy and an aerobic machine. Quiet, heavy-duty, and highly adjustable, the MaxKare Rowing Machine is a modestly-priced machine that makes those rigorous workouts a tad bit easier.
Pros:
Range of 16 resistance levels to customize as you get stronger
Smooth and quiet action so you won't disturb your family, neighbors, or roommates
Easy to assemble
Cons:
Frequently Asked Questions
Will a rowing machine help me lose weight?
Rowing machines can absolutely help with weight loss. When coupled with dieting, workouts on a rowing machine will boost cardiovascular health and burn fat. If weight loss is your aim, we suggest trying moderate resistance and longer sets. That way, your metabolism will adjust to the aerobic movements and tap into fat cells for energy. In other words, place cardio before muscle-building and you'll start to lose weight.
Which muscles do rowing machines work?
Rows are considered a compound exercise, meaning they work more than one muscle group. The primary muscles targeted in a row are the deltoids, traps, and lats. These are the muscles of the upper back. Rows can also strengthen the biceps, pecs, and legs. Basically, rowing machines provide a full-body workout with an emphasis on the back muscles. However, much of this comes down to whether or not you're using proper form. Be sure to do everything you can to improve your form, whether this means by getting help from a professional trainer or using online resources to learn up on the matter.
Are rowing machines dangerous?
With compound exercises like rows, there are a finite number of ways to do them correctly and an infinite number of ways to do them incorrectly. Over the course of many sets, improper form can damage ligaments, joints, and muscles, so make sure to research proper form. We recommend setting up your rowing machine in front of a mirror, to make sure your back is straight and your shoulders aren't rounded forward during the finish.
That being said, don't let the dangers dissuade you. The learning curve isn't very high, and once you get the form down, your muscle memory will do the rest.