The Best Solar Chargers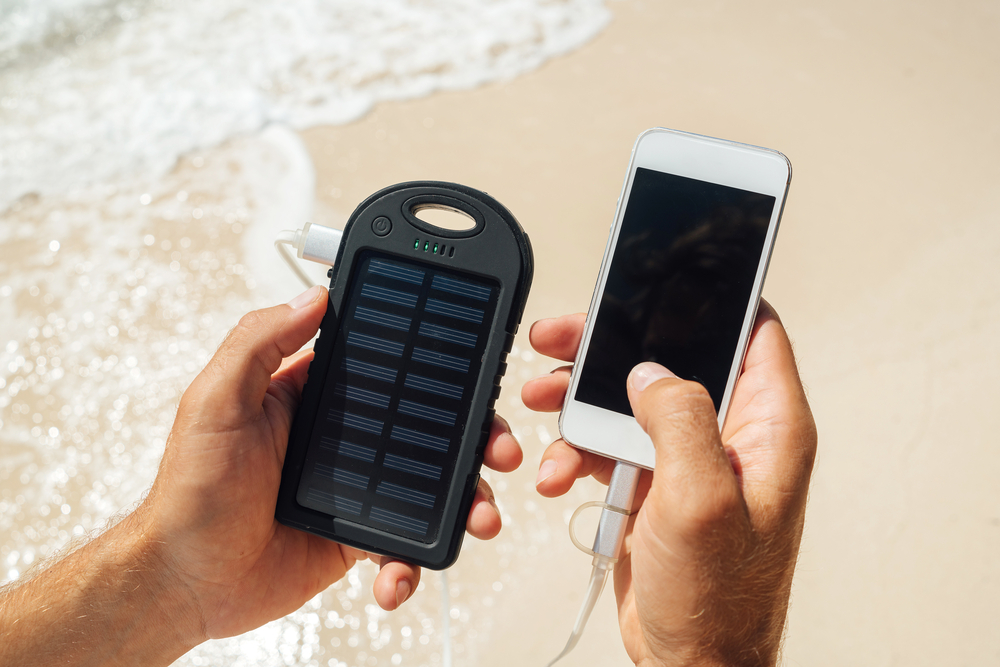 If the prospect of freeing yourself from your reliance on wires and, well, the electrical grid at large appeals to you, read on. Though it may be a frustratingly long time before civilization supplants the old energy systems, in the meantime, large progress has been made in bringing renewable energies into the homes of everyday people. One such example is the development of solar chargers. Buy yourself one of these bad boys and you've bought yourself the ability to passively collect energy from that big, bright yellow ball in the sky. We've researched the best solar chargers on the market today and whittled down the list to a few of our favorites, so if you're looking for a solar charger to power your devices, we're here to help.
Blavor Qi Portable Charger
Enjoy being on the cutting edge of tech developments? This device combines wireless charging and solar energy in one.
Are you searching for an inexpensive solar charger that's also powerful? How about one that'll charge your devices wirelessly? It sounds like a lot to ask, but there is one option out there that fits the bill. If you want all the best features, then you're going to love the Blavor.
This charger combines two emerging technologies (solar and wireless charging) into an affordable power bank that's jam-packed with other features, too, like a pair of built-in flashlights and a compass kit. What's more, aside from utilizing the sun itself to charge the device up to full, you can also plug it into the wall if you're in a rush. That'll make this sucker juice up faster.
Pros:
Can charge devices either via Qi wireless technology or through its two USB-C inputs
The IPx4 waterproof rating means that it won't corrode or die on you if it gets splashed by some stray water droplets now and again
Cons:
It's primarily intended to be used as an analog charger since the solar charging takes a long time.
All things considered, it's a bit bulky
BigBlue 28W Foldable
Foldable, lightweight, and efficient, this popular panel is one of the better ones you can find for the money.
Anyone in the know will you tell you that unless you're willing to spend hundreds, you're going to be limited on what a renewable energy source can do for you. That said, many of us are aware of that ceiling and acknowledge the inherent limitations of a normal person's budget. But with the BigBlue, renewable energy is within reach.
Weighing only 20.6 ounces, this foldable panel is lightweight, yet efficient, and best of all it folds. Fold this thing up and stuff in your backpack wherever you go – picnic, beach, hikes – and you'll have a charger by your side and a charged device in your pocket.
Pros:
The 3 USB ports allow for multiple device inputs at once
Smart charging technology can recognize your device and adjust the output voltage accordingly to optimize how quickly it charges
Cons:
It won't work well during foggy or cloudy days, but this limitation applies to all solar devices, not just this one
Included carabiners could be of a better quality
Kilponen 26,800mAh Solar Power Bank
Those looking for a high-capacity power bank with solar-charging capabilities might want to take a look here.
Surely you've noticed those bulky but compact battery packs the youngsters are toting around in the parks, on the subways, in class, and in the cafes. These power banks store a whole lotta juice for whatever kind of USB-powered charging you might need to be doing. Whether you're charging earbuds, your mobile phone, or some other device, these power banks will do the job on the go.
As the name suggests, this battery pack is no regular battery pack. Instead, it's capable of generating its power from sunlight. Traditionally, a power bank is plugged into the wall, just like any old electronic. Sure, this one takes a long (and we mean long) time to charge up, but if you're okay with being patient, then you've got a friend in this one.
Pros:
Includes a 24-month warranty from Kilponen
Small enough to carry around in day-to-day life
Cons:
Though it's quite inexpensive, consider the old adage: you get what you pay for
Goal Zero Nomad 5 Portable Solar Kit
Whether you're taking to the trail or simply teaching your fellow city-slickers a thing or two about renewable energy, this one's the one to strap to your backpack.
So you're planning to hit the trails, pack in tow, and you decide you'd like to integrate a little bit of solar charging into your trip. The idea makes sense: whether you strap a portable panel to your pack or leave a larger panel setup at basecamp, there'll be sunlight galore, so why not take advantage of it? If that's the case, you'll likely want to look to Goal Zero's Nomad 5, which touts a 5-Watt panel design that'll absorb sunlight and convert it to usable energy as you go about your day enjoying nature's bounteous delights.
Pros:
The integrated kickstand is adjustable, so you set it at the exact angle you want for optimal solar collection
On average, a full battery can provide a full charge to most smartphones
The included power bank where the collected energy is stored is free (albeit small)
You can connect and charge a device while the panel is collecting sunlight
Cons:
A bit costly, but truly one of the best quality options out there – especially for outdoors enthusiasts
LuminAid Packlite Hero 2-in-1 Supercharger
This inflatable, solar-powered light is a phenomenal gadget for backpackers and day hikers looking to save pack space while doing good by the environment.
Backpackers are particularly concerned with minimizing the size of their gear to free up pack space. When you're on the trail, the less bulky your pack is, the better (especially after mile 9). Serving as a 2-in-1 inflatable lantern/electronics charger, LuminAID's PackLite lantern is one of the best options a backpacker has when it comes to on-trail lighting. Strap this lantern down to the outside of your pack at the beginning of your day and it'll collect that sweet, sweet sunlight to power up the battery. Feel like bringing along your phone, a digital camera, or any USB-chargeable electronic at all? No problem. The PackLite's 4,000mAH battery can charge up your electronics while the lantern is illuminating your campsite. Pretty neat, right?
Pros:
Light is quite bright
Inflates to a cube shape when in use. When you deflate it, it packs down to 1″ thick, so it's quite compact
Great to use as a makeshift patio light or for late-night card games on the porch
Cons:
A bit heavy, so ultralight backpackers will likely want to look elsewhere
Frequently Asked Questions
Can I use my solar charger indoors?
Actually, yes. As long as your charger has a consistent, unobstructed view of the sun, it'll charge. As you might expect, it won't be as efficient as if you were to charge it outdoors, directly in the sun, but that's okay. Believe it or not, certain kinds of artificial light will work to charge up a solar charger, too, but they have to be powerful and quite close to the charger.
How do solar chargers work?
Solar chargers utilize panels composed of photovoltaic cells. These are capable of generating small amounts of electricity when they're exposed to sunlight. The components of a solar charger transform this electrical current into usable energy which is stored in the unit's battery for later use.