The Best Wrench Sets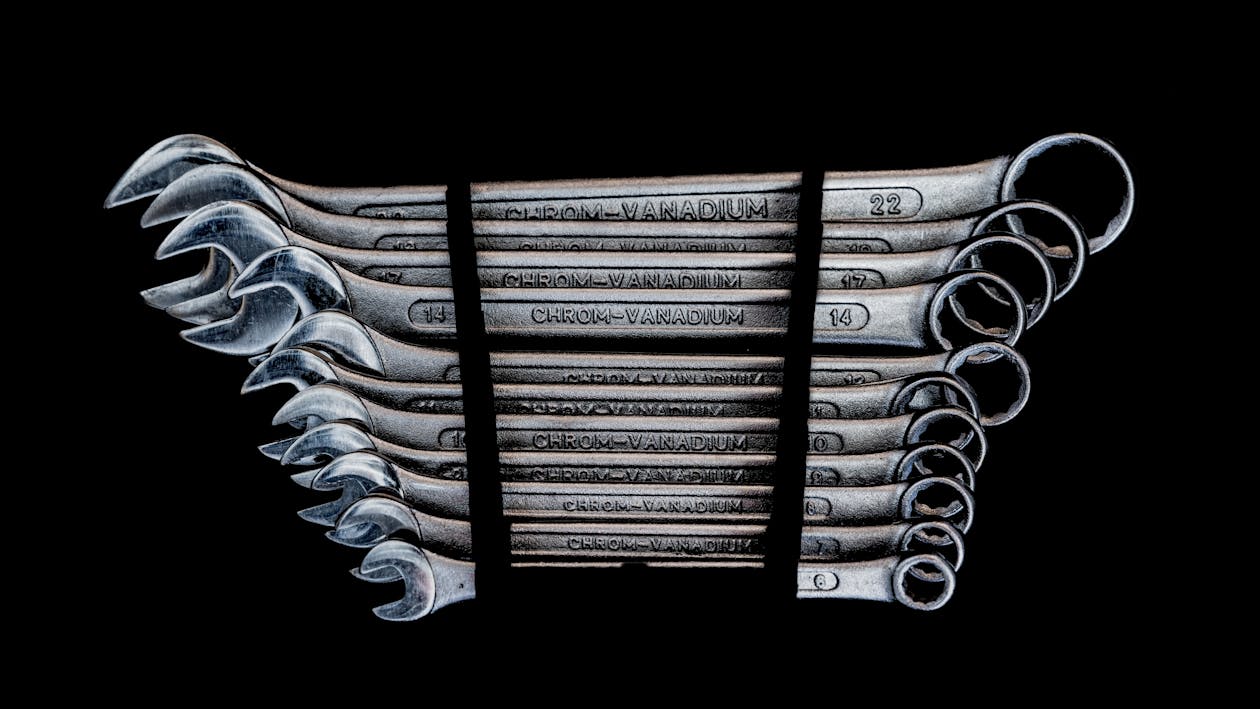 It is our humble opinion that every garage and toolbox should include a quality set of wrenches. These precise metal tools come in handy in far too many scenarios to list. And since wrenches have been around for centuries, it should come as no surprise that the market is flooded with different options. Some wrench sets are better than others, so we decided to whittle down the options to the best of the best. Read on to discover our top five favorites, from the Best Overall to the Premium Pick.
GearWrench 20pc Ratcheting Wrench Set
This 20-piece set of ratcheting wrenches includes both metric sizes and SAE sizes, so you'd be hard-pressed to find a bolt that these can't twist.
For some of us, it can be hard to get excited about wrenches. GearWrench seeks to change that. This 20-piece set is the kind of toolkit that would make your hard-working forefathers proud, because not only are these polished steel wrenches strong and ready for work, but they're also incredibly versatile. The full set includes 10 metric sizes and 10 SAE sizes so that you can tackle projects from around the globe. And to make your life easier, these are ratcheting wrenches with pass-through heads. Fastening nuts onto long threads has never been faster. Best of all, this set comes at a killer price point, so we say grab one while you can.
Pros
The polished steel construction looks good and holds strong
The combination heads feature a "Pass-thru" design that allows you to work nuts down lengthy threads
Bonafide ratcheting wrenches, so you can just slip them over the nut and crank away
The size range is ideal for most projects, covering 6mm through 18mm and 1/4in through 3/4in
Cons
The packaging is frustratingly excessive and difficult to open
No carrying case, but you can just place them in a cloth bag
Grip 7pc Super Thin Wrench Set
For an inexpensive and super portable wrench set, we recommend this option from Grip.
Bulky wrenches just won't cut it when you need to reach into narrow gaps and hard-to-reach angles. They're also a pain in the butt to travel with. That's why we recommend this 7-piece set from Grip, which features a thin profile, low weight, and high-strength performance. Each wrench is about 1/8-inches thick, which, for those that don't know, is really thin. Seriously, these handy, double-sided wrenches can save you from a lot of grief when your workspace is limited. So rather than removing the entire engine block just to reach that narrow little bolt, try a super-thin Grip wrench instead. And even if the thin profile doesn't save you a couple of extra steps in your garage-project, this option is still a steal of a deal for those looking for something light in weight and affordable in price.
Pros
An attractive price point for those shopping on a budget
Although they're thin, they're still quite strong and can twist some seriously tight bolts without breaking
The entire 7-piece set is only 2.2 pounds in weight, so it's perfect for tossing in your tool kit
Cons
The wrenches are only in SAE units, though the range of 14 sizes is still impressive
Dewalt 8pc Combination Wrench Set
This set of wrenches from Dewalt comes complete with a heavy-duty storage case so you can stay organized and ready for work.
Of course Dewalt made it onto our list. Are you surprised? This company has been one of the leading names in quality hardware for decades, and with this beautiful 8-piece wrench set, the legacy lives on. Each wrench in this set features precise manufacturing and strong chrome construction. They look especially handsome when they're lined up in their trusty carrying case. Speaking of the carrying case, this one is shatter-resistant, durable, and lightweight. It also features a transparent lid, so you can make sure you're not forgetting any wrenches during those grab-and-go jobs. The ideal option for those that are sticklers for organization, the Dewalt Wrench Set is a must-have.
 Pros
The eight high-quality combination wrenches feature "DirectTorque" technology, which prevents the rounding of the teeth
The price is hard to believe considering the quality of the wrenches and case
Each wrench has a "hashmark" pattern on the handle that improves the grip
Cons
Available in both metric sizes and SAE sizes, but not both in one kit
TackLife 32pc Combination Wrench Set, Metric and Standard
Those that want a wrench set for nearly every conceivable nut and bolt size should take a look at this 32-piece set from TackLife.
Nuts and bolts come in all shapes and sizes, so you're going to need a wide range of wrench sizes. If you want maximum coverage, go with this set from TackLife. It has 16 metric wrenches ranging from 7mm to 22mm in size, and 16 SAE wrenches ranging from 1/4-inch to 1-inch in size. Better yet, each wrench is made from chrome-plated vanadium steel that ensures it's tough enough for the tightest of nuts. And although these are exceptionally strong wrenches, they're also surprisingly thin in profile and can fit into narrow spaces. As a bonus, TackLife throws in two organizational rolls with markings to quickly identify the size you need. With so many different sizes, this option is the kind of toolset that you buy for life.
Pros
The high-quality and precise construction of these wrenches cannot be overlooked, with chrome plating and vanadium steel
Although it's a lot of wrenches, keeping them organized is easy thanks to the two storage rolls
Considering the sheer quantity of wrenches and the high quality of the set, the price is actually quite low
Cons
The wrench handles are pretty long (for added durability), so you might have to make smaller turns when working in tight spaces
ToolGuards 22pc Ratcheting Wrench Set
These ratcheting wrenches from ToolGuards are the real deal and feature 22 quality wrenches made out of chrome vanadium steel.
Ratcheting wrenches can be hit-or-miss. Many just don't work as smoothly as we'd like, while others only turn in one direction. This pick from ToolGuards defies expectations. These 22 ratcheting wrenches offer all the smooth-turning tightening you could hope for. Better yet, they have a lever located at the bottom of the head to switch direction on the fly. It's an incredibly useful piece of hardware that can really save a lot of sweat. Plus, these ratchet heads have a thin profile to allow for greater access to tight spots. And just to sweeten the deal, ToolGuards includes a quality tool roll to keep all your wrenches organized.
Pros
This premium set is made to last, thanks to the chrome vanadium steel construction and the nearly un-strippable ratchet heads
The ratchet gears themselves are also tough and have 90 teeth each for greater versatility and precision
The reversible direction of the ratcheting wrenches is handier than one might expect
Cons
The price is steep, but worth it for those that won't settle for anything less than the best
Frequently Asked Questions
What are the different types of wrenches?
We included three different types of wrenches on the list above. The most typical wrench is the open-end wrench. These wrenches are usually double-sided and feature a U-shaped opening. Then, we have combination wrenches. This type of wrench has an open-ended wrench head on one side, and a "box-end" or "ring spanner" on the other. This latter wrench type is shaped like a circle with teeth inside. Finally, there are ratcheting wrenches. These usually have an open-end wrench head on one side and a ratcheting head on the other. Ratcheting wrenches lock in place when being turned in one direction and release when being turned in the other direction.
Should I get an adjustable wrench or a wrench set?
Adjustable wrenches are great in a pinch but don't provide the same torque strength as regular wrenches. They also are more prone to stripping bolt heads, since they can slip or loosen while you use them. Thus, to answer the question: get both.