Mass Effect: Andromeda's Animations Are Somehow Worse Than Mass Effect 3's
Video game visuals have evolved remarkably fast during the past decade. In many cases, a game made just three or four years ago looks antiquated when compared to the games that are being published today.
Perhaps the most benefiting of this are established IPs such as Uncharted, Gears of War, and DOOM who have been able to further realize their imaginative worlds with the benefits of much more powerful hardware. With Mass Effect getting its first current generation release, many were hoping for similar advancements. However, the results aren't quite what fans were expecting.
Yesterday, EA dropped the embargo for first impressions of Mass Effect: Andromeda among reviewers. While there are many disagreements on what's good and bad about the game across the more than a dozen previews, there's one thing that just about everyone can agree upon: the animations are awful.
Andromeda's animation issues apply across the board, from movement, to transitions, and even facial motion capture. What's here stands out well beyond what a low-budget game usually has, bordering on comical much of the time.
Naturally, dozens of gifs have found their way online, highlighting exactly why this has become a dominating topic in the gaming community. You can see a few of these below:
What's particularly surprising about this is that the animations are considerably worse than what Mass Effect 3 offered five years ago. While the last two Mass Effect installments might have had more rigid movements that didn't necessarily emulate reality, at the very least they didn't stick out like a sore thumb.
This is most evident with the game's supporting cast. As with other games, these cast members traditionally receive less attention in regards to character modeling and animation. In the case of Mass Effect 3 and most other AAA titles, this translates into simpler animations. Andromeda appears to have suffered a case of trying too hard, and many times its supporting cast looks, for lack of a better term, dopey.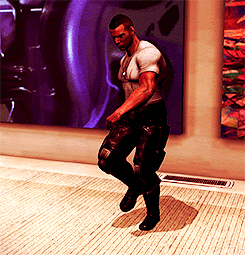 An important point to consider is that Andromeda is the first time the series has undergone an engine change by making the risky jump from the widely recognized Unreal Engine 3 to EA's proprietary Frosbite 3 engine. Originally, this move was promising as it provided great latitude for what DICE could develop in regards to gameplay and physics, with Battlefield 1 serving as a fantastic example of what the engine is capable of. However, it appears for whatever reason that there were technical challenges during Andomeda's development, some of which appear to have been unsolved.
This shortcoming is detrimental to Andromeda's delivery. Mass Effect relies heavily on its storytelling, and in terms of design its RPG elements take precedence over action and adventure. Having dialog as uncanny as it is creates a barrier to immersion that may prove deal-breaking for some.
Our reviewer, Aron Garst, has noted that while "Andromeda has a good story, it's ruined by terrible facial expressions and emotionless dialogue". If other players end up sharing a similar point of view, this release could prove disastrous for BioWare's reputation as a leader in the RPG genre. That is, unless, these problems are blown out of proportion.
Andromeda has been in development for five years. In comparison, the original Mass Effect went from starting from scratch to complete in less than four years. Where did all this time go? We'll find out on Monday when the review embargo lifts.