Robots in… a video game sequel.
Aside from blowing out my eardrums, Activision and High Moon Studios actually impressed me when they demoed Transformers: Fall of Cybertron two weeks before the Electronic Entertainment Expo. The next Transformers game from the publisher of favorites like Transformers: Dark of the Moon returns to the home-grown Cybertron series.
The War for Cybertron seems to have run a little long, and now the planet is on the brink of destruction. High Moon is keen on packing in even more fan service, with actual Dinobots joining the fray. Before I could play with Grimlock, the T-Rex that turns into a sword-swinging robot, Bumblebee steered me through the tutorial.
Transforming on the fly makes combat frantic and fun. While it'd be nice if a robot in vehicle-form controlled like the vehicle should, there's a necessary level of control held over between third-person shooting and third-person piloting.
In fact, being able to strafe in Vortex's copter form makes combat ten times more enjoyable than if you had to loop around to make another pass on some Decepticons. Vortex's section of the demo features some extremely vertical combat.
Vortex's speed makes for some excellent run-and-gun combat. With enemies flooding the sparse platforms in the level, I'd transform and fly off only to loop around, pepper the poor bots left standing around with missiles, land, melee, and then leap off the platform, only to transform and fly back around for another loop.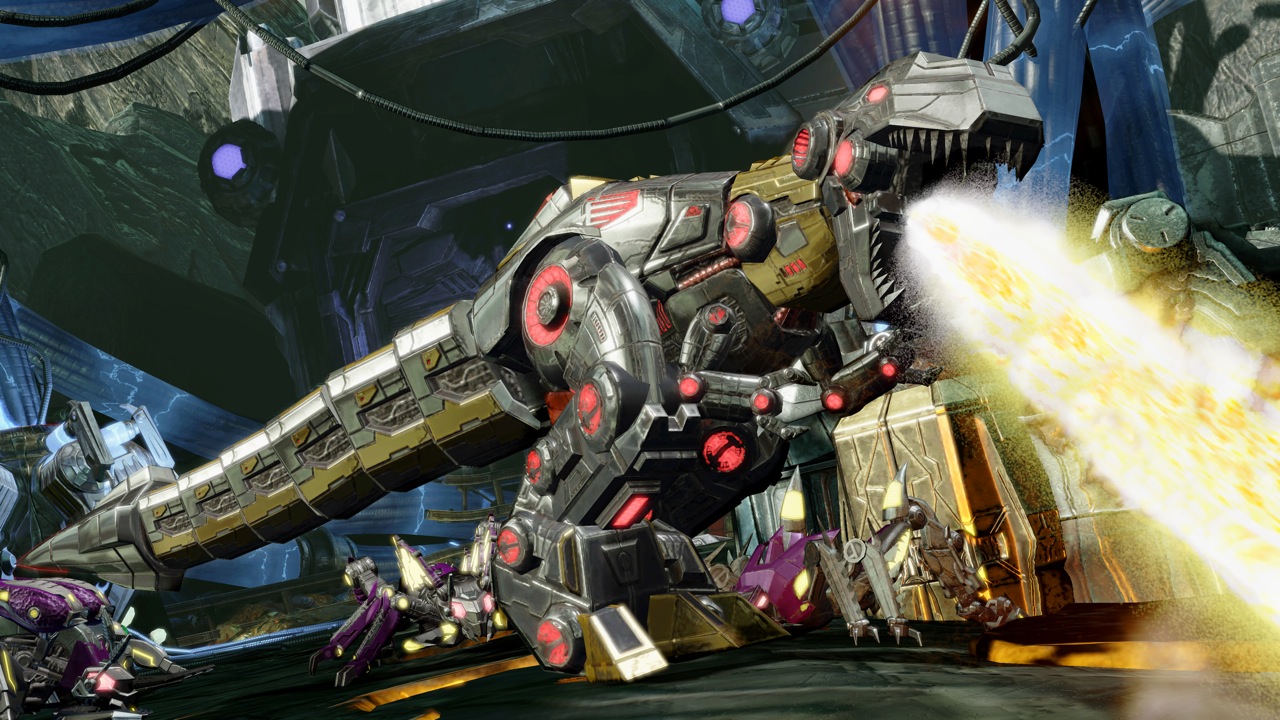 It's gameplay loops like these that made War for Cybertron so much fun. The loop for Grimlock's T-Rex transformation is a bit more hard-coded. As players melee and shield bash enemies, Grimlock builds up rage, and once enough energy is built up, players can choose to transform into the fire-spitting robot dinosaur. Grimlock's melee attacks are absolutely brutal, but High Moon have made sure to keep the controls familiar across all the bots featured in the game.
More importantly, you won't just play as your favorite Transformers, you'll also traipse across Cybertron with the main cast as well. Sure, these guys can kick ass all on their own, but players will feel more like they're part of a war with fellow Autobots and Decepticons by their side.
It seems like the best is yet to come for Fall of Cybertron. High Moon is packing a create-a-Transformer into the title and multiplayer will return with fast-paced third-person combat. We'll bring more as E3 continues this week.