The setting of Crusader Kings 3 is historical in nature, but that doesn't stop fans from wanting to make a custom character. CK2 had the feature, so you may wonder where the Crusader Kings 3 Ruler Designer. You may also want to know how character customization works in-game through the Barbershop.
Is there a Crusader Kings 3 Ruler Designer or Character Creator?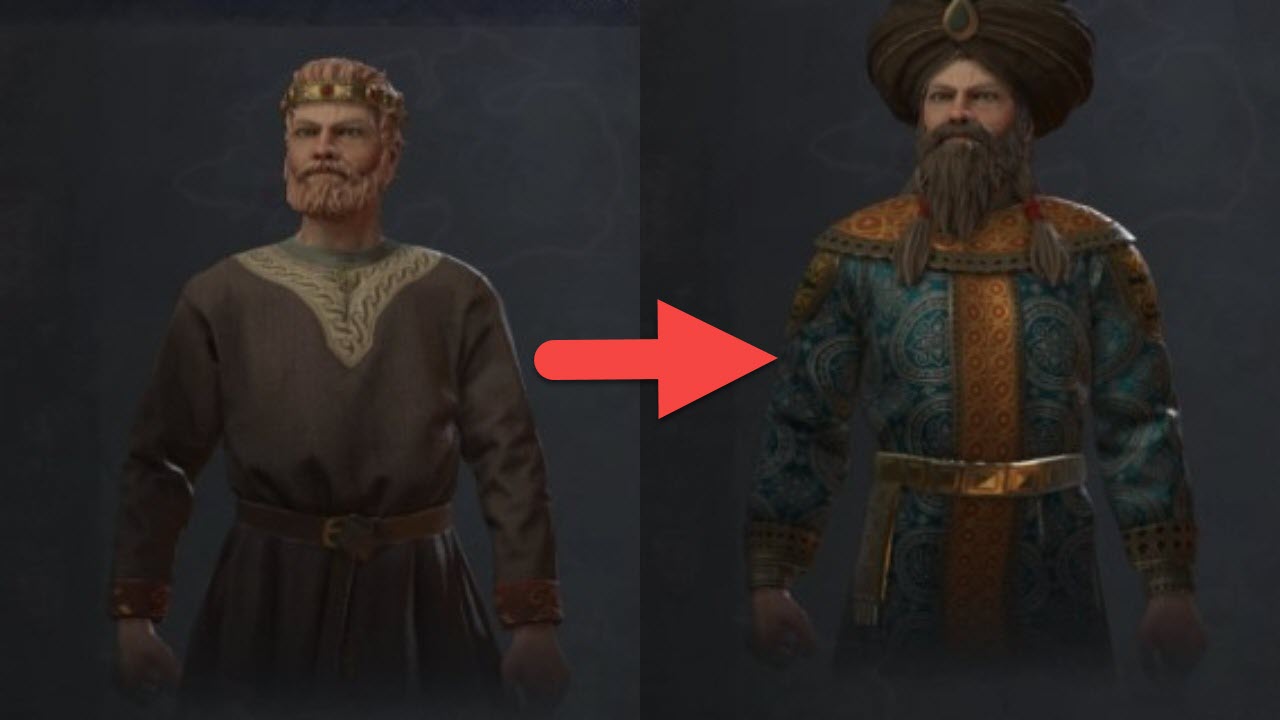 Unfortunately, at launch, CK3 doesn't have a Ruler Designer. However, there's some good news. Paradox Interactive will be releasing a Crusader Kings 3 Character Creator as a free DLC at some point in the future.
Understandably, the feature is missing at CK3's launch. The rulers in the game are much more details than the ones seen in CK2, and it's likely going to take quite a bit of extra work to make a Ruler Designer for CK3.
Is there character customization in Crusader Kings 3?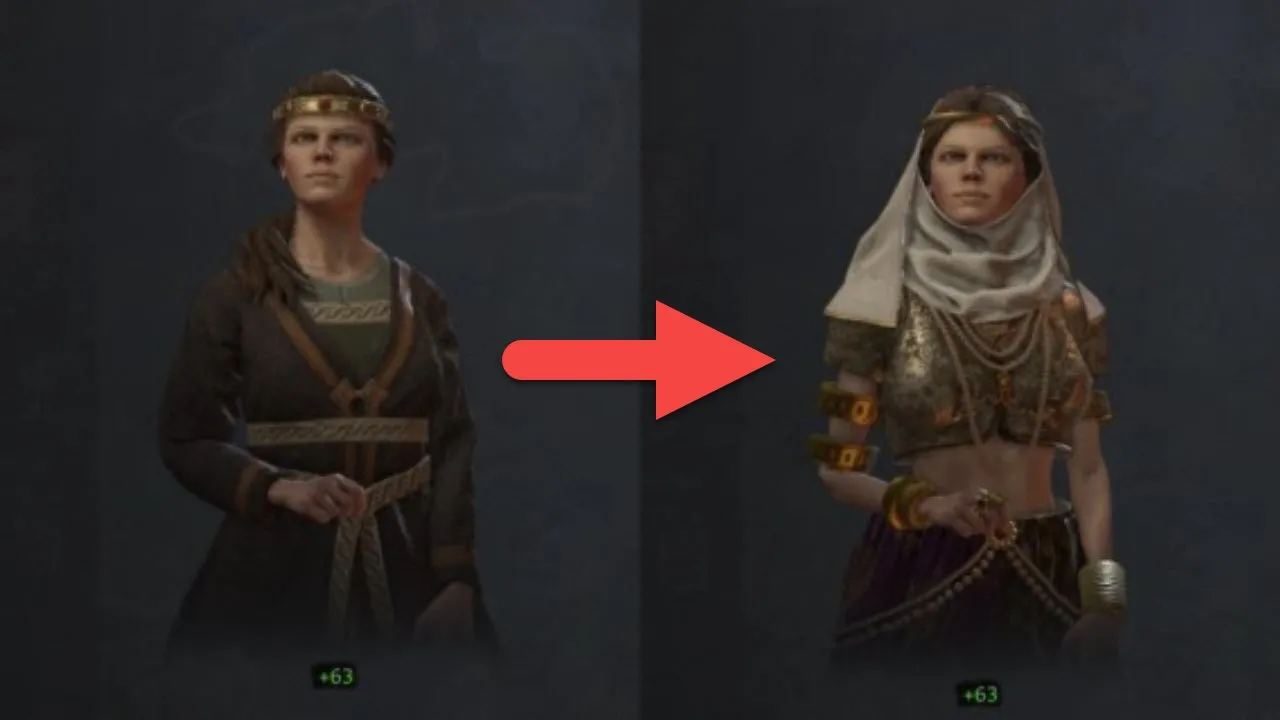 Fortunately, though you can't create your own character just yet, there is character customization available. The Barbershop feature is new with CK3 and lets you do far more than cut your character's hair. You can change various cosmetic options for your main character, spouse, bishop (or equivalent), and courtiers. So, if you're Irish and decide you want to take on Byzantium's stylings, you can.
To access the Barbershop, just right-click on a character and click the little shears icon to the right of their name in the contextual menu that pops up. There are a ton of options for customizing your ruler and their court, and there are more coming. For those that purchased the Royal Edition of Crusader Kings 3 or who bought the expansion pass, you can already download the Fashion of the Abbasid Court DLC, which adds Middle Eastern and North African outfits to the game. There will also likely be more cosmetic packs coming as well as outfits included as part of upcoming expansions.
Here are the Barbershop character customization options in Crusader Kings 3:
Male Customization Options:
Clothes:
Default
African Commoner Clothing 1-2
African High Nobility Clothing 1-2
African Low Nobility Clothing 1-2
Arabic Armor
Arabic Commoner Clothing 1-3
Arabic High Nobility Clothing 1-3
Arabic Low Nobility Clothing 1-3
Byzantine Armor
Byzantine Commoner Clothing 1-2
Byzantine High Nobility Clothing 1-2
Byzantine Low Nobility Clothing 1-2
Crusader
Indian Armor
Indian Commoner Clothing 1-2
Indian High Nobility Clothing 1-2
Indian Low Nobility Clothing 1-2
Knight of the Holy Sepulchre
Knights Hospitaller
Knights Templar
Night Gown
Northern Armor
Northern Commoner Clothing 1-2
Northern High Nobility Clothing 1-2
Northern Low Nobility Clothing 1-2
Prison Rags
Steppe Armor
Steppe Commoner Clothing 1-2
Steppe High Nobility Clothing 1-2
Steppe Low Nobility Clothing 1-2
Western Armor
Western Commoner Clothing 1-4
Western High Nobility Clothing 1-4
Western Low Nobility Clothing 1-4
Headwear:
Default
No Headwear
Arabic Helmet
Bedouin Headwrap
Byzantine Circlet
Byzantine Helmet
Byzantine Imperial Crown
Cap
Chainmail Coif
Circlet
Cone Helmet with Chain Cover
Cone-shaped Hat
Crown of Constance
Crown with Turban
Decorated Turban with Headwrap
Fleur-de-Lis Crown
Fur Trimmed Hat
Fur-Trimmed Jeweled Hat
Fur-lined Leather Hat
Giant Turban
Hood
Imperial Crown
Imperial Crown with Headwrap
Indian Helmet
Jeweled Turban
Leaf Crown
Lotus Crown
Nasal Helmet
Noble Cap
Noble Pagri
Noble Turban with Tiraz
Opulent Crown
Pagri with Tiara
Phrygian Cap
Reichskrone
Simple Helmet
Simple Turban
Steppe Helmet
Turban with Headwrap
Wide Turban
Hair:
Default
No Hair
Bowl
Curly
Curly Bowl
Curly Chevelure
Fade
Hair Loops
High Bun
Large Curly
Long Flowing
Long Wild
Medium Afro
Medium Curls
Medium Flowing
Medium Unkempt
Medium Wavy
Messy
Pulled Back
Pulled-Back Medium Wavy
Raider
Roman Fade
Short Afro
Short Braids
Short Wavy
Steppe Rider
Very Long Wild
Very Short
Beard:
Default
No Beard
Beaded Beard
Big Bushy Beard
Big Chinstrap Beard
Big Wavy Beard
Big Wild Beard
Chinstrap Beard
Fine Curls Beard
Fine Curls Goatee
Full Beard
Full Curly Beard
Goatee
Long Curly Beard
Long Straight Rough Beard
Long Wavy Beard
Mustache
Mustache with Sideburns
Pointy Beard
Short Beard
Short Goatee
Short Styling Beard
Single Braid Beard
Straight Medium Beard
Straight Pointy Beard
Wavy Pointy Beard
Female Customization Options:
Clothes:
Default
African Commoner Clothing 1-2
African High Nobility Clothing 1-2
African Low Nobility Clothing 1-2
Arabic Armor
Arabic Commoner Clothing 1-3
Arabic High Nobility Clothing 1-3
Arabic Low Nobility Clothing 1-3
Byzantine Armor
Byzantine Commoner Clothing 1-2
Byzantine High Nobility Clothing 1-2
Byzantine Low Nobility Clothing 1-2
Crusader
Indian Armor
Indian Commoner Clothing 1-2
Indian High Nobility Clothing 1-2
Indian Low Nobility Clothing 1-2
Knight of the Holy Sepulchre
Knights Hospitaller
Knights Templar
Night Gown
Northern Armor
Northern Commoner Clothing 1-2
Northern High Nobility Clothing 1-2
Northern Low Nobility Clothing 1-2
Prison Rags
Steppe Armor
Steppe Commoner Clothing 1-2
Steppe High Nobility Clothing 1-2
Steppe Low Nobility Clothing 1-2
Western Armor
Western Commoner Clothing 1-4
Western High Nobility Clothing 1-4
Western Low Nobility Clothing 1-4
Headwear:
Default
No Headwear
Arabic Helmet
Boqta
Byzantine Helmet
Byzantine Imperial Crown
Chainmail Coif
Circlet
Circular Veil
Decorated Dupatta
Fillet and Barbette with Veil
Fleur-de-Lis Crown
Fur-Trimmed Jeweled Hat
Fur-lined Cap
Gilded Headscarf with Veil
Gold Trim Veil and Wimple
Golden Tiara Crown
Headscarf
Headscarf with Circlet
Headwrap
Indian Helmet
Jeweled Top
Large Headscarf
Large Headtie
Leaf Crown
Nasal Helmet
Royal Veil
Simple Dupatta
Steppe Helmet
Thin Jeweled Crown
Veil
Veil and Wimple
Veil with Twisted Headband
Hair:
No Hair
Back Knot
Bun
Crown Braid
Crown Curls
Double Buns
Fish Tails
Gilded Braids
Jeweled Bun
Large Bun
Long Curly
Long with Crown Braid
Medium Afro
Medium Thin Braids
Medium Wavy
Neck Braid
Ribboned
Rolled Up Braids
Short Thin Braids
Single Braid
Spiral Ribboned
Twin Braids with Ribbons
Twist
Very Long Double Braids
Very Long Wavy
Wavy Sides