Where is the Far Cry 6 DLC content? The latest Far Cry game from Ubisoft has a mass of bonus content available, but how do players unlock the Far Cry 6 pre-order content or special edition DLC? The game itself suggests items like the Far Cry 6 Blood Dragon DLC unlock comes later in the game after the mission "The Guerrilla" but when exactly is that? Here's how to find and unlock all the Far Cry 6 bonus content in the game.
Where are the Far Cry 6 DLC weapons, amigos, and items?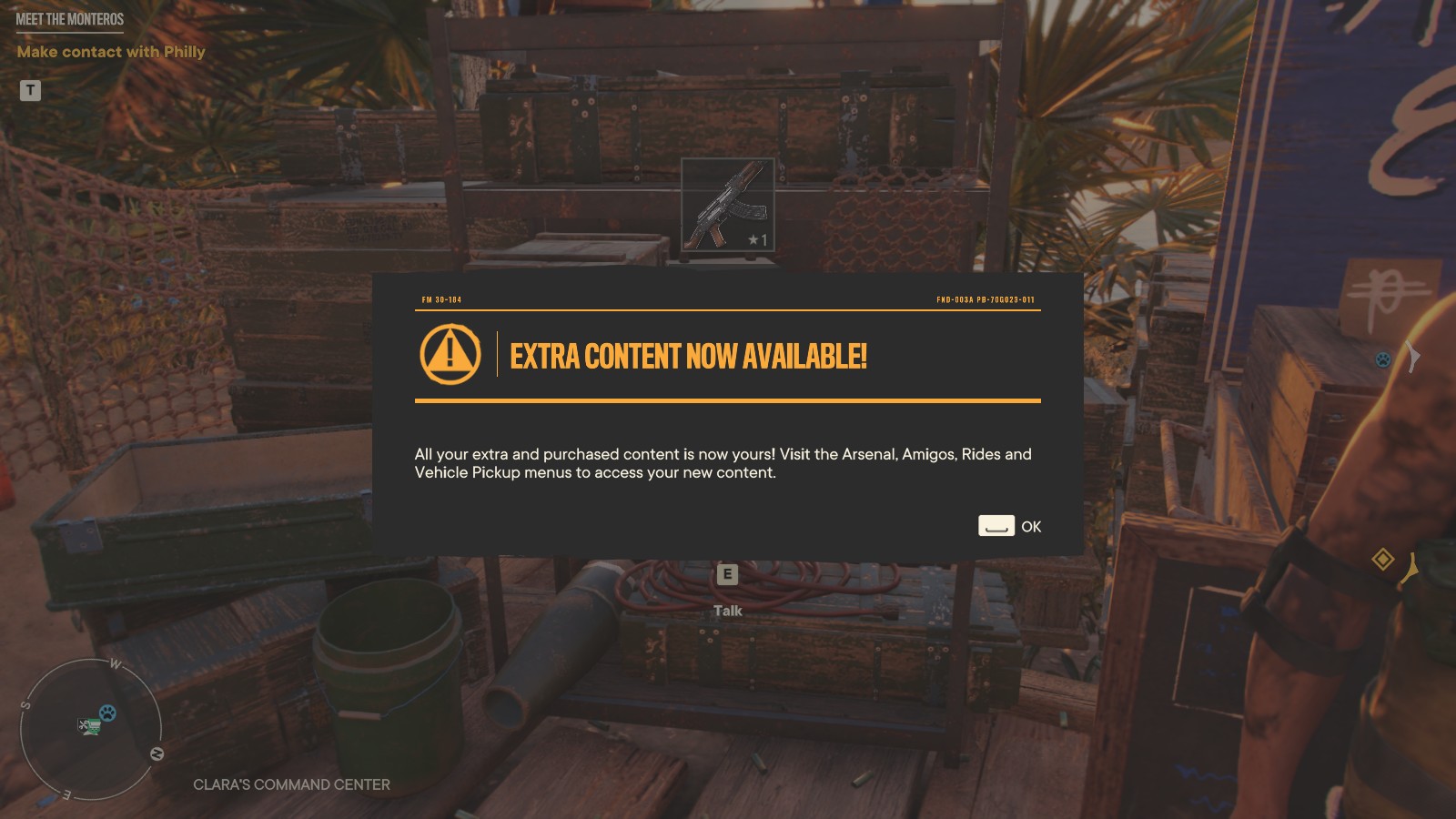 To unlock all the pre-order and special edition bonuses in Far Cry 6:
Complete "The Guerrilla" mission to take down the two ships and leave the opening island.
Players will spawn on the small island in the middle of the Yara map outside Clara's Command Center. Head to the main store vendor character and talk to them, then exit out of the store — players don't have to buy anything from them, just enter and exit the store page.
The pop-up message above will appear saying "extra content now available." There should be multiple pop-ups after this for every item unlocked, which can take a while.
Go to the inventory page and open any clothing items — if the likes of the Blood Dragon outfit are available they should show up. Likewise, if the player has either of the two DLC Amigo characters — K-9000 the robot dog or Champagne the panther — they will be on the Amigos page.
All of this depends on what the player has available. The Blood Dragon pack is available with the Season Pass. Pre-order bonuses include the Discos Locos disc launcher weapon and the Libertad Chorizo outfit. The Ultimate Edition has everything and also contains the Vice, Croc Hunter, and Jungle Expedition packs.
Head here to check out our review of Far Cry 6, which our reviewer had issues with, saying it "fails to evolve the series."