Doctor Strange 2 is now in cinemas, providing fans with yet another flick to satiate the constant hunger for superheroes fighting against ever-increasing odds. Not all heroes survive those odds, however, and in Doctor Strange in the Multiverse of Madness, there are a lot of character deaths. There's a surprising number of heroes getting the chop, which can be tricky to keep up with. Helpfully, below is a full list of all Doctor Strange 2 character deaths.

Full list of all Doctor Strange 2 character deaths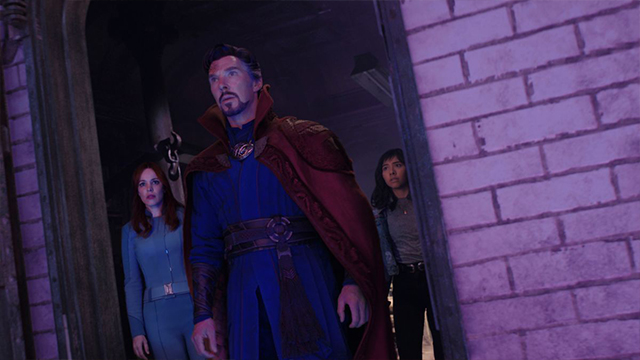 How does Defender Strange die?
Defender Strange dies in combat at the start of the film. The demon, who has been sent by Wanda, kills Defender Strange by stabbing him and infecting him with a toxin.
Why did the Illuminati kill Doctor Strange?
The Illuminati killed Doctor Strange (Variant 838) because he became corrupted by the Darkhold which ultimately led to the destruction of an entire universe with trillions dying. Doctor Strange renounced the Darkhold and let himself be executed by his former friends.
How did Wanda kill Black Bolt?
Wanda killed the Black Bolt by removing his mouth. Then, when Black Bolt exclaimed in surprise, he blew a hole in his own head. His powerful voice backfired.
Is John Krasinski's Mister Fantastic dead forever?
Wanda made it very clear that she was killing Mister Fantastic. She asked if his children still had a mother to raise them when he was gone, a chilling threat that ended with her shredding the stretchy man. However, while the Earth-383 variant of Mister Fantastic is dead, there's always room for an Earth-616 version of him to appear in the MCU later down the line.
How does Captain Carter die?
Captain Carter is killed with her own shield. Wanda sends the shield flying back at Captain Carter and it cuts through her midsection, slicing her in two.
How is Captain Marvel killed?
Wanda crushes Captain Marvel beneath a statue after first besting her with powerful beams of magic.
How does Charles Xavier (Professor X) die?
While attempting to rescue the version of Wanda that the Scarlet Witch is manipulating, Charles Xavier is caught in his act and Wanda snaps his neck.
Is Strange Supreme really dead?
Despite Doctor Strange sending Strange Supreme flying out of a window and landing on a railing that pierces through him, the dark sorcerer's third eye opens and focuses on Christine before the scene ends. Therefore, it's possible that this version of Strange will return.
Does Wanda die in Doctor Strange 2?
Though Wanda causes a mountain to collapse on herself at the end of the movie, there's no explicit acknowledgment of her death. The limbo state of a character like this is normally used so that the writers can bring them back in the future, or leave their fate as is.
In the world of gaming, Xbox Free Play days are running for Civilization VI, Overcooked, and more. Trek to Yomi is the latest big gaming release that GameRevolution has reviewed. Razer is selling limited edition Star Wars Xbox controllers.