The Quordle 109 answer has been revealed for May 13, 2022. Similar to yesterday's Quordle, today's puzzle features four words that have no double-letters, but all of them are a bit off-center. In particular, the lower-left word may be a tad difficult to figure out because of the high number of possible rhymes. Need a hint for it? Well, the word shares its name with a famous brand name for food. If you need more help, you can view the full solution in the next section.
What is the Quordle answer 109? (May 13, 2022)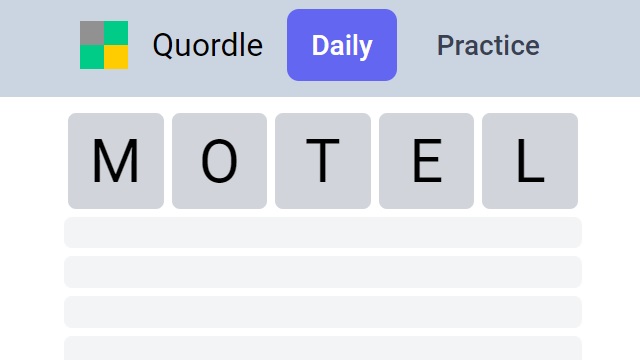 The Quordle answer 109 is:
"MOTEL"
"GROWL"
"WELCH"
"TUMOR"
Quordle 109 isn't difficult because the words are terribly unusual in common parlance, but because of their letter arrangement as well as how close they are to other words. "MOTEL" is close to "HOTEL," and "TUMOR" is close to "HUMOR." You may need to spend a few guesses narrowing down which letters complete the words. Getting the endings of some of the words too like "-ELCH" and "-OWL" can be tough if you're not sure what to look for. It may take awhile before you land on the "W" as well.
As a point of difference to classic Wordle which has six guesses for only one word, Quordle has nine guesses over four words so there's a bit more breathing room to work with. As such, the opening strategy is a bit different. We recommend choosing three words at the start of the puzzle that together have all of the common letters and vowels. If you follow this, you can get quite a lot of letters confirmed in the green or yellow at around the fourth guess.
The official Quordle website has a section specifically for practice puzzles in case you're done with today's Quordle. Playing more daily puzzles is a bit trickier. You can change the internal date of your device to play some puzzles in the past or the future, but that can permanently break your browser's cookies for the game. So if go down this route, it is recommended that you use a different device or browser altogether.
For more guides, you can find out all the details about the AirPods Max 2 and why FIFA was renamed to EA Sports FC.