2B has one more ending left in her. One of the main characters from 2017 smash hit NieR: Automata, 2B enters the tale of souls and swords eternally retold. Included as part of the season pass, 2B is the second guest character in Soul Calibur 6 alongside Geralt from The Witcher franchise. Bandai Namco gave no release date for the Soul Calibur 6 2B DLC.
https://www.youtube.com/watch?v=35H8A4wO5jw
In the official character trailer, we can see 2B's fated clash with Soul Calibur regular Ivy far in the future. We also get a good look at how 2B will fight in Soul Calibur 6's various battles. There are plenty of swift teleportation moves and a few projectile attacks thanks to her robotic enhancements. 2B's Critical Edge sees her rush forward for a bevy of strikes followed by a line of holographic spikes to pierce her foe as they fall.
Alongside the playable character, 2B comes with a few extras that bring the world of NieR into Soul Calibur more directly. You get an alternate costume and five styles of her weapon for use in the game's popular character creator. There's also a NieR themed stage and background music added to the roster as seen in the trailer. Outside of 2B related items, the DLC adds developer Yoko Taro's famous moon mask into the game. Having Yoko Taro and 2B fight it out as creator and creation feels strangely fitting for the NieR franchise.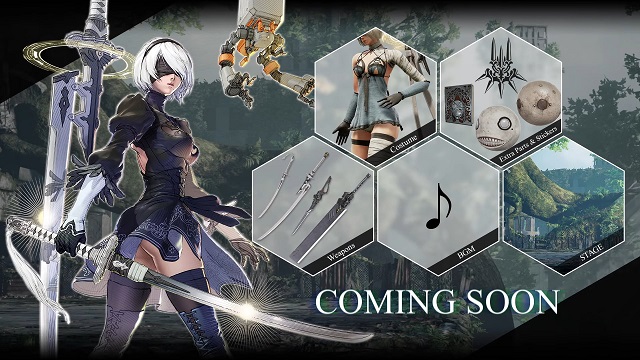 2B is the second character revealed for Soul Calibur 6's DLC season pass. The game launched with franchise mainstay Tira available as a pre-order bonus or to owners of the full DLC package. Bandai Namco has shared that two more characters are coming down the pipe. In addition, season pass owners will get two distinct packs of character creation parts. With a crossover announcement like this Soul Calibur 6 2B DLC, one can only speculate as to what other surprises this weapons fighter has in store for the future.