Ever since Microsoft's reveal of the Xbox Series X form factor, gamers have been dunking on it for looking a bit like a fridge. Rather than shying away from that, Xbox is embracing the meme by launching a working refrigerator. Today, Xbox Fridge pre-orders sold out in just a few minutes across the US and UK. As a result, many fans are waiting on a potential Xbox Series X Replica Mini Fridge restock.
Will there be an Xbox Series X Replica Mini Fridge restock?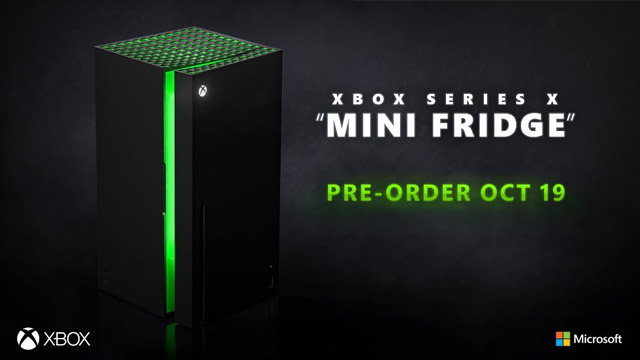 An Xbox Series X Replica Mini Fridge restock is coming in early 2022. Xbox's Aaron Greenberg states that the manufacturer has "another wave coming" at the start of next year; the refrigerator is "not a limited edition product."
In the same tweet, Greenberg notes that the team is "making as many as [it] can this holiday" in an attempt to meet demand. Although it seems that pre-order stock allocation has fallen way short, an Xbox tweet indicates that technical issues may have led to stock level display errors. With this in mind, it's worth bookmarking and frequently checking the Target and Game product pages in the US and UK respectively.
We are making as many as we can this holiday. Have another wave coming early in 2022. Not a limited edition product, but do expect it will sell out. Hope that helps!

— Aaron Greenberg

With Xbox Series X Mini Fridge eBay pre-order listings already cropping up online, it seems that scalpers were quick to scoop up some of the available stock. Understandably, this is a continuing cause of frustration amongst gaming fans. The following tweet sums up the sentiment amongst those that were looking to secure an Xbox Mini Fridge at RRP.

Xbox mini fridge sold out in less then a minute. Fucking scalper scum fuck fuckers. pic.twitter.com/9UoSH1GRIn

—

The Xbox Series X Mini Fridge is due out sometime this December. It remains to be seen whether or not additional stock will be available in-store and/or online upon the release day.

In other news, be careful online as Eternals spoilers are already circulating on social media. Over in the DC camp, an announcement regarding Gotham Knights' release date is coming soon. Additionally, here's the latest on several projects that didn't make an appearance at DC Fandome 2021.