Green E.G.G.s and ham?
Don't you just love those cheesy Discovery Channel documentaries that uncover
"new and exciting finds" that will change the world forever? Oh, please. I still
wonder how grown men and women can spend their whole lives in search of prehistoric
animal poop.
But what if they actually found something really cool? Maybe even something
still alive? Vatical's first Dreamcast effort, Elemental Gimmick Gear
(E.G.G.), gives a RPG take on this very situation.
Gamers take on the role of the "Sleeper," a man who was discovered asleep
by an archaeological team. Scientists have conducted tests on the Sleeper and
though he looks to be a young man, they have concluded that he is actually thousands
of years old. An ancient machine, dubbed the Elemental Gimmick Gear, was also
found along with the Sleeper. The original purpose of this machine is unknown,
but that didn't stop people from taking its design and using it as a mode of
transportation.
One day, the Sleeper is awakened and the game begins. As the Sleeper you must
rediscover your past and unlock the secret of the ruins from whence you came.
The story of E.G.G. is actually done very well. Unfortunately, the horrid translation makes it difficult at times to figure out exactly what's going on.
One of the first things you'll notice about E.G.G. is the 2D graphics. In the Dreamcast world of astounding 3D masterpieces, E.G.G. seems kind of rotten. It has become part of the extremely short list of non-fighting 2D games. However, those who don't judge a game by its graphics will be pleased to discover a fine example of a 2D RPG.
E.G.G. is definitely not your normal role-playing experience. It's
much more action oriented than any other RPG in recent memory. Instead of using
a turn based combat system, E.G.G. employs an action style of combat
where the main character runs around actually hitting the enemies.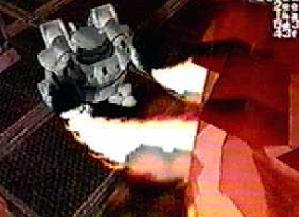 Unfortunately,
the type of "action" that we see in E.G.G. just doesn't cut it. Much
of the game is spent using the basic 'punch' action, which ends up being pretty
lame. Elemental attacks and a few other basic attacks (such as a spin attack)
are also included. Too bad they are just too slow and ineffective to really
bother with.
Boss fights, on the other hand, are pretty cool. Here, the game shifts into
a full 3d view, giving players some great eye candy. Actually, it's the only
eye candy outside of the movies sequences that you'll ever see in E.G.G..
The same attacks found in the 2D portions are included here, making the fight
essentially the same as others, but a break from the 2D fighting is refreshing.
Although the actual gameplay isn't that great, E.G.G. manages to present
an excellent RPG challenge. No more of those 'just hit a switch and I can move
on' puzzles. The puzzle variations are well constructed and force players to
really use the ol' gray matter. Some even involve the strategic positioning
of frozen enemies! If you're looking for a challenge (or if you feel like getting
really frustrated), E.G.G. will definitely give you what you need.
In addition to the main dungeon, E.G.G. is supplied with a few mini
games set in a small amusement park a la Final
Fantasy VII. While the games number only two, they provide a great diversion
when your brain gets taxed to the max by the intricate puzzles. The E.G.G.
race (without the spoons) is pretty cool and the Trials challenge your E.G.G.
control.
Though it seems more like a title out of the old Saturn or even Genesis era,
E.G.G. is actually a decent entry to the Dreamcast's short list of role-playing
games. It has a great story and enough of a challenge to provide gamers with
some quality entertainment. On the other hand, many will be turned off by E.G.G.'s
lack of eye-catching graphics that so many Dreamcast titles flaunt.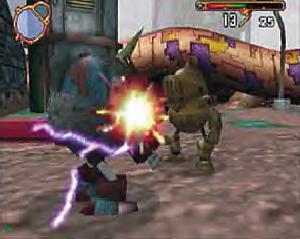 Love those 3D boss battles

Anyone up for a challenge?

Great story...

Anyone up for a headache?

...if you can figure out what the narrator says

Jab, Jab, Jab