It's been more than five years since Shovel Knight first premiered on Steam, Wii U, and Nintendo 3DS. Over the course of this entire generation, Yacht Club Games has gone above and beyond in fulfilling its Kickstarter goals, creating a series of inventive platformers that will almost assuredly stand the test of time. What were once mere bonus campaigns with alternate playable characters have turned into full-blown adventures that expand the game's world in surprising ways. This week marks the release of this journey's last chapter, SHOVEL KNIGHT: KING OF CARDS. While star King Knight is mostly a comedic character, the developers have meticulously crafted another excellent exploit for the "crown jewel" of the Order of No Quarter.
Set before the events of the Shovel of Hope campaign, King of Cards imparts the tale of how King Knight ended up deposing the former ruler and claiming his throne. Along the way, our bumbling hero also competes in Joustus, a trading card game that's sweeping the land. This splits the game's content into two equal halves: a platformer and a card game. Although most of the Joustus duels are optional, they provide a great avenue for upgrade currency and tidbits of dialogue and lore from background characters. No matter what obscure Shovel Knight citizens you enjoy, you'll find some representation among the cards.
Shovel Knight: King of Cards Review | House of cards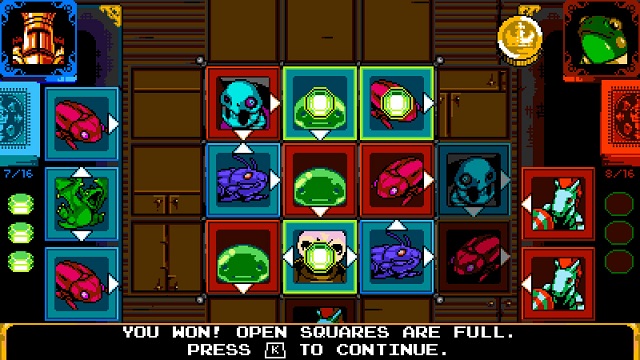 Joustus' mechanics, however, take some digging before they start picking up, which is probably too slow considering the signature difficulty of the rest of the series. Taking inspiration from Final Fantasy's Triple Triad, player place cards on a grid. They can choose an empty space or shove other cards around the board. Once the mechanics start stacking up, you find more challenging matches, but it never fully clicks. Easy opponents felt braindead while more difficult foes just require some attention. Even if you're doing your best, the RNG can kill you dead and that can cost you. Whenever you lose a round, you lose a card to your opponent ante-style, making your deck weaker in the process.
ALSO: The Alien: Isolation Switch port remains terrifying due to its unkillable antagonist
The few times I went on a losing streak, it truly felt impossible to climb out of the hole. Thankfully, because of King Knight's laziness, he can buy his way out of the challenge with cheat cards. These tools can flip all the cards on the board to your side, weaken your opponent's hand, or just let you play three cards in a row. They add a much-needed layer of depth to the proceedings, as do the similarly nasty boss mechanics you get at the end of each Joustus segment. Overall, the concepts here are just fine, but that undercuts the standard of quality you expect from Shovel Knight. With a few more strategic elements or character-specific powers, Yacht Club could have had something that rose above a mere minigame.
Shovel Knight: King of Cards Review | Building a wall and busting through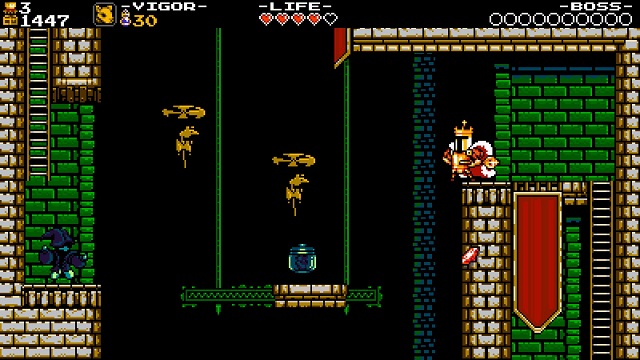 King Knight sees the Joustus competition as a way to gain power befitting his self-appointed stature, so he goes on a quest to attack each of the judges and gain their crowns. When defeated, each monarch sees him as a worthy warrior, missing how hollow he is on the inside. After all, it's just a Joustus tournament, there's nothing to worry about.
He keeps bringing on companions, creating a wave of momentum that thrusts him into power. Everything about it feels unearned as this oafish buffoon carried to glory on the backs of others. Seeing the rise of a cruel, uncaring ruler through improbable chance is a story that really resonates in 2019. It's probably more than the developers intended, but the comparisons shine through nonetheless. As the story unfolds, it's hard not to draw those parallels and laugh at this sly mockery of our modern world.
When first seeing King of Cards amidst a sea of deckbuilding games, it's impossible to not worry that platforming would take a backseat to the fad of the moment. Thankfully, it's exactly the opposite. Yacht Club has once again taken a single boss fight and created a whole suite of mechanics, power-ups, and challenges around its star. Even if he is a joke character, this is anything but a joke of a game. Each new level takes full advantage of its tricks and traps, remixing every possible use of your abilities into fulfilling challenges. Impossible walls of difficulty will beat you down one minute and fall to your mastery the next. It's a joy to vanquish each stage and see what surprises await just over the horizon.
Shovel Knight: King of Cards Review | Leaving a royal lineage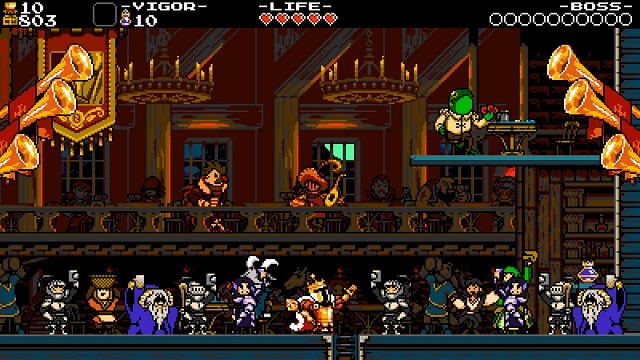 King Knight's platforming abilities continue Shovel Knight's selective borrowing of the best 2D mechanics in gaming history. He is as greedy as Mario's evil twin, so it only makes sense that he strikes via Wario's signature shoulder bash. His bulky armor prevents him from jumping very high, but his attack transitions into a fanciful whirling dervish that lets him bound from platform to platform with unearned grace. His combat style is brash and cocky, encouraging all or nothing momentum swings and risks that just barely pay off. This masterful character work all comes purely through gameplay. Before cutscenes, before well-realized open worlds, these simple methods brought games to life. To see that same magic show today is a real treat.
That pretty much sums up all of Shovel Knight: King of Cards. Like each campaign before it, King Knight's quest is a uniquely thrilling 2D experience that needs no asterisk assigned to any praise. This isn't a retro throwback or an NES hanger-on, but a masterful platforming action that stands up to any and all contemporaries. This may be the weakest of the four Shovel Knight experiences simply due to the disappointing card game. Still, that's no reason to pass up the chance to experience more first-class platforming from some of the best talents in the genre working today. And even if King of Cards isn't the strongest part of the Shovel Knight saga, it's still a great way for Yacht Club to end its legendary run with its classic platformer.
---
GameRevolution reviewed Shovel Knight: King of Cards on PC via Steam with a code provided by the developer. It is available as a standalone purchase and comes as a free upgrade to Shovel Knight: Treasure Trove.
2D platforming on par with the greats.

King Knight shines with subtle character building through gameplay.

A wide cast of characters from across the franchise.

Joustus feels undercooked compared to the rest of the package.