Samsung SSDs are known for their quality and speed, and the 980 Pro is an attractive option for those who want to install a secondary internal SSD in their PS5. That was our use case in this review, and we were pumped to finally get more than 667 GB of storage on Sony's latest console.
There aren't a lot of choices when it comes to PS5-compatible hard drives (the Seagate FireCuda 530 we recently reviewed being one of them), as the console can't take just any m.2 SSD. Unlike the Xbox Series X|S, which uses a proprietary memory card, it can be challenging for the layman to choose an SSD and install it into the PS5. Some people's instinct will be to just pick the cheapest m.2 SSD they can find, but that's not going to work in this instance. The Samsung 980 Pro is fairly expensive for an SSD, but it meets the PS5's requirements that can be seen in the table below.
PS5 SSD Requirements
Interface
PCI-Express Gen4x4 supported M.2 NVMe SSD (Key M)
Storage
250 GB - 4 TB
Supported sizes
2230, 2242, 2260, 2280, 22110
Size including heat-dissipation mechanism
Width: up to 25 mm

Length: 30/40/60/80/110 mm

Thickness: up to 11.25 mm (up to 8.0 mm from above the board, up to 2.45 mm from below the board)
Sequential read speed
5,500MB/s or faster is recommended
Socket type
Socket 3 (Key M)
Samsung PR sent me a 980 Pro to test in my PS5, and it works great. I got a standard 980 Pro and a third-party heatsink for my review, which makes the installation slightly more complicated than using an SSD with a pre-installed cooling solution. However, it's still a relatively easy process. I just had to place the Thermal Interface Material over the flash storage modules on the top of the Samsung 980 Pro and gently press the heatsink into place on top of it. After that, the install went as normal. I just had to place the m2 connector into the slot and secure the drive with the retaining screw.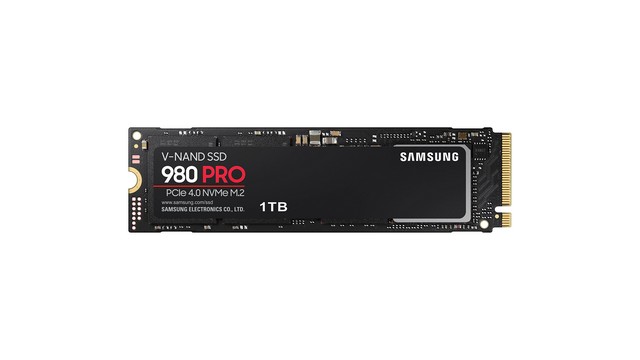 You can buy a Samsung 980 Pro in four varieties:
Any third-party heatsink that can fit an 80mm m.2 drive should work fine with the 980 Pro. However, those that want things a bit simpler can purchase a Samsung 980 Pro with a pre-installed heatsink when they launch at the end of this month. Just make sure not to skip the heatsink as these drives get hot. Unfortunately, there are no temperature readouts on the PS5 that allow the user to monitor the SSD. The PS5 might catch it if the drive is overheating and automatically shut down, but it's not worth the risk.
The big question for most potential buyers will be why the Samsung 980 Pro is worth buying over other PS5 compatible hard drives. Well, that sort of thing is hard to quantify. The drive can read up to 7,000 MB/s and write up to 5,000 MB/s, but the PS5 doesn't have any testing suites that help to narrow down which drive is the fastest. You also don't see the SSD since it's installed in the PS5's internals, so the design doesn't matter.
It all comes down to personal preference. I've used Samsung drives in my PCs for years, and they've generally been quick and reliable. However, I've never had an SSD fail. I've still got the first one I ever bought way back in 2012, an old Crucial SATA, still chugging along just fine. So, the five-year warranty is nice, but I don't anticipate many will have to use it.
Samsung 980 Pro Review: The final verdict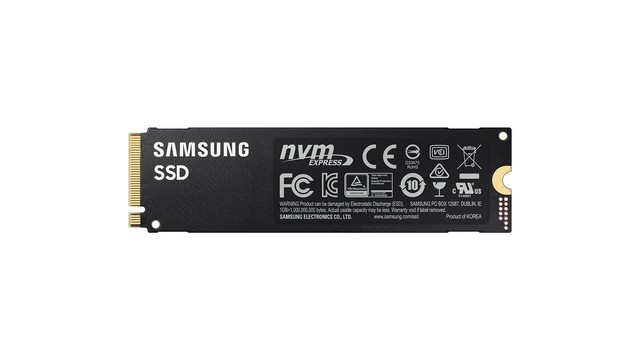 Samsung makes some impressive storage drives, and the 980 Pro is a finely crafted speed demon. However, it doesn't really get a chance to distinguish itself from the competition when it comes to the PS5. For many, Samsung SSDs represent quality, and it's great to have the option to install a drive from such a trusted name in the PS5.
The biggest drawback, and one which many other models have, is that it requires users to install a heatsink. Of course, that issue will be moot when Samsung releases the 980 Pros with a pre-installed heatsink later this month. Still, those looking to purchase an SSD ASAP might not want to deal with installing their own cooling solution.
Speedy.

Relatively easy to install.

Reliable.

Needs a third-party heatsink.