The Fortnite Week 7 "Follow the treasure map found in Pleasant Park" challenge can be a tricky one, especially considering where you'll end up tracking it to. Working out the clues yourself is likely a more satisfying experience than simply being given the answer, but if you're anything like me, you've got other challenges to complete and more loot to earn! So here's the quick-and-easy method of completing the "Follow the treasure map found in Pleasant Park" challenge. We'll get this done and dusted in a matter of minutes!
Fortnite Pleasant Park Treasure Map Location
First things first, don't bother heading over to Pleasant Park for the treasure map clue. You don't need to see it in order to complete this challenge. Instead, skip that journey and dive straight down towards Tilted Towers. You're aiming for the southeast section, as shown in the map below.
Falling from the Battle Bus directly to this spot is your best bet for rapid completion. Of course, this is Tilted Towers, which means you're going to see a lot of other players falling here, too. Expect resistance as you climb the hill, and be swift in your hitting the "Search" prompt. (You're likely to be taken out very quickly here!)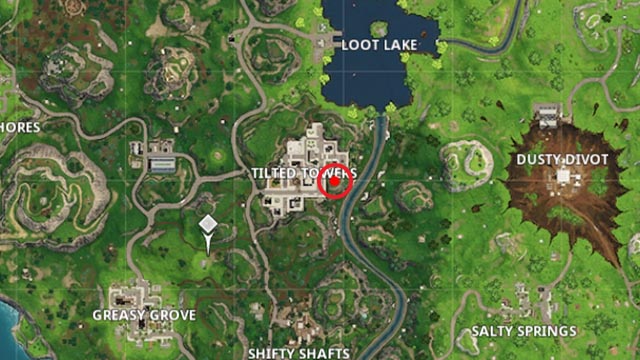 Fortnite Pleasant Park Treasure Map Reward
While your completion of the Fortnite Pleasant Park treasure map challenge isn't going to result in any pirate treasure, it is going to grant you 10 Battle Stars (or 1,000 XP if you're already at Tier 100). If you complete the other six Week 7 Battle Pass challenges, this will then contribute to an additional 5,000 XP. Ultimately, this all ends up in more loot unlocked, which is what this game is all about, right?!
Check back again next week, as we'll almost certainly have another location-based Fortnite challenge to complete during Week 8. We'll have a guide posted and ready for you!