The Mario Tennis Aces 3.1.0 update patch notes have been revealed by Nintendo's Japanese website. If you're curious about what new content is coming to the sport title, plus any other updates to it, you'll want to read our Mario Tennis Aces 3.1.0 update guide.
Mario Tennis Aces 3.1.0 Update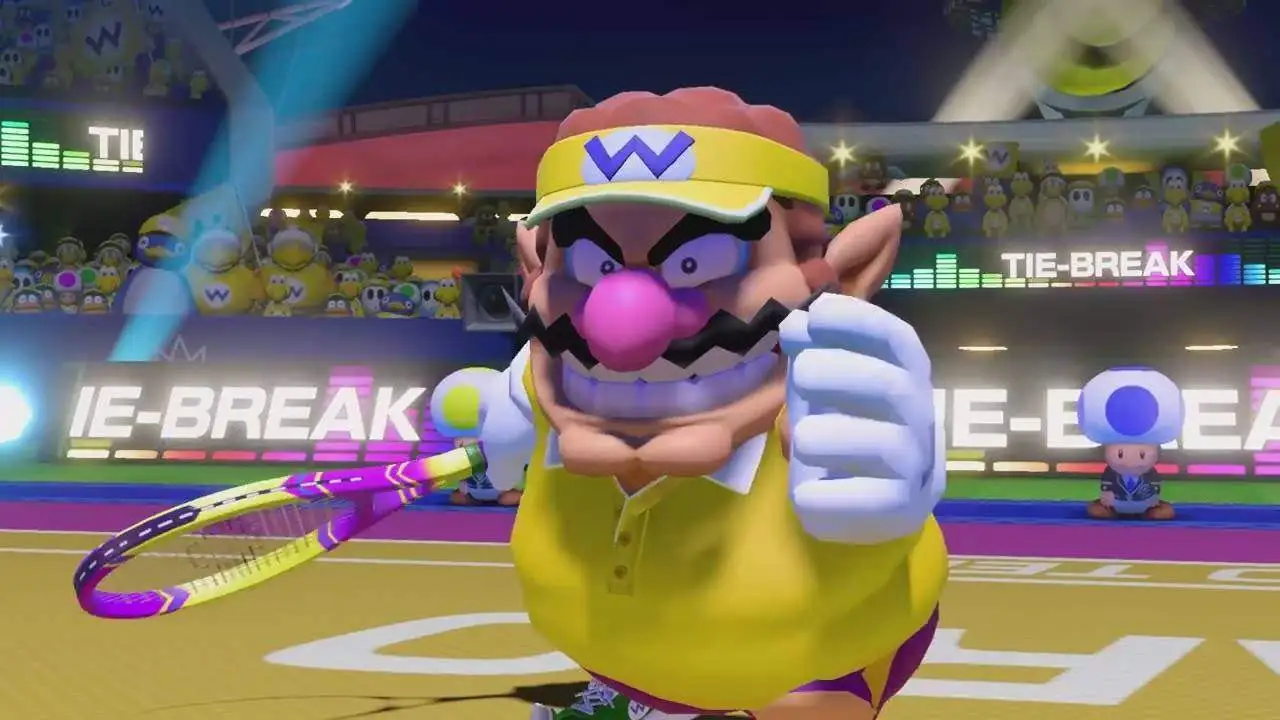 New characters
The upcoming Mario Tennis Aces 3.1.0 update is expected to bring a slew of new content to the game, including a couple of new playable characters. As revealed by Nintendo's Japanese outlet, two online tournament characters will be swinging their way into the game.
Players can use technical class character Fire Piranha Plant in matches when the update goes live in June, while July will see the arrival of a defensive class character in Dry Bowser. That is if you're a Nintendo Switch Online subscriber. If you aren't, you'll have to wait until July and August respectively to get this duo.
New costumes
As well as the above, the Mario Tennis Aces 3.1.0 update brings a range of skins for you to dress your characters up in. June ushers in the arrival of the Bowser Tennis outfit, while July will patch through the Wario and Waluigi Overall outfits for Mario's and Luigi's nemeses.
Koopa Troopa and Paratroopa will be getting new skins too in August. The former is thought to be getting blue, red, and yellow variations on his classic look, while the latter will get green, blue, and yellow.
After August, all previous costumes will be made available for players to get if you missed them the first time around. These will be rotated after August though, so keep an eye out in-game for which ones you need to get.
Co-op challenges
Finally, changes to the co-op challenges in the game will be patched through in June, July, and August. The three co-op challenges available — Boo Hunt, Shy Guy Train Tussle, and Yoshi's Sling Shot — will be put into rotation alongside their rewards. Boo Hunt will be the first available challenge in June.
Shy Guy Train Tussle will also be available to play offline too once the update goes live. It'll be available in co-op and versus modes, so you can get your fill of that if you want to.
Mario Tennis Aces 3.1.0 Update Patch Notes
The following is translated from Japanese. Native English patch notes will be posted when available:
Camek
The power of the shot has been slightly improved
The ability to aim for the sideline has been improved a little.
Made the launch of the move slightly faster.
Made it difficult to slip when moving.
Rosetta
The stiffness time after jumping was shortened.
Polin
The power of the shot has been slightly improved.
The ability to aim for the sideline has been slightly improved.
Catherine
The ability to aim for the sideline has been slightly improved.
Chico
Made it slower to move back.
The power of the top spin has been slightly lowered.
Bow-wow
When moving, made it a little slippery.
The distance that can be hit back is shortened a little.
Karon
Rob, Max Charge Rob changed to turn in the same direction as Topspin.
Add "Hey Ho Train Battle" to the swing
We have added "Hey Ho Train Battle" that can be played with one Nintendo Switch as a special game in swing mode.
You can play in cooperation mode and battle mode respectively. Up to 4 players can play including COM.
Add setting
[Free match] [Swing] When the match type is "doubles only", "Every time" can be selected in the item of the partner of doubles.

If a Doubles partner has been decided prior to Character Select, you can choose the same character as your opponent.
Participation of new characters
If you play one online tournament in June, you will be able to use the new character Fire Packon.
Firepackon is a technique-type character and has the feature that technical shots are topspin all around.

From 1 July 2019 AM 9:00 onwards, you can get a firepack if you don't clear the conditions.

If you play one online tournament in July, you will be able to use the new character "Hone Kuppa".
Hoop Kuppa is a special defense character that does not damage the racket if it fails to block against the opponent's aim. Unlike normal kuppas, kuppas are good at slicing, and they can hit strong shots, especially if you hit backhand.

Failure to block a special shot will result in damage to the racket.
After 9:00 AM on August 1, 2019, you can get a knee without having to clear the conditions.
You must be a Nintendo Switch Online to play online tournaments.
Add a new costume
If you play a game in the online tournament in June and collect the necessary reward points, you can use the tennis wear Kuppa.

Only those who collect the required reward points during June will be able to get the tennis wear Kuppa.
There is no difference in performance from the usual "kupper".
Reward points will be reset next month.
You must be a Nintendo Switch Online to play online tournaments.

You can obtain Wario and Waluigi in the overalls in July, and Noko Noko and Patapata in different colors in August by collecting reward points.
After that, the costumes of the past reward points will be reprinted in order every month.
Replay of the mission "Teresa Hunter"
From the point of delivery of Ver.3.1.0, the cooperation mission "Teresa Hunter" will be held again from July 1, 2019 to 9:00 AM. Cooperation mission is online mode that is held only for a specific period.

In order to play a cooperative mission, you need to join Nintendo Switch Online.

Theresa Hunter plays in a swing operation on a mission to cooperate and get back coins coined by Theresa.
A friend, a stranger who I met at that time, and a team of four will challenge the goal. (If you have as many controllers as you like, you can join up to 4 people from one Nintendo Switch.)
Achieving your goals will give you the Teresa costume.
If four players do not gather, after a certain count has passed, the COM for the shortfall will be replenished.
From June 2019, cooperative missions will switch "Theresa Hunter", "Hey Ho Train Battle", and "Yossy's Colorful Ring" in order each month.
Other changes
[Online Tournament] The display time of the reward point addition screen has been shortened a little. Also, if you have already obtained all the costumes available for reward points, you can now skip using the A button. (If you are pairing two Nintendo Switches, you can not skip.)
[Kochin Yukiyama] Passenger Heiho, which appears when Gimmick is ON, has been changed so that he does not hit the max charge shot that he sometimes hit back with the max charge shot.
[One-One] I changed the voice at the time of appeal.
When you click on a retail link, we might earn a commission that helps us support the site. Learn more here.
Switch Releases 2019
What Switch Owners Can Look Forward To in 2019

How long has it been since your last rooftop party? Are you still rocking Smash? Are you looking for something new to take with you to the graveyard, dentist's office, or wherever else electronics are welcome? Venture forward and see what Switch owners have in store in 2019.

Nintendo Labo VR

Prepare to get intimately close with your Nintendo Switch with the launch of Labo VR! While it's unclear if the cardboard setup will work with third-party VR titles, you'll at least know that Nintendo has something charming and disposable prepared for this fourth Toy-Con release.

BOX BOY! + BOX GIRL!

Hal's other cute and simple mascot makes the jump from 3DS to Switch in Box Boy! + Box Girl! The series is about puzzle platforming by extending your square frame out into would-be Tetris pieces until you can move forward. Releasing in April, you won't have to wait long to see what's at end of this monochrome world.

Super Mario Maker 2

There are regular Nintendo fans and then there are those that bought a Wii U specifically to play Mario Maker. Whether you're looking to build elaborate death traps or just play through the thousands of user creations, Mario Maker 2 looks to be the follow-up that every fan of the original has been dying for.

Dragon Quest Builders 2

If you prefer Slimes to Goombas, Dragon Quest Builders 2 has your back. Taking the famous Japanese RPG series into the realm of Minecraft, this sequel has already seen success from its Japanese launch. What's the coolest feature? A retro-inspired fast travel map that hearkens back to the roots of the series.

Fire Emblem: Three Houses

Fire Emblem once again hits the big time with Three Houses, an original adventure coming on Switch. Seemingly built in the mold of Fire Emblem Fates without releasing in three separate parts, you'll be choosing between kingdoms and tactically taking on their evil adversaries.

Astral Chain

The prolific developers at Platinum Games are at it again, bringing a futuristic space cop story to its tried and true action formula. With mechs, a rainbow of hairstyles on the cast and plenty of neon lights, this could be another standout of the stylish action genre.

Marvel Ultimate Alliance 3

Everyone is here! OK, not Mario, but every Marvel hero returns in Ultimate Alliance 3. Developed by Team Ninja, this action RPG looks to be a more worthy successor to the original than the lackluster first sequel. It's good to see Wolvie and the X-Gang hanging out in the greater Marvel canon once again.

Daemon X Machina

Switching back to mechs, Daemon X Machina has made headlines at several past Nintendo Directs for looking like a return to a Zone of the Enders-style experience. The demo wasn't universally praised, but there's plenty of time for everything to come together before its scheduled release.

Bloodstained: Ritual of the Night

Are you still hungry for more Metroidvania after running through Dead Cells or Hollow Knight? Bloodstained: Ritual of the Night brings the genre back to its roots by upping the vampires and the developer's pedigree. Even though it is from the mind behind Castlevania, can this retro revival stand out in the crowd?

Pokemon Sword and Shield

After what feels like 3,000 years, a mainline Pokemon RPG is finally launching on Nintendo's home console. Sword and Shield bring the action to Pokemon's facsimile of England but otherwise looks to stick to what's worked in the past. Remember, Scorbunny is the best starter and we will hear nothing different.