There's a myriad of reasons to buy a PS4 or Xbox One controller phone mount. Whether it's for playing mobile games, emulation, or Google Stadia, having a phone controller mount can make gaming on your mobile device a lot more comfortable.
Below we've put together a list of the best PS4 DualShock 4 and Xbox One controller phone mounts you can get in 2020.
Best Xbox One Controller Phone Mounts
These phone mounts work with the Xbox One Controller.
Dainslef Foldable Xbox One Controller Mobile Phone Holder
The Dainslef Foldable Xbox One Controller phone mount is inexpensive but gets the job done. The mount is designed to support three different angles, which should make for comfortable viewing regardless of your phone's size. The device can also close entirely for storage.
No tools are necessary to fit the Dainslef Xbox One mount to your controller and phone. The mount easily snaps into place on the controller, and the sliding mount makes it a snap to fit your phone.
PowerA Moga Mobile Gaming Clip for Xbox Wireless Controllers
The Power A Xbox One controller phone mount is a bit fancier than others on the list, but it's also a bit more expensive. This mount has dual locking articulation points that allow you to select a wide range of viewing angles. Like other products on the list, the Power A mount also folds down for storage.
While the Power A Xbox One controller phone mount is more expensive than some other products, it's worth the extra money for the more premium build. It feels sturdier all around and comes with a two-year limited warranty.
WEPIGEEK Foldable Controller Mobile Phone Holder/Cellphone Clamp/Clip Compatible with Microsoft Xbox One Controllers
The Wepigeek Xbox One controller mount is another barebones solution to using your controller with your phone. However, it's a bit more versatile in that you can use it with SteelSeries and Steam Controllers in addition to Xbox One controllers.
This mount is just as easy to install as the other two mounts on our list. Again, you just snap it on your controller and place your phone in the slidable holder.
Best PS4 Controller Phone Mounts
The follow phone mounts work with Sony's DualShock 4 controller.
Nyko Smart Clip DualShock 4 Controller Mount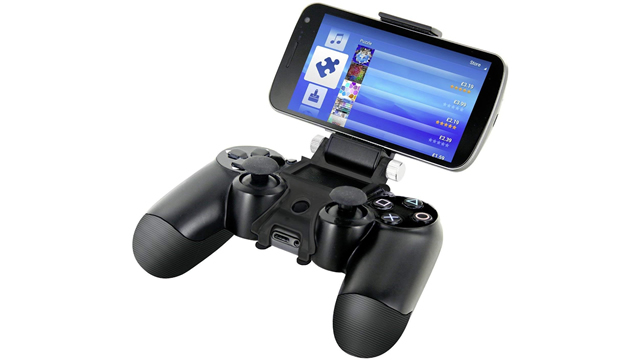 Nyko is one of the biggest manufacturers of third-party gaming accessories, so it's no surprise to find a Nyko PS4 controller mount at the top of our list. Like the other PS4 controller phone mounts featured here, the Nyko Smart Clip snaps around the DualShock 4 and mounts your phone to the controller by means of a screw-type hinge coupled to a spring-loaded clamp.
The adjustable hinge means the Nyko Smart Clip can hold phones at effectively any angle, and the black plastic doesn't stand out as much as the transparent style used with competitors. The only drawback is the phone clip's adjustable height — some users report that it's unsuitable for smaller phones.
OIVO PS4 Controller Phone Remote Play Mount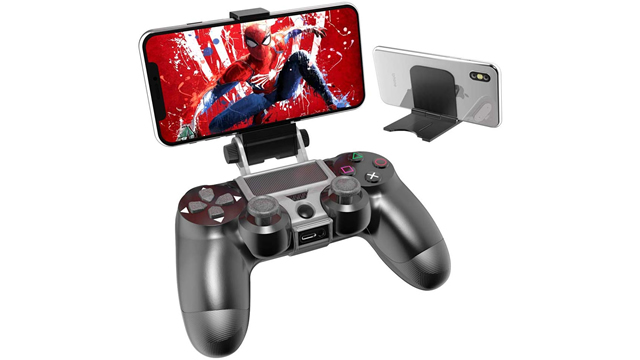 The OIVO PS4 controller phone mount is a popular choice for gamers looking for new ways to play-on-the-go. The OVIO phone mount itself is as-expected in this category, featuring a plastic clip that shrouds the DualShock 4 as well as a screw-type hinge for adjustable viewing angles. However, OIVO also throws in a tabletop phone stand for those who may want to give their neck a rest.
Aside from the transparent plastic used in the controller clip, the OIVO phone mount is largely similar to the rest of the competition. It does come with a bonus Micro USB cable, though Stadia players will still need to keep a USB-C cable handy.
ICESPRING PS4 Wireless Controller Clamp Mount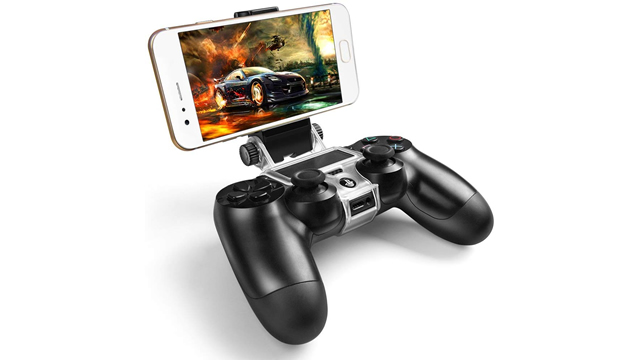 The ICESPRING DualShock 4 phone mount follows in the same design as the other mounts featured on this list. However, ICESPRING gets an edge for two reasons: Offering exact phone compatibility specifications and keeping the price under $10.
The PS4 controller phone mount from ICESPRING comes in transparent plastic with a black spring-loaded clamp that can support phones between 2.64″ and 3.4″ inches wide — plenty enough to hold a Samsung Galaxy Note 10 even with a bulky case attached. It also features a dual screw-type hinge for fully adjustable viewing angles between 0 and 270 degrees. And, not to be outdone, the $10 price tag also includes a bonus Micro USB cable.