If you own Call of Duty: Modern Warfare (2019) on any platform — be that PC, PS4, or Xbox One — then you're undoubtedly familiar with its enormous file size. Unless you have a sizable external hard drive connected, the game probably takes up a huge chunk of your 500 GB or 1 TB internal console memory. Why is Modern Warfare so big, though? In this guide, we'll explain why the Call of Duty games keep getting bigger and bigger.
Why is Call of Duty: Modern Warfare so big?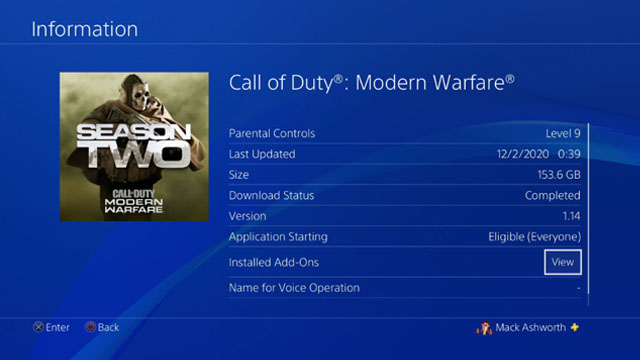 Call of Duty: Modern Warfare currently weighs in at a thicc 153.6 GB on PS4, and similarly hefty sizes on both PC and Xbox One. Most other games don't even come close to that, with, for example, Hideo Kojima's Death Stranding — by all accounts a vast and gorgeous game — weighing in at under 33% of the size with 47.94 GB as of Version 1.10.
ALSO: Modern Warfare Grau 5.56 and Striker 45 | New Season 2 weapons
So, what exactly makes Modern Warfare that much bigger? There are a few reasons here, with perhaps the biggest being that Call of Duty: Modern Warfare is an ever-evolving title. This is necessary to survive in today's competitive online gaming environment, though one major side effect is that the game's file size will quickly balloon with the addition of frequent and significant updates. As exciting as it is to see the recent introduction of Season 2, for example, it'd be impossible for it to be implemented without Activision and Infinity Ward requiring more memory to store the new data.
Another reason is Modern Warfare's expansive suite of modes, which is only set to grow further with the eventual introduction of battle royale. Offering a campaign, co-op, and competitive multiplayer almost makes Modern Warfare akin to three games in one and, as a result, it consumes the amount of memory to match.
While striving to make each CoD iteration bigger and better in terms of scope and visuals, it isn't all that surprising that the games are exponentially increasing in size. With that being said, it's likely that more could be done in terms of optimization as Modern Warfare far eclipses the size of most other games of a similar scale.