If you use Snapchat a lot, you've probably come across a private story. Unlike normal stories, private stories can only be seen by people who have been invited to view them. The process has changed a little through the app's recent updates, so here's how to make a private story on Snapchat in 2020.
Snapchat | How to make a private story in 2020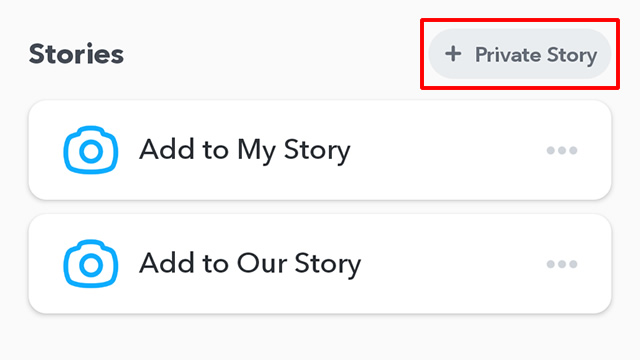 To make a private story in Snapchat, tap on your Bitmoji in the upper left of the camera screen to access your profile. Next to Stories, look for the button labeled "+ Private Story." When the New Private Story menu pops up, choose which friends you want to grant access to, then tap Create Story.
This process is a bit different than it was prior to the latest Snapchat update. Private stories were previously called Custom Stories, which encompassed both Private and Geo stories. As of the latest 2020 update, they're all lumped under Private.
Otherwise, things are largely the same. Once you create a private story, you'll be prompted to select which users will be able to see it. There's no limit to how many users you can choose, and the ones left out won't know that they haven't been included.
After tapping Create Story, you'll be able to give your story a name. It's wise to choose something obvious and descriptive so that you don't inadvertently post a Snap to the wrong story. A little foresight here can save you some potential embarrassment down the line.
Adding Snaps to your private story is a breeze. Once you've taken your Snap photo or video, you'll be prompted to select recipients. On the Send To screen, you'll see your new story listed underneath My Story, which is the default public story. Tap on that, and your private snap will be visible only to the people you selected when creating the story.