The upcoming mobile game Star Wars: Hunters received a shiny new cinematic trailer last week. The game's release date was recently pushed to 2022, after an initial release window of late 2021. However, publisher Zynga has now shared details on all nine Star Wars: Hunters characters. If you're you need help deciding which character to main when the game releases, check out our Star Wars: Hunters characters list, to help choose which bounty hunter to select.
Star Wars: Hunters Characters List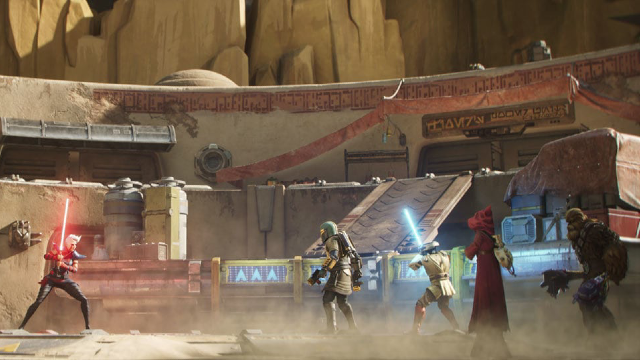 There are nine playable characters in Star Wars: Hunters. Here is the full list:
Aran Tal – a Mandalorian bounty hunter
Grozz – a Wookiee especially effective against droids
Utooni – two Jawas, focusing on firepower and blasters
J-3DI – a droid programmed to believe it has the Force, even dressing in Jedi robes
Rieve – she's not quite a Sith, but she has a red lightsaber and ominous evil motivations
Imara Vex – a masked elite bounty hunter, with a trademark two-handed blaster
Sling Shot – an Ugnaught racer encased in a speeder shell, making him a very quick character
Sentinel – a rogue Stormtrooper, still fighting against the Rebels after the fall of the Empire
Zaina – a wisened Republic fighter from the era of the Rebellion
As you can see, there's an expansive range of characters available in Star Wars: Hunters. They encapsulate all parts of the galaxy, from Imperial Stormtroopers to a clever spin on a Jedi Knight. Since this game is set after Return of the Jedi, it means most of the characters are based on the original trilogy. As such, you won't see any Clone Troopers or Battle Droids in Star Wars: Hunters. However, more characters could be added in future updates.
The latest cinematic trailer for Star Wars: Hunters was released earlier this week, showing off the nine playable characters in action. As the game is still reasonably far out from launch, we don't yet have details on how each character plays or their specific strengths. However, it looks set to be a licensed MOBA in the vein of Pokemon Unite, and will no doubt be essential playing for Star Wars fans.
In other news, Battlefield 2042 has been delayed by a few weeks. We've also got a review of the latest episode of Marvel's What If?