In CoD Mobile, the highest-tier Mythic weapon skins are one of the most sought-after drops in the game. While these Mythic weapon skins are mainly cosmetic, they usually come coupled with awesome animations and cool-looking effects, like ultraviolet, iridescent, or rainbow colorations. However, securing them is easier said than done.
How much is a guaranteed Mythic in CoD Mobile?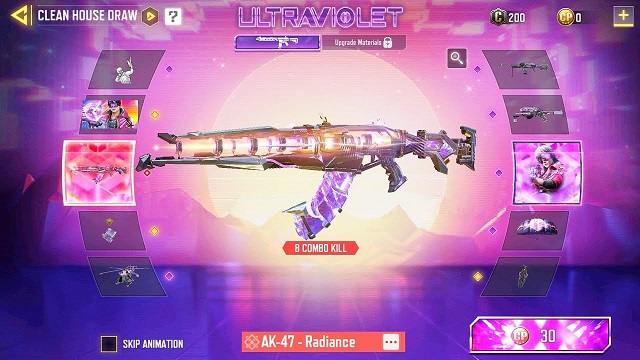 The only way to get Mythic weapon skins is to get lucky with limited-time Mythic Drop Crates and typically spending a large amount of CoD Points (CP) in the process. Each of these drop crates come with a set of ten items, and paying for a draw gets you one of them. The prize pool usually include emotes, character skins, vehicle skins, trinkets, and calling cards.
Of course, the featured Mythic item has the lowest odds to get, but thankfully once you obtain one of the ten items, it is removed from the pool. That means that you're guaranteed to get the Mythic item by the last roll. However, every subsequent draw costs exponentially more CP. For example, this is how much each draw costed for the Mythic AK47 Ultraviolet lucky draw offered in mid-April 2022:
1st draw: 10 CP
2nd: 30
3rd: 50
4th: 120
5th: 200
6th: 320
7th: 520
8th: 960
9th: 1300
10th: 2300
Altogether, that's 5810 CP! Given that 5000 CP is roughly around $50, that's a lot of real-life money to spend on microtransactions for a guaranteed Mythic skin. But if you've got the cash and you want to show off your decals to all your friends (and your enemies), then at least you know what you're paying for. Activision and Tencent's Timi Studios announced in February 2022 that CoD Mobile had surpassed $1.5 billion in global lifetime spending, so we know that some of you have got the money to spare.
Now, there are several ways to get CP without spending any money, such as completing Google Opinion surveys, getting rewards from CoD Mobile tournaments, and paying attention to giveaways on YouTube. It may take you awhile to accumulate enough premium currency, though, to get a guaranteed Mythic drop. To be economical, you may just want to do two pulls on a lucky draw and hope for the best.
In other news in gaming, Apex Legends Mobile will not be released in Belgium due to loot box rules, and the game's prime time update looks prepared for today's launch.