Many players have been experiencing The Cycle Frontier login failed error after the game's launch. This particular bug usually comes paired with a "server offline" error, stating on screen: "Could not establish backend connection, will retry connection in a couple of seconds." The bug also may or may not come paired with a specific error code, with it sometimes outputting "ERROR CODE ##" instead.
How to fix The Cycle Frontier login failed and server offline errors
At the time of this writing, the only recourse players have to fix this error is to relaunch the game or wait for the server to reconnect. Numerous reports of this bug have been posted in the technical support channels on the official Discord for The Cycle Frontier without an official answer.
There were similar login errors during the game's beta. Specifically for error code 4, you could attempt to uninstall and reinstall the anti-cheat software BattlEye according to this Reddit post. As such, we recommend that you check to make sure that your version of BattlEye is up to date. Another solution involved changing the beta participation settings on the Steam version of the game, but that doesn't seem to be valid anymore for the official release.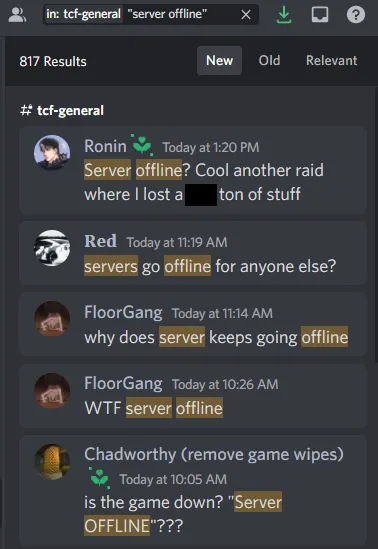 Sadly, this error commonly occurs in the middle of a match, causing players to be kicked offline and lose all of their accumulated loot in the process. So if this happens to you, just know that you're not the only one. The image posted above is merely a small sample of the server offline error as cataloged in the #tcf-general channel on the game's Discord.
New bugs are not uncommon for games at launch, even if the beta runs smoothly, and this error is just one among many. The #bug-reports channel describes multiple instances of the game crashing, equipment upgrades failing, loot not registering upon extraction, the matchmaking not working, and servers disconnecting. Hopefully, Yager will iron out the multitude of issues with a hotfix or patch soon.
For more guides, here's how to sign up for the Call of Duty: Modern Warfare II beta and whether HypeSquad is releasing on PS5, PS4, Xbox Series X|S, and Xbox One.