Halo 5: Guardians won't feature a Big Team Battle multiplayer mode when the game launches this October.
"Warzone is the evolution of BTB, on steroids," studio head Josh Holmes said on Twitter in response to a fan asking about the mode's inclusion (or lack thereof) in Guardians. Rest assured, however, that good things do come to those who wait, as Holmes added that they'll "also be adding a more traditional BTB mode post-launch."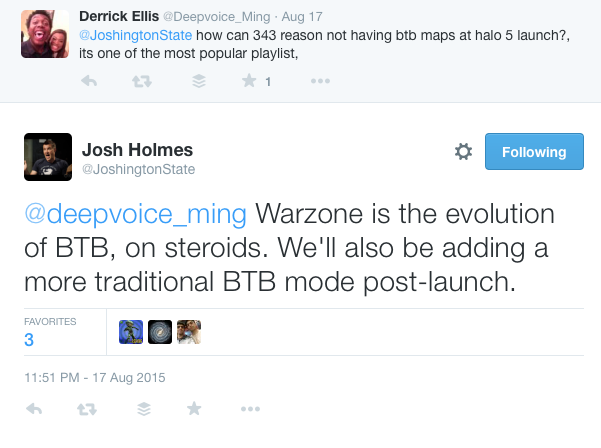 Sadly, that isn't the only disappointing news for Halo purists, as not too long ago, 343 Industries also confirmed that its upcoming Xbox One exclusive won't feature split-screen support in any way, shape, or form.
As someone who isn't a huge fan of Big Team Battle, the lack of such a mode at launch isn't such a huge disappointment to be, but I can totally understand why more than a few gamers may be a bit perturbed. I'm admittedly a bit sad we won't be getting split-screen, but at the end of the day, I trust 343i knows what's ultimately best for the game experience. After all, I don't really have a choice, do I….
For more on Halo 5: Guardians including hands-on impressions of the game's new Warzone mode, check out our in-depth preview.
Related Reading: