LED lights have ignited a craze in the world of hardware during the past few years. Mice, keyboards, headsets—all can be found brightening gaming rooms around the world, and setting atmosphere for long weekend sessions.
Extending this beyond the norm, SteelSeries has developed the world's first RGB illuminated mousepad. It's being called QcK Prism, and it's a work of art that has been given serious engineering attention.
The QcK Prism is a dual-surface mouse pad equipped with LED lights on its outer perimeter that form a square ring. All 12 LED lights are zoned independently, providing options through software to cast a color across a spectrum of millions of options.
The downside? It requires a USB connection to power the LEDs. Though, its USB port is positioned at the upper corner of the unit as to make cable management a non-issue for most setups.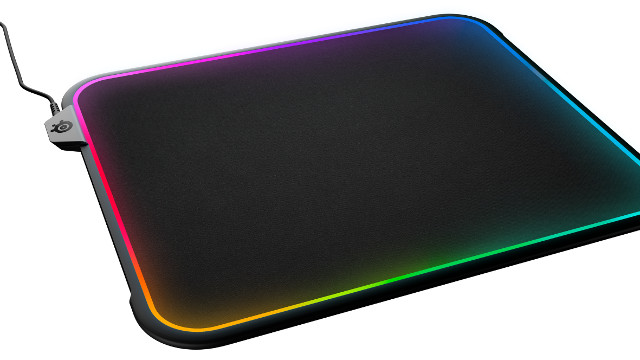 On one side is a micro-textured cloth surface that introduces moderate friction, a favorite among Counter-Strike players, and most similar to the standard QcK. On the other, a hard polymer surface more similar to the DeX. The lights can be seen on both sides allowing quick transitions between both configurations without compromise.
Prism Sync is supported by the device, allowing it to produce colors matching those of other SteelSeries hardware on your PC, including the best-selling SteelSeries Rival 300.
The QcK Prism is priced at $59.99 and is now available via online retailers including Amazon and Best Buy. We will have a full review of this product within the next two weeks.