Though it keeps a relatively low profile, Splatoon was a big deal on Wii U. The game (Nintendo's first new IP in quite some time) managed to sell well over 4 million copies despite Wii U's miniature install base, a massive number for fresh intellectual property regardless of which company is selling. It only makes sense, then, that its upcoming sequel Splatoon 2 would win some extra love from Nintendo on Switch, and it looks as though Nintendo is planning just that.
In a tweet from Nintendo's official Japan Twitter account, it was revealed that a Splatoon 2 bundle is slated for Japan, complete with ink-shaded neon Joy-Cons, Splatoon stickers, and a Nintendo Switch console. The full extent of the Splatoon 2 goodies can be seen on Nintendo's official site.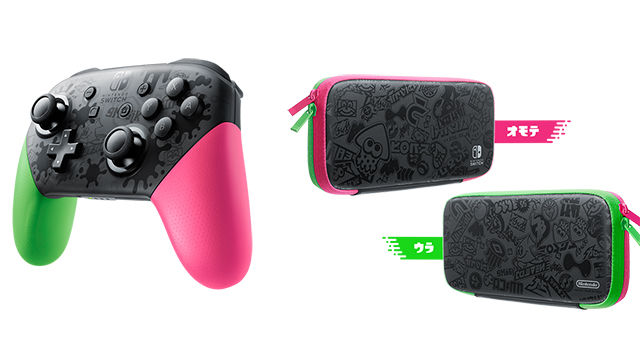 Also on deck are a range of sold-separately accessories, including Splatoon 2 Nintendo Switch carrying cases (I do still need a case beyond my current solution, a knit hat) as well as, surprisingly, an extremely vibrant version of the Switch Pro Controller. The high-end pad's two rubber grips have been re-colored pink and green to match the new Joy-Cons, making for quite the collection if someone were to invest in the entire set.
There's no word just yet whether or not the bundle and squid-ified accessories will reach the West, but there's likely a good chance – over 1.5 million of the original Splatoon's sales came from North America. For more Splatoon, check out what pro players think Splatoon 2 needs to reach its full potential as a competitive game.