A new collaboration between Halo developer 343 Industries and Limbitless Solutions introduces Halo prosthetic limbs to the world. The collaboration was announced earlier today and features a number of customizable Halo-themed prosthetics.
343 Industries posted on their site today revealing the new prosthetics from Limbitless. The first 3D-printed Bionic Arm is based on Master Chief's Mk VI Mjolnir armor seen in Halo 2 and onward. The second style that will be on offer is a "multiplayer" variant, allowing for more personalization. Limbitless will start offering the prosthetic limbs in 2019.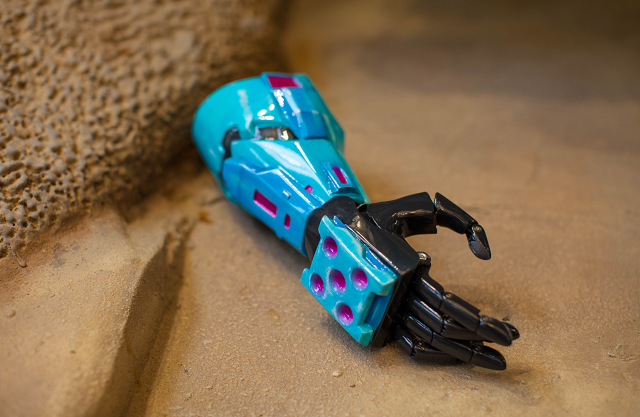 343 Industries had this to say about the new collaboration.
"Today we're excited to talk a little bit about one such opportunity, as 343 Industries is proud to announce a collaboration with Limbitless Solutions to provide new Halo-themed, 3D-printed prosthetics to be made available to young heroes who — like the Master Chief himself — also routinely and triumphantly beat the odds."
Limbitless Solutions is a non-profit organization driven to develop 3D printed bionic arms. Their prosthetic limbs are provided free of charge to recipients and their families. All of their work is also open source, allowing people to help development of the functional arms, or to 3D print their own.
Limbitless began in 2014 at the University of Central Florida when a group of students wanted to provide a prosthetic limb to a young boy. He was born without most of his right arm, and traditional prosthetic limbs were too expensive, so the team set out to help. Limbitless is now a full-time operation at UCF, where it is staffed by undergraduate, graduate, and full-time employees. The organization is currently working on developing prosthetic legs.
The new Halo prosthetic limbs join other themed limbs including an "Iron Man" prosthetic arm. 343 Industries is currently developing Halo Infinite, the next game in Microsoft's long-running first-person shooter franchise. Halo Infinite was announced at E3 2018, and is said to be using the new Slipspace Engine. Halo 5: Guardians released in 2015 on the Xbox One.