KissAnime is down and reportedly won't ever return, as DMCA copyright claims have forced both the anime site and its sister site KissManga to be taken down "forever." So what happened to KissAnime, and is there a chance the site will come back online?
KissAnime was a site that hosted free, often pirated, anime shows and movies, with its parent company also running sister sites such as KissCartoon, KissAsian, and the now-defunct KissManga. Both KissAnime and KissManga have allegedly been hit by copyright claims that have forced them to close the sites, after years of hosting pirated content.
What happened to KissAnime?
KissAnime and KissManga were taken down due to copyright claims, which led to their servers being shut down in the process.
The announcement was made via the KissAnime Discord server, with the site's support account initially messaging followers to let them know that the site's beta servers had been taken down.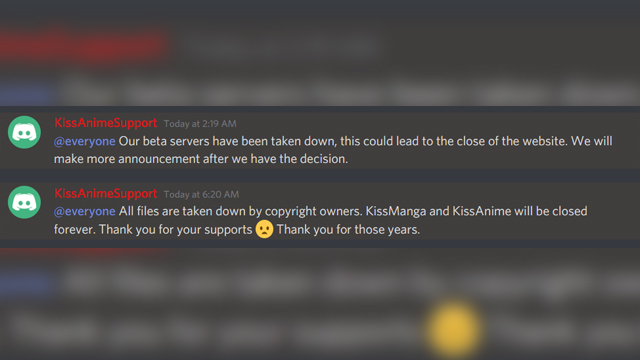 Our beta servers have been taken down, this could lead to the close of the website," the support account messaged. "We will make more announcement after we have the decision."
A later message confirmed that KissAnime had been shut down, seemingly for good. "All files are taken down by copyright owners. KissManga and KissAnime will be closed forever," the message reads. "Thank you for your supports. Thank you for those years."
The KissAnime Discord server then put its text channels in lockdown, no longer allowing other followers to message.
Are there KissAnime alternative sites?
KissAnime being shut down doesn't bode well for other alternative free anime sites. The content KissAnime and KissManga was hosting was always illegal, but both sites managed to avoid legal action for a lengthy period of time.
https://twitter.com/walangpasokfile/status/1294538948589400064
Inevitably, KissAnime being shut down means that plenty of scam sites are popping up in order to lure in users trying to access the site. Some are using the website's URL, while others are straight-up copying its branding and design in order to get users to pass over their personal details.
The messages from the KissAnime Discord support account suggests that both the anime site and KissManga are gone for good, so if you were a regular user of either site, there's little you can do aside from watch your anime elsewhere.
---