The Fortnite Lucky Landing location was added with the 3.1.0 update. Here's everything you need to know about its whereabouts and what you can expect to find there.
Fortnite Lucky Landing Location
Players will find the Fortnite Lucky Landing location at the very bottom of the map. It's clearly marked and easily spotted from the air. Look for the big pile of pink blossom adorning the central rooftop.
Here's the newly-updated in-game map, with Lucky Landing clearly marked: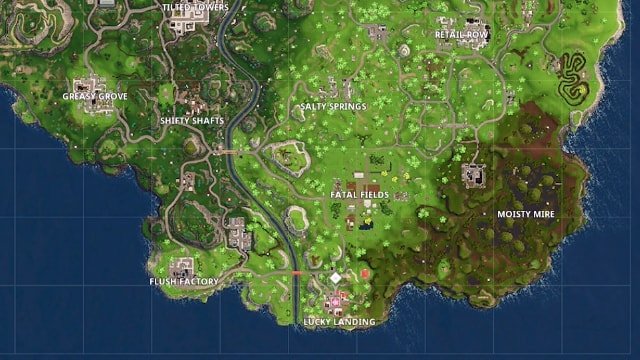 Fortnite Lucky Landing: What Is It?
The Fortnite Lucky Landing location is a new point of interest that was added with the Fortnite 3.1.0 update. Epic Games simply describes it as being "to the southern edge of the island."
Players who visit Lucky Landing will find the buildings have an oriental theme. These contain loot which, if you're "lucky," will lead to some quick and easy powerful weapon drops.
The Fortnite Twitter account hinted at the new location when announcing downtime for the latest update:
V.3.1.0 is about to land… and it sure feels lucky! Downtime for the V.3.1.0 patch will begin on March 1 at 4:00am ET (0900 GMT).

— Fortnite (@FortniteGame) March 1, 2018
As this is a new location, expect to see a high volume of players landing here. If you're hoping to survive as long as possible, I'd avoid this area, and instead head to other marked areas, where players are now less likely to land. On the other hand, if you're looking to improve your shooting skills, heading to Lucky Landing might be a great way to get used to new weapons. You might die quickly, but you can always jump back in and start shooting once again!
More Fortnite Articles: