The Crash Team Racing Nitro-Fueled 1.04 update patch notes bring the biggest changes the game has seen since its launch just under two weeks ago. Not only does it mark the beginning of the big Grand Prix event full of skins, karts, and other cosmetics, but it also fixes a number of bugs and adds some quality of life additions as well. This new patch is a hell of a way to kick off the first update for the beloved kart racer.
Crash Team Racing Nitro-Fueled 1.04 Update Patch Notes | The first Grand Prix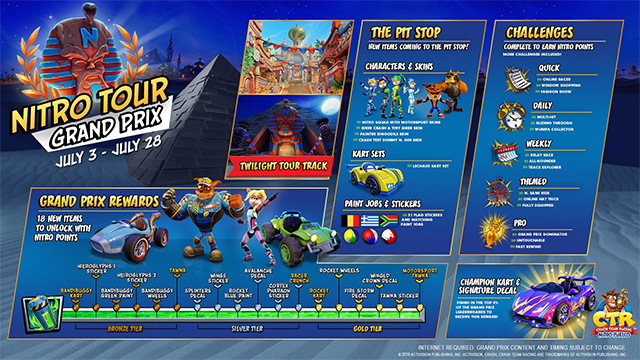 As was noted before launch, this patch kicks off the Nitro Tour Grand Prix for CTR. The Grand Prix acts as a limited-time event that runs from July 2 at 5:00 pm PT to an unknown time on July 28. Completing challenges earns you Nitro Points, which fills a gauge sort of like a battle pass from Black Ops 4 or Fortnite. As this gauge fills, players gain more rewards. These 18 rewards will only be available as part of this event and might come to the Pit Stop at a later date. You can see the rewards in picture above. These items include:
Bandibuggy kart
Hieroglyphs 1 sticker
Bandibuggy green paint
Hieroglyphs 2 sticker
Bandibuggy wheels
Tawna (playable character)
Splinters decal
Wings sticker
Rocket blue paint
Avalanche decal
Cortex pharaoh sticker
Racer Crunch skin
Rocket kart
Rocket wheels
Fire Storm decal
Winged Crown decal
Tawna sticker
Motorsport Tawna skin
These are attainable via challenges that are separated by quick, daily, weekly, themed, and pro. There will even be a special kart and decal for those in the top 5% of either of the new leaderboards (more on that below).
While that's all coming as part of the event, there will also be some new items included in the Pit Stop that will be purchasable via Wumpa Coins. These items are likely to stay around after the event:
Nitro Squad characters: Ami, Megumi, Isabella, and Liz (also known as the Trophy Girls from CTR)
Biker Crash and Tiny Biker skin
Painter Dingodile skin
Crash Test Dummy N. Gin skin
Lechaux kart
31 national flag stickers with matching paint jobs
Some of these Pit Stop items will come with bonuses that will boost how fast your accrue Nitro Points. There will be a little icon near the items in question.
Crash Team Racing Nitro-Fueled 1.04 Update Patch Notes | Quality of life changes
While the event and track highlight the Crash Team Racing Nitro-Fueled 1.04 update patch notes, there are a few additions that will make the game more pleasant to play. The game will now play podium animations online like in the adventure mode if you finish in the top three. Most skins have unique animations so that'll encourage more people to use fancier skins.
Character icons in the top four icons and mini-map will now reflect the user's skin. This helps players discern who is who and is yet another way to show of your fancy cosmetics.
It'll also break down how you earned your Wumpa Coins at the end of each race. It was hazy and hard to pin down how much you'd earn after you sped across the finish line, but now you'll know exactly how the game is doling out coins. Beenox is also adjusting the earn rate but didn't specify how.
All villains from Crash Nitro Kart will now have a Velo Mask when they would previously use an Uka Uka Mask. This includes when these characters use the Mask power-up as well as when they fall off the track.
A "Message of the Day" will now display on the main menu. Most online games do this so the developer can directly speak to its audience.
The game will add two types of leaderboards: Nitro Point and Championship. The former tallies the number of Nitro Points you earn while the latter is based on your online performance. You get more points the higher you place in an online match. A signature decal and kart for the top 5% of either leaderboard will be distributed and be reset at the end of each Grand Prix. New prizes will be in every Grand Prix.
Crash Team Racing Nitro-Fueled 1.04 Update Patch Notes | Bug fixes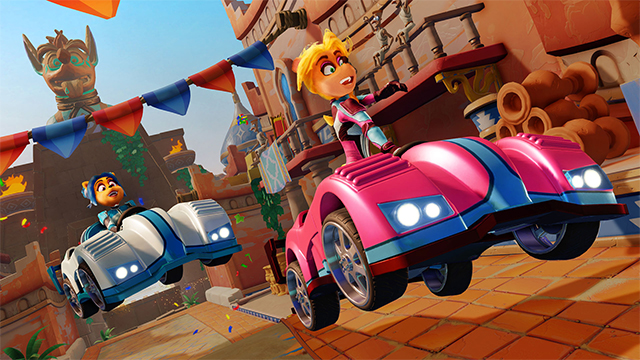 There are also some important bug fixes in these Crash Team Racing Nitro-Fueled 1.04 update patch notes. The issue affecting save data of PS4 players who have played a lot of Time Trials will be fixed. Players can now purchase the Electron Aqua paint job from the Pit Stop. Previously, it would say you purchased it but nothing would actually happen. There are also some vague collision fixes in tracks and some online stability improvements.
Crash Team Racing Nitro-Fueled 1.04 Update Patch Notes | Full patch notes
Here are the full Crash Team Racing Nitro-Fueled 1.04 update patch notes straight from Beenox's mouth:
Save Data Corruption Issue:
PS4 players, we have identified that your save data file has a chance to corrupt if the data for race ghosts in Time Trials becomes too large. This has impacted players who complete many Time Trial races.
We've been working to properly fix the issue and it will be addressed in this patch. In the meantime, we recommend that PS4 players avoid playing Time Trials as a preventative measure. This issue should not occur for Nintendo Switch and Xbox One players. Alternatively, PS4 players have the option to backup save data on an external storage device or backup save data to the cloud as an extra precaution.
We are blown away by the community support for Crash Team Racing Nitro-Fueled, and to say thank you for your patience while we work on these adjustments, we will be providing a one-time 2,500 Wumpa Coin gift to all players on all platforms who play Crash Team Racing Nitro-Fueled while connected to the internet starting this weekend through July 4. Expect this bonus to go live within 24 hours. Players can receive this bonus by completing a race while connected to the internet and then accessing the Pit Stop.† We encourage our players to submit support tickets through Activision Support if any issues or questions arise, because it helps us more quickly address issues impacting the community.
Features and Content Additions:
1. Introduction of the Grand Prix content:
The Nitro Tour Grand Prix will be going live and you can begin earning Nitro Points and unlocking a variety of bonus customization content by completing challenges found within the Grand Prix menu†.
"Twilight Tour" will be a brand-new track available to Local Arcade and Online modes. The character Tawna will able to be earned through completing Grand Prix challenges and earning Nitro Points. You will also be able to earn additional new items including karts, skins, stickers, decal, and paint jobs!
Note: Tawna and the items described above can only be earned for a limited time by completing Grand Prix challenges while connected to the internet. Once the current Grand Prix season ends, they will no longer be available to earn through Grand Prix challenges until they may appear in the Pit Stop at a later date.
2. Introduction of Online Leaderboards:
Leaderboards will be added to the Grand Prix Menu.
·      Nitro Point Online Leaderboard
You can earn Nitro Points by completing challenges accessible in the Grand Prix menu. The more Nitro Points you gather, the higher you'll climb the leaderboard!
·      Championship Leaderboard
You can earn points based on your performance while playing online multiplayer: You're given a number of points each time you complete a race in online multiplayer†. You receive more points the higher your placement is when each race is over (first is the most, and eighth place is the least). The Leaderboard is unlocked after you finish your first online race.
Leaderboard rewards will be distributed on the first day following the Grand Prix and will reset at the end of each Grand Prix season.
3. The Pit Stop
A variety of new content will be added to the Pit Stop including karts, characters, character skins, decals, paint jobs, wheels, and kart stickers that can be redeemed with Wumpa Coins†. Don't forget to check the Pit Stop to see refreshed content!
When visiting the Pit Stop, you'll notice that items that were added as part of the Nitro Tour Grand Prix have little Nitro cannisters over their icons. You'll notice the same thing in the customization menu over the same icons. This small Nitro cannister with a percentage tied to it denotes the extra Nitro Point boost you'll get whenever completing challenges with these customization options equipped. The percentage increase stacks with each customization item you have equipped. So get collecting, and get stacking!
As a special call-out to some of the new additions, the "Nitro Squad" characters Ami, Megumi, Isabella, and Liz can be redeemed using Wumpa Coins in the Pit Stop and flags from nations around the world will be added as kart stickers.
4. Online
Podium animations will be added to online matches when you finish in the top 3 of an online multiplayer race.
5. User Interface Improvements
A "Message of the Day" feature will be added to the Main Menu. Check back daily when your system is connected to the internet for important messages!
6. Wumpa Coin Earn Rate
Adjustments will be made to the Wumpa Coin earn rate, and additional information on the earn rate will be added to the end-of-race report, so you can know how you got to your number.
7. Character Icons
The mini-map icons and racer icons will now represent the character skin that you have equipped.
8. Patches: Issues of Note
The following issues will be addressed in the patch:
8a. Global Save File Corruption Issue on PS4:
Will address the global save data issue that has been affecting PS4 players
8b. Pit Stop:
Will address an issue where Users were unable to purchase the "Electron Aqua" paint from the pit stop.
8c. Online:
Will address various known online stability issues related to the lobby, arcade, adventure, other parts of the game, and menus.
8d. Tracks:
Collisions of certain maps have been reworked to remove stuck spots and possible exploit areas, along with an improvement to fidelity.
8e. User Interface:
An issue where personal Time Trial and Relic scores are not highlighted in the "Highscores" menu will be addressed.
8f. Community Feedback:
All villains from CNK will now be protected by the Velo mask when racing with that Power Up.
That's it for this patch. If you have a question or issue while playing the game, feel free to reach out to Activision Support; we're more than happy to assist you!
*Exact timing of patch subject to change.
**Grand Prix content and timing subject to change.
† INTERNET REQUIRED for Wumpa Coins, Grand Prix, Nitro Points, online multiplayer (gaming subscription service sold separately), access to the Pit Stop and other features.
Crash Team Racing Roster
Crash Team Racing Nitro-Fueled Roster | Who's Who in this Throwback Kart Racer?

Even after Crash Bandicoot came back with the N. Sane Trilogy, it seemed insane that we'd also get a remaster of Crash Team Racing. And not only are we getting that, but we also getting new content imported from later games in the series. For anyone new to CTR, here's a crash course covering who's who among the more obscure characters on the Crash Team Racing Nitro-Fueled roster.

Fake Crash

A joke character cooked up by Naughty Dog to mock some off-brand Japanese merchandise, Fake Crash made his only playable appearance in the Crash Team Racing games. He's got huge eyebrows, a whole row of buck teeth somehow, and a questionable set of dance skills that he loves to show off to deserving players.

Pinstripe Potoroo

Pinstripe is a boss character from the original Crash Bandicoot. A typical mobster, Pinstripe runs Cortex's factories as well as serving as the main baddie's bodyguard. In the manual for Crash 2 in Japan, it's said that Crash's old flame Tawna shacked up with Pinstripe after the events of the first game.

Papu Papu

A tribal leader on the island where Crash washes ashore in the original Crash Bandicoot, Papu is the first boss that the Bandicoot defeats in his adventures. In his CTR boss battle, Papu loves throwing chemical beakers behind him to slow you down.

Ripper Roo

A boss from the first two Crash games, Ripper is a kangaroo who was hit with Cortex's evolution laser twice in quick succession. That turned his hair blue and his mind moldy, making him very much insane. Although he eventually regains his intelligence and becomes a college professor, Ripper can snap back into his looney persona with frightening ease.

Komodo Joe

The skinnier of the two Komodo brothers, Joe speaks just like a snake and wields a curved sword. He is a solo act in Crash's karting adventures, although he appears with his brother in his debut boss fight in Crash 2 and in his appearance in Crash Bash.

Doctor Nefarious Tropy

The self-proclaimed "master of time and quantum warp technology," N. Tropy is the catalyst behind Crash's time travel adventures in Warped. His signature weapon is a huge tuning fork, and players have to master Time Trial mode to nab him in the original Crash Team Racing.

Crunch Bandicoot

If you can't solve a bandicoot problem, why not throw a bandicoot at it? That's the thinking behind Crunch, another mutated marsupial that quickly joins with our heroes against his former master Cortex. He may be dim-witted, but he's loyal to his new family.

N. Trance

A cyborg from the 5th dimension (we can't make this stuff up folks), N. Trance is a master of hypnosis that battles Crash in his Game Boy Advance adventures. In Nitro Kart, N. Trance brainwashed Dingodile, Polar, and Pura to join his side and form a racing team.

Norm and Big Norm

Aliens from another planet, Norm is one of the racers Emperor Velo XXVII brings in to battle Earth's teams. He is actually one being that can split himself into two characters and each one appearing as an unlockable in Crash Team Racing: Nitro-Fueled.

Nash

A cybernetic racing shark from the planet Barin, Nash uses his sharp teeth as weapons, just as all good sharks should. In the original Crash Nitro Kart, he shares a voice actor with one Phillip J. Fry, which is quite the experience for any Futurama fans out there.