Can you store Xbox Series S games on an external hard drive? The Xbox One introduced external HDD support as a means of cheap storage extension. Now, potential buyers are wondering if external storage support will carry over to the next-gen Xbox Series S. Keep on reading to find out the need-to-know about Xbox Series S game storage.
Can you download Xbox Series S games to an external HDD?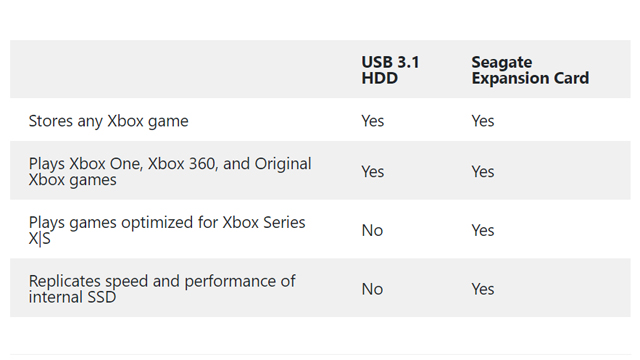 Given that the Xbox Series S internal memory is just 512 GB, it's easy to see why people are searching for alternative storage solutions. Games are getting bigger in terms of file size, so filling up the base Xbox Series S storage won't take long. Should you have an Xbox Game Pass subscription, it's possible that you could even run out of space immediately.
Yes, Xbox Series S games can be stored on an external hard drive. There is a downside, however, as stored Series S games can't be played directly from an external HDD.
Games installed to a hard drive must be transferred to the internal SSD or a Seagate Expansion Card (which isn't as expensive as you might think) before they'll launch.

As seen in the table above, an external USB 3.1 HDD will store any Xbox game. Installed original Xbox, Xbox 360, and Xbox One titles will play directly from a hard drive, but Xbox Series S games will not. As noted in the Xbox Series S storage compatibility chart, this is due to a hard drive's inability to replicate the necessary speed and performance to run next-generation games. Only supported SSD technology can do that.
Transferring games from a hard drive to the SSD will be much faster than having to delete and redownload games all of the time. While there's still some legwork involved in manually transferring them, this is good news for anyone with Xbox Series S storage size concerns.
Although Xbox Series S HDD support has been a worry for many until now, the consoles sold out regardless. As for the Xbox Series X, it's been confirmed to load games up to 80% faster!