DICE's Battlefield 2042 is coming out later this year, after its official reveal last week. The game takes place several decades in the future, combining modern weapons with futuristic technology. Read on to find out how you can play the game early, as well as when the open beta will take place.
What is the start date for the Battlefield 2042 open beta?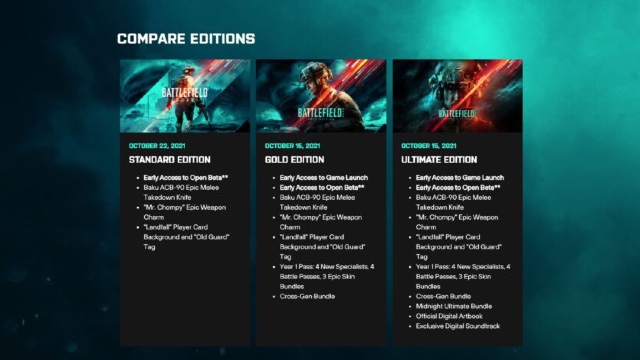 Currently, we don't know when the Battlefield 2042 open beta start date is.
All we know so far is that if you pre-order any version of the game, you'll get early access to the open beta. That goes for the Standard Edition, Gold Edition, and the Ultimate Edition. It's worth noting that this is for the open beta, meaning everyone else will eventually be able to play it free of charge, too.
However, pre-ordering the Gold or Ultimate editions also gets you the full game a week early. Gold and Ultimate players can play Battlefield 2042 from October 15, 2021, whereas Standard Edition players will have to wait until October 22.
Currently, DICE has yet to give much detail about the open beta. The gameplay reveal that took place during Xbox's E3 conference didn't give us any hints, either.
Thankfully, we can look at the beta for 2018's Battlefield 5 as a suggestion. The open beta started on September 4 for pre-order customers, and September 6 for all players, and the game launched on November 9. Therefore, if the beta takes place two months before release, we can expect the Battlefield 2042 beta to take place around late August. This isn't official, though, so we'll have to wait for EA and DICE to confirm before we know for certain.
In other news, Square Enix announced a Guardians of the Galaxy game last night, with players controlling Star-Lord. A new update for Grounded was also announced, introducing pets and a new spider boss, the Brood Mother.