The Wordle answer 323 has been revealed for May 8, 2022. Today's word could be a very challenging one for players, as it's both an uncommon word and features a duplicate letter. Need a tip? Today's word has one vowel located in position 2. Still require help? Then read on for the Wordle 323 answer.
What is the Wordle answer 323? (May 8, 2022)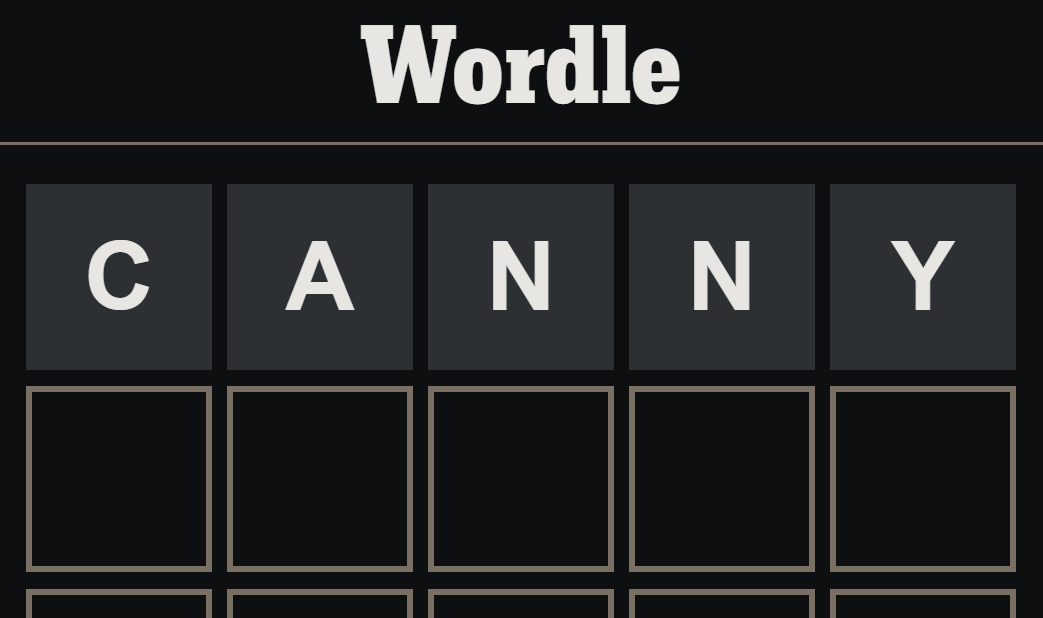 The Wordle answer 323 is "CANNY."
Note: If NYT decides to skip this word, then the answer will instead be "FETUS" or "BUTCH."
"CANNY" is an adjective that means "having or showing shrewdness and good judgement, especially in money or business matters." (Definitions from Oxford Languages)
"CANNY" is likely to be tough for many players, largely due to the double "N." Rarely do players consider duplicate letters in their initial guesses, meaning that this word is probably going to be found during the fifth or sixth guesses for the majority of players. There's a lack of easy vowel letters, too, not to mention the uncommon word itself. Well done if you get this one!
For those finding it difficult to find the right answer, a good approach can be to try using all of the available guesses to eliminate as many letters as possible. Provided you aren't playing on Hard Mode, which forces players to use confirmed guesses in all of the subsequent attempts, it's best to use each new guess to knock out as many potential letters as possible.
Looking for even more Wordle puzzles for today? Then have a gander at this guide on how to play the previous day, past, and future games. Or, if you want to retry today's puzzle, simply open an Incognito tab or clear your browser cookies for a new save.
In other gaming news, Fortnite is now playable on iPhone for free using Xbox Cloud Gaming, but there's a catch. Xbox Free Play Days is now running for Civ 6, Overcooked, and more. Razer is selling limited edition Xbox controllers.