There's a new Attapoll Fortnite scam on TikTok where creators claim that players can get free V-Bucks for completing paid surveys on the app. Like all fake scams, there's no truth to it and there is no partnership between Epic Games and Attapoll. Here's everything you need to know about those videos so you don't fall into the trap.
What is the AttaPoll Fortnite V-Bucks TikTok scam?
The Attapoll Fortnite TikTok scam videos all show a screenshot of what looks to be an official Tweet from the Fortnite Twitter account, but it is fake.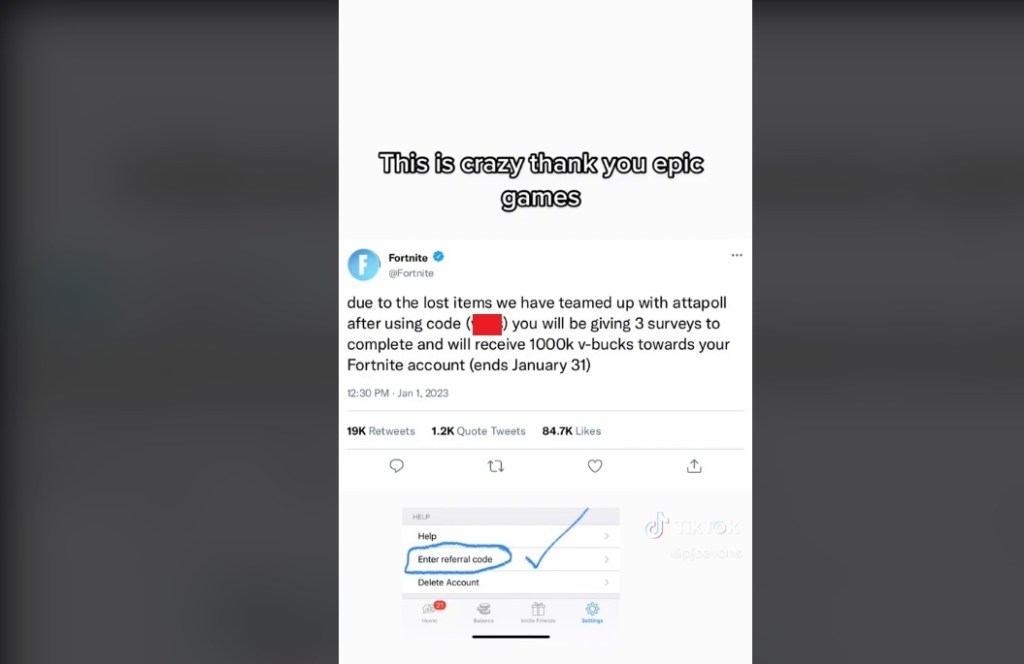 The "tweet" apologizes for a problem players may have encountered, such as lost items or, more commonly, the recent FTC lawsuit. The video then claims that Epic Games has entered into a partnership with the Attapoll app and players who complete three surveys on the app after entering a referral code will receive a varying amount of V-Bucks.
All of these videos are scams to get players to sign up to Attapoll — a legitimate survey app — with the referral code. The video creator then gets a small sum of money for a new referral. These videos all use tweets with different wording, dates, account icons, V-Buck values, and referral codes. None of them are real and players will not get free V-Bucks for completing surveys.
At least we know this is definitely fake, unlike the ongoing Oldnite TikTok video.