I missed out on the Super NES. Sure, I played at a friend's house, I played at a cousin's, I played anytime I could get my two hands on the second console from Nintendo.
Every now and again I'll look at Craigslist, eBay, whatever and see what SNES bundles run for. Why? I'd like to add the machine to my growing collection of consoles. Of course, when I think about a SNES under my TV, I don't think about a handheld device.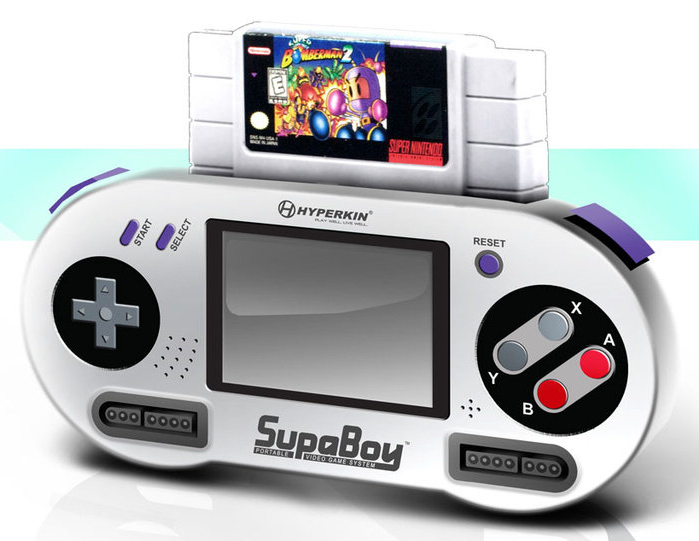 Enter Hyperkin's SupaBoy: a handheld SNES that plays all the classic cartridges you have lying around. The SupaBoy comes with every button you'd normally have on a SNES control pad plus a 3.5 inch LCD screen. Cartridges sit right in the back with the label for everyone looking over your shoulder to see.
A/V stereo-out and a rechargeable battery round out the package. What's better, the front of the device supports two SNES controllers for multiplayer and… you know… not hurting your hands.
Look, I'll cut the cynicism. It's neat that old-school systems like the SNES still get attention. They damn well deserve it! Unfortunately, part of why you get a classic system is that it looks cool, it plays like it used to, and it shows you have taste. When did video games get to be so much like wine?
Anyways, the Hyperkin SupaBoy (God help us) doesn't have a release date yet, but it's very real. Hyperkin has already released a Genesis and NES handheld, among all of their peripheral releases.