Physical copies of Spyro: Reignited Trilogy will not include the second and third games on the disc. Twitter user @Wario64 initially found this news via the leaked box art for the upcoming collection of the classic Activision platformer series. On the box art, embedded below, you can see that both versions of the game "Requires Content Download".
Spyro Reignited Trilogy box art for PS4/XBO says it requires content download pic.twitter.com/lmdt9wNgZE

— Wario64 (@Wario64) August 1, 2018
The official website for the collection has also been updated to reflect this. As you can see in the image below,  Spyro 2: Ripto's Rage!, and Spyro: Year of the Dragon are not in fact on the retail disk. They are instead required to be downloaded from whichever online store is on your console.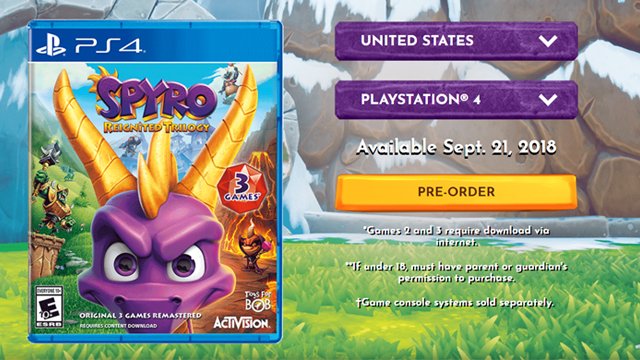 Activision in response to an inquiry about this (via Game Informer) replied:
"The global launch date of Spyro Reignited Trilogy is Sept. 21; and we're excited for fans to play all three reignited games on that day…As with most games today, downloading an update after purchase is quite common. The language on packaging and on the web is to let players know the requirements for Spyro Reignited Trilogy."
This has, of course, angered many fans of the game. Some have been calling this a kind of DRM as the games will be tied to a specific storefront. In addition to that, when servers for the stores eventually shut-down, new-owners will not be able to play the other two games in the series. Some other fans have also been pointing out that this will be an issue for players who do not have solid internet connections. Either way, this is somewhat of an issue for both of these reasons alone.
But what do you think? Should they have made extra disks to accommodate the other two games? Or do you think this is a non-issue? Sound off in the comments below!