This year has claimed yet another battle royale. However, it's not the one you think and a few other games are joining it. The PlayStation All-Stars Battle Royale, Twisted Metal, and Warhawk servers are shutting down on October 25, 2018. The games will still be playable locally on the PS3 (or, in PlayStation All-Stars Battle Royale's case, the Vita as well) but users will obviously not be able to join and host online games.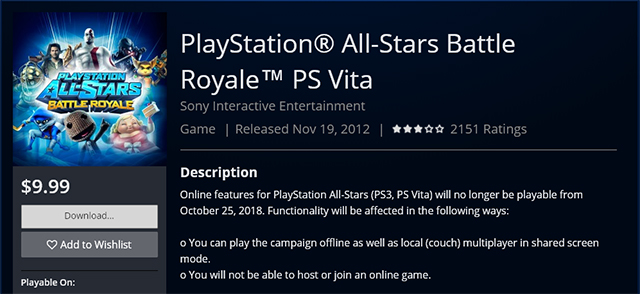 Sony made no official announcement other than updating each's entry on the PlayStation Store to reflect the imminent shutdown. This news came quietly and wasn't until someone on ResetEra noticed and pointed it out.
All three games were some of Sony's first-party online games that spanned a good portion of the PS3's life cycle. Warhawk came out in August 2007 and was bundled with a small wireless headset in an effort to jumpstart the PS3's online community. The Xbox 360, the system that became synonymous with multiplayer gaming at the time, came with its headsets at the time. Since it is an online-only title, this shutdown will mean players will have to use set the game to LAN mode to play it.
Twisted Metal released on the PS3 in February 2012 and was hailed as a return to form for designer David Jaffe, who directed many of the series' entries on the PS1, PS2, and PSP. However, critics saw that "return to form" as more a negative since it was often maligned for feeling like an old game.
PlayStation All-Stars Battle Royale hit both the PS3 and Vita in November 2012 as a cross-buy and cross-play title. It was widely referred to as Sony's answer to Super Smash Bros., which helped it gained recognition but ended up ultimately falling short to that comparison to most people. Developer SuperBot Entertainment cut all ties with Sony the following year and has been quiet ever since after announcing it was working on a new IP.
This news comes just after Sony announced that Drawn to Death, the newest game of the lot, will also be turning off its servers on March, 25 2019. This, sadly, means two of David Jaffe's games will be getting the axe relatively soon. Thankfully, Sony can't somehow turn off the nonexistent servers to the original God of War.