Heavily criticized UK army recruitment ads have called for "binge gamers" and "snowflakes" to join their ranks, with young people also being referred to as "phone zombies," "selfie addicts," and "me me me millennials" in the new campaign. Targeting gamers for their "drive" and "stamina," new posters mimicking the iconic World War I army campaign are now being distributed, informing readers that "Your Army Needs You."
The campaign, which mimics the WWI poster featuring Field Marshal Lord Kitchener, touches on a number of millennial stereotypes in order to encourage recruitment. According to Major General Paul Nanson (via The Guardian), the campaign intends to show how the army "sees people differently" and acknowledges their "need for a bigger sense of purpose," but the end result arguably comes off as mean-spirited, leaning into stereotypes of young people in Britain.
The posters can be viewed below: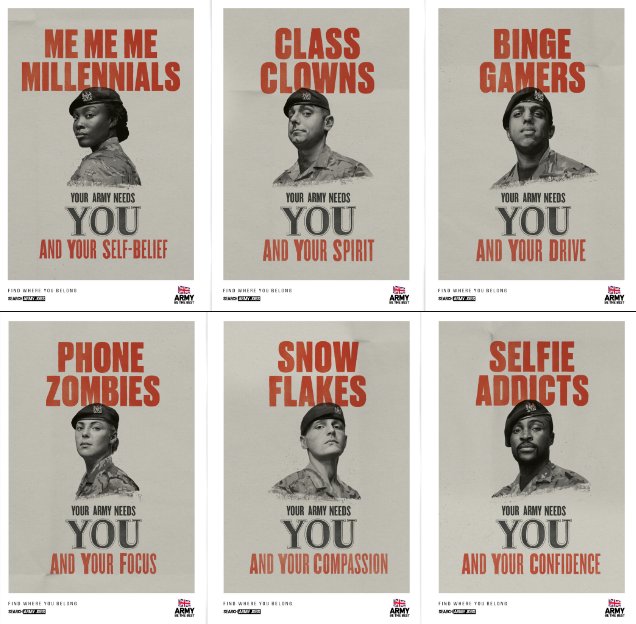 In a YouTube video released as part of the campaign, a young man is shown playing video games into the night, much to his father's dismay. "The Army spots potential. Even if others don't. Your Army needs you," the video's description reads.
The video can be viewed below:
The UK army appears to be taking a leaf out of the US military's book. In 2018, the military was criticized for announcing it would be breaking into esports, launching its own team featuring Call of Duty, PUBG, and Fortnite players. The pull for the army is obvious; take players of games featuring militarized weaponry, draw lines between those games and real-world conflict, and convince those players to sign up for military service.
This move from the US military was widely criticized, and the UK army's new ad campaign is no different. While the army clearly believes that the campaign shows how it sees value in young people who perhaps don't believe they have any, the posters featuring stereotypes of the generation it's targeting come off as cynical.