Destiny 2 has recently updated its in-game credits and it reportedly includes a mysterious new character named Scabretti. What's more, this new Destiny 2 character appears to be voiced by H. Jon Benjamin.
If you're unfamiliar with H. Jon Benjamin, he's an actor with quite a few credits to his name, some of which include voice acting in video games. In fact, he happens to serve as the radio voice in Destiny 2 — and he may well have picked up yet another role in the game as noted in this submission to the /r/DestinyTheGame subreddit. The submission points to a tweet which purportedly shows the game's credits screen and also reveals a new Destiny 2 character — but there's one tiny issue.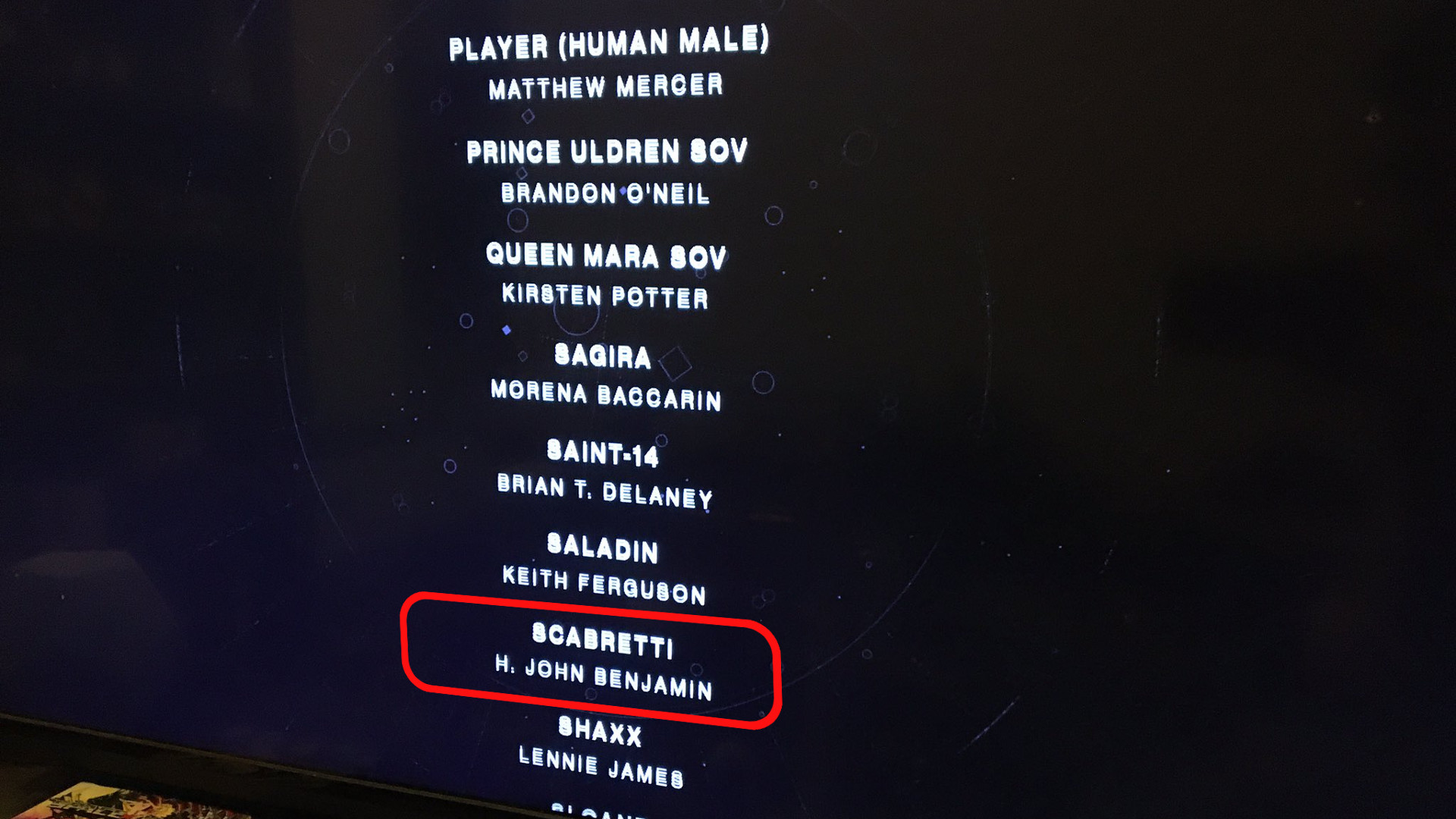 ALSO: Destiny 2 Signal Light: Find the Saint-14 Emblem and Perfect Paradox Shotgun
If you look at the above image, you'll see the character of "Scabretti" is voiced by "H. John Benjamin". However, the actor's IMDB page notes that he typically either goes by "H. Jon Benjamin" or "Jon Benjamin", without the H. The inclusion of that extra letter could be a mistake by the people who inputted the new credits, but it might also indicate that this is a hoax; as such, take this with a grain of salt.
Assuming that this is the genuine credits screen, that leaves one mystery remaining — just who the heck is Scabretti? A cursory search of the Internet turns up basically nothing other than the Reddit submission linked above, and Destiny 2 fans are just as dedicated to tracking lore and characters in wiki as any other game's fanbase. If someone named "Scabretti" had ever been mentioned in a Destiny game ever, it would pop up online — but it doesn't.
For now, the identity and purpose of this potential new Destiny 2 character is a mystery. If this is indeed real, we'll probably find out more about it in the very near future.
Thanks @Bungie. Went to check if Saint-14 got added and anyone el… WHO IS SCABRETTI?! pic.twitter.com/lOn7Bpcl7S

— 「