Brought to you by the NBA and its impact beyond the court. Love, tears, sweat, family, friendship, community, or simply for the thrill of it – THIS IS WHY WE PLAY.
This year's NBA 2K16 has gone bigger than ever before. Beyond improving gameplay elements, the wildly popular MyCAREER has been given a wealth of attention. The result is something that allows you to experience the emotional journey from being drafted into the NBA, to becoming a player that everyone knows about.
 
---
Starting From the Bottom
NBA 2K16's MyCAREER starts you off as a high school prospect where you fight for wins and reputation. In the high school arena you tower over everyone else in terms of skill and potential, so it serves as a tutorial for scoring points and working together with the players around you. After a few games, you'll find yourself approached by college coaches from across the country, each wanting nothing more than to make you a part of their competitive roster. It's ultimately up to you which college you attend, and it'll not only affect where you play, but who you play with. Given that your performance in college will impact your ability to stand out to NBA teams looking to recruit, you'll want to choose carefully.
While playing for a college team the pressure is on to a high degree. Scouts are paying attention to your every move, and with every turnover it feels as though you're becoming less attractive to NBA teams deciding who to pick up in the off-season. On the flip side, with every three-pointer you make, shot you block, and assist you  get, you become more sought after. You will feel the urgency of the moment as you seek a home in the NBA.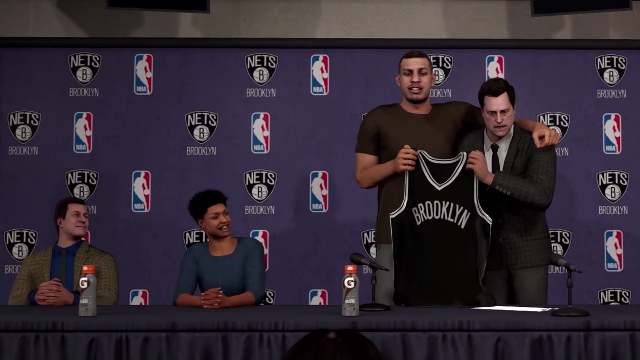 Your hard work in high school and college will have several milestones that celebrate your accomplishments, including NBA Draft Day.
---
After completing a season in college, it's decided that you're going to enter the NBA. At this point your destiny is no longer within your control, and your performance on the court will speak for you. Once draft day hits, you'll watch as real players, such as Karl-Anthony Towns and D'Angelo Russel, are picked up early on. It's a recreation of the real 2015 NBA Draft, but with you as a part of it. During every pick you'll hope that you're next as you sit by waiting for your name to be called.
Once a team that values your credentials comes up in the draft, you'll find yourself finally chosen. It might come early on, or later than you hoped for. Given the number of teams, it's unlikely that it'll be your favorite organization, but that won't matter once you're handed an NBA jersey with your name on the back. You've made it.
Theater Quality Storytelling
NBA 2K16 is the first basketball game in history to feature a fully motion captured story. All the latest technologies that modern AAA story-driven games use were employed to capture actors as they portrayed characters in the story. Their movements, facial expressions, and speech were combined into a single cohesive performance that provides a narrative behind your character. You feel as if you aren't just playing basketball, you are a person with his own family life, friends, successes, and failures. Equally as important, you're a person that has the opportunity to impact the world in a big way.
Directed and written by Spike Lee, it's a story with high attention to detail. Every character has their own personality and traits conveyed through interactions both on and off the court. You can see and hear the nuances of their performance as you interact with them at times of greatness and struggle. There are even times where you'll meet some of the greatest stars in the NBA, including Steph Curry and Anthony Davis, as they acknowledge you. You'll want to perform at your best in games that feature these star players that you looked up to when growing up. You might be the new guy, but so were they not long ago.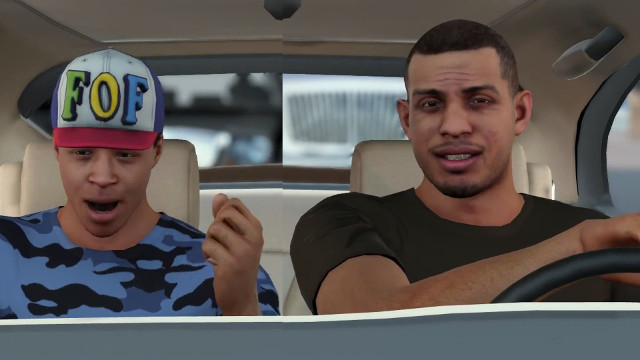 Every cutscene is motion captured and voice acted, making the road to NBA and beyond more tangible than ever before.
---
Between each major moment in your trajectory to being drafted in the NBA and hopefully winning a championship, you'll see how it's affecting your personal life. You'll deal with jealousy and life-changing events, but also receive unconditional support from family that keeps you grounded despite your prolific athleticism.
Your successes extend beyond just being able to play more minutes and being granted more opportunity to hold the ball and make plays in important situations. When you head home you get to see how life changing your NBA career has been. You've been able to bring financial security to a family that has struggled, and influence those around you to perform at their best just like you do. You become a role model and see how your work ethic changes the world for the better.
Making It
Once you've made it to the NBA it's easy to feel as though you've met your dreams and aspirations, but the challenge has just begun. NBA 2K16's gameplay uses multiple mechanics and presentational factors to make the game feel and look authentic.
Controls have been refined since last year in meaningful ways, with new ways to pass, shoot, and call plays. With good timing, you can make mid-range shots enough to contribute to a higher score, but you'll require a wide range of skills to become a guy who can demand the ball on a whim and lead a team to victory. Basketball is a sport that's easy to get into, but offers tremendous depth. You'll constantly be improving as you learn how to prevent great players from putting up points, and perform under immense pressure.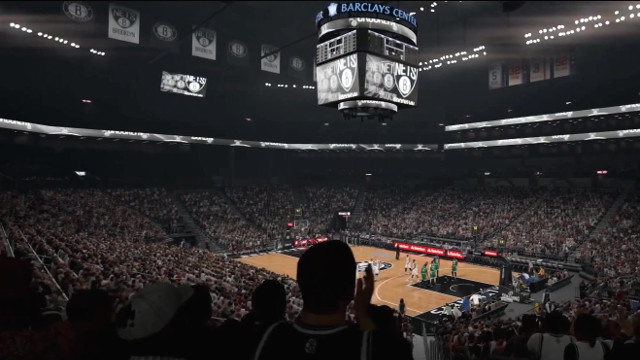 When you step on the big stage, it's time to throw down and let the world know who you are.
---
Every action you make counts. Good decisions, such as choosing to pass off the dribble instead of taking a contested shot or sticking your man after penetration by the other team, will earn you a higher grade. However, you can quickly fall into a lower grade if you don't keep your awareness in check. The most important element is being a good teammate. Basketball is a team sport, and getting everyone on the court involved will increase your chances of winning, and your reward. The grades matter that result matter as they affect how your team and coach perceive you, as well as how many MT Coins you walk away with at the end of a game.
Due to the level of realism that NBA 2K16 provides, it's a challenge to put up points and win consistently. It requires practice even from franchise veterans, to a point where it isn't a bad idea to head to practice to get your shot timing down and perimeter defense in order. Ultimately, you'll need a strong skill set to be a leader that inspires others.
The Reward
With your success comes a variety of rewards. For one, becoming a starter is a major milestone. As you play more minutes you can achieve better stats and increase your value on the market. It isn't easy, and at times you'll have to carry the team in the last moments of a game, but the excitement produced by the pressure is addictive.
In addition, you'll earn MT Coins that can be used to purchase a variety of items and perks. The most popular option is to increase the stats of your character, making him more potent on the court. You can also buy clothing that not only shows up when you're outside the arena, but also in cutscenes. Lastly, you can buy animations for your character to make his style reflect your own. All these elements apply to when you take your MyPLAYER online to play with and against other gamers, so your progression is meaningful on several fronts.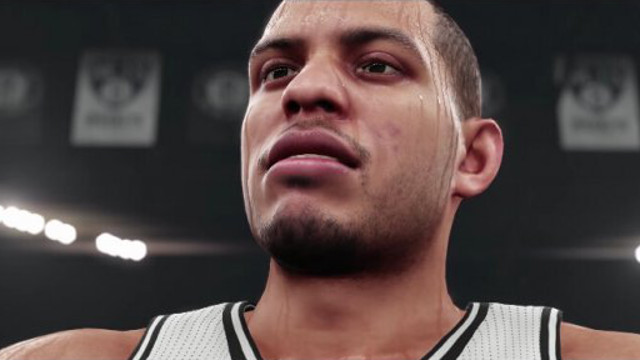 Success won't come easily, but the rewards are worth the hard work.
---
Provided you become a dominant player in the NBA, you can negotiate your entry onto the roster of any team you desire. Once you make your way onto a team with great synergy, a memorable career is inevitable. This career can come with its own personal achievements, such as being voted into the All-Star game, Dunk Contest, and even the Three-Point Contest. In addition, you can become the league MVP if you work hard enough.
By the time you earn your first championship, you'll look back and see a journey unlike anything the sports genre has ever seen before. Your legendary story began in an ordinary way with you playing in high school before transferring to college. But the outcome wasn't so ordinary. Your hard work and perseverance paid off with a lasting legacy that won't be forgotten.