As part of the Overwatch Anniversary event, Blizzard introduced 24 new Overwatch Dance Emotes, one for each of the game's 24 heroes. Each of these are "Epic" rarity, meaning they are relatively easy to unlock. The catch? All Overwatch Dance Emotes are exclusive to the Anniversary Event, which will end on Monday, June 12. This means that, come Tuesday, players will ostensibly never be able to unlock any of these emotes if they hadn't already over the weekend.
In an already-contentious event, this issue, for whatever reason, is picking up the most steam. Players have recently created the hashtag #FreeTheDance to demand Blizzard unlock the dance emotes, and make them available in regular loot boxes. This hashtag appears to have been started by the popular YouTuber Dennis Duhamel, creator of the ForceGaming channel, and it has been picking up a decent amount of steam since.
Don't hold these amazing Dance Emotes hostage #Overwatch @PlayOverwatch
Blizz PLZ #FreeTheDance pic.twitter.com/SHNyyJJ6Ga

— Force (@ForceStrategy) June 6, 2017
Unfortunately for fans using this hashtag, Blizzard has made no indication that the new Overwatch dance emotes will be available after the event. In fact, they've explicitly stated the opposite, responding to a different player on Twitter saying "The dance emotes are Overwatch Anniversary event items."
This is just the latest development in an on-going controversy that started as soon as the Overwatch Anniversary Event launched, with players complaining about the overuse of the Legendary rarity, the lack of permanent new content, the lack of a dedicated gamemode for the event and several other issues. Every Overwatch event before the Anniversary Event has had a dedicated game-mode. The Summer Games had Lucio Ball, Halloween Terror had Junkenstein's Revenge, Winter Wonderland had Mei's Snowball offensive, Chinese New Year had Capture the Rooster (later ported to a full game mode), and Uprising had the co-op story mode also called Uprising.
Because of this, players had nothing else to focus on besides the content. So, while there were only marginal changes to the way loot was distributed in this event, people were noticing it more because new loot was essentially all the Anniversary Event brought. Since every event skin for the Anniversary event is Legendary, that means they're three times more expensive and much less likely to be dropped in loot boxes.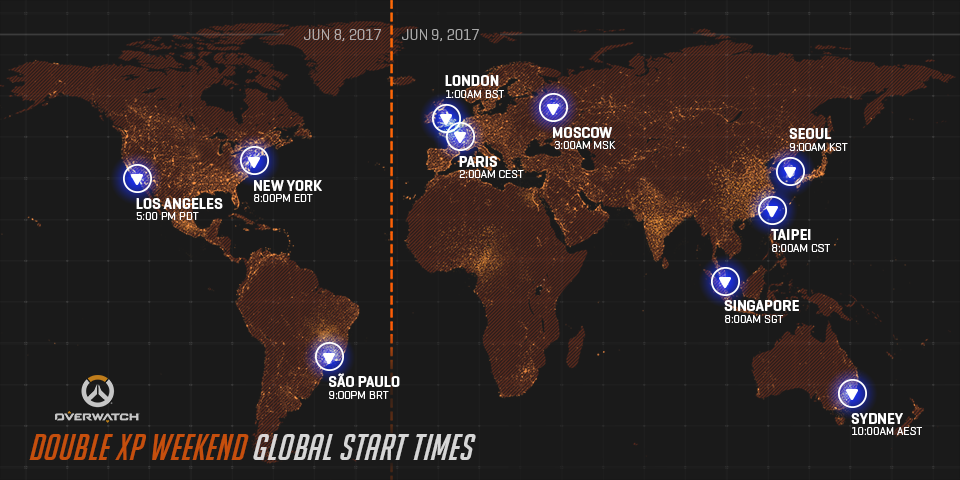 It is important to note that Blizzard has implemented one of the most-requested features, temporary though it may be, to address loot box complaints, and it will also go a long way toward unlocking those coveted Overwatch dance emotes. That is the announcement of a double-experience weekend starting on June 8 at 5 p.m. Pacific Time and going until Monday June 12 at 11:59 p.m. Pacific Time. This is a full five days of time to earn twice as many loot boxes without having to buy them.
As Blizzard explained in their announcement post, "This bonus will apply to nearly all sources of in-game XP, including time spent in a match, completing a match, completing consecutive matches, winning a match, backfilling a match in progress, [and] earning medals."
Most players will need 20,000 XP to level up and earn a loot box, and you can typically earn 2,000-3,000 per average Quick Play match, which usually takes around 10-20 minutes. A Competitive game will earn you much closer to 5,000 XP per match, but they also take around twice as long as a quickplay match. So, you can generally earn a loot box every 8-10 games of Quick Play, which will take around one to three hours. With experience being doubled, you can easily pull this off in under 1.5 hours and only 4-5 games, and that's a big bonus.
Of course, this was announced after much complaining from the forums, leading many to believe that this was merely a response to complaints. Of course, there's no evidence to suggest that this wasn't necessarily Blizzard's plan all along, and even if it is true, developers responding to community feedback is not a bad thing.
Still, though, not everyone is convinced or consoled by this, with many still asking for the Overwatch dance emotes to become permanent items. In fairness to that point of view, other ubiquitous emotes, such as the sitting and laughing emotes that almost every hero has, are available in normal loot boxes, and no other Overwatch event has included anything quite like the dance emotes, so no one necessarily minded before when special skins or other emotes were only temporarily available.
There are still five days before the event ends, plenty of time for Blizzard to respond to, in more detail, some of the requests at hand. Jeff Kaplan even weighed in on this issue a week and a half ago, posting in the forums "While I don't have any immediate action items to report, I thought it was important for you to know that we are listening."