Speedin' on down the Highway to Heck.
It seems that somewhere out in the Midwest, a cop – a sad, lonely, depressed cop – won a $1,000,000 lottery jackpot. Now, what's a lonely cop out in Nevada going to do with $1,000,000? Why, host a speeding competition of course!
Speed Busters, the newest racing offering from French diva de la bizarre UbiSoft, is one of the most refreshingly wacky racing games to come out in a very long time. It successfully mixes taut racing action, wild track design, and enough gimmickry to make an old jaded gamer like myself leap and frolic among the lilies with the nubile water nymphs once again.
The unconventional idea of the game is that you must try to be the fastest car while passing the cops in order to get cash. There are 6 tracks (and one bonus), 6 cars (3 from the '50s, 3 from the '90s, one bonus), and about 50 "animations" throughout the game. Each of the tracks is completely unique, not even sharing a single texture between them. The animations include a host of strange and delightful characters, from King Kong to a T-Rex to to Bruce, the shark from Jaws. You'll also find giant squids, sinking ships, and exploding manhole covers…and that's just scratching the surface. The animations add comedy, thrill, and originality to the game and will have you shouting out "That's… So… Cool!" as often as your vocal cords permit.
There are 4 ways to play. Arcade, where the cop/cash element is gone, lets you play on any track and you have to deal with checkpoints. Time Trial has no checkpoints and no competition – just beat yourself silly if you can. Championship allows you to earn money by setting speed records, unlock new tracks, and upgrade your car. Multiplayer is…self explanatory.
The graphics in the game are good. The game features an updated version of
the engine used in UbiSoft's excellent F1
Racing Simulation (which itself uses an updated version of the POD
engine, so Speed Busters is an extremely updated version of POD).
Overall, the cars and scenery are very nicely detailed, the special effects
are cool, and the lighting is good. The textures have a slightly grainy feeling
to them though, and the objects in the game have a somewhat low polygon count.
The graphics do complement the game well enough though, and the game runs very
fast on a decent system (3D card required).
Also, damage plays a big role in the game. Although the damage is pre-scripted (unlike the deform meshing found in Viper Racing), you can trash your car in almost any way you can think of. Windshields shatter, trunks flip open, and engine compartments are compacted. This damage affects the game in 2 ways. If you get down to 0% body you lose the race. Further, your tire damage directly affects handling. It can be very tough to manage to avoid getting sliced in half by a swinging ax or crushed by a boulder if you've got a flat.
The design is excellent. Each one of the 7 tracks feature the most devious twists, turns, shortcuts and jumps, and they all have a superb feel. The animations, of course, complete the equation.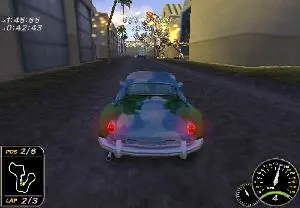 The racing itself, even without the animations, is very compelling. You race against 5 other cars through these outlandish environments. You can use nitro rocket exhaust boosters to pick up the slack if necessary. The enemy driver AI is very tenacious as well, providing for some challenging races.
Control is good with either a keyboard or racing wheel. I actually found it easier to race with the keyboard or a gamepad. This is a pure arcade game, and those controllers usually work better for the genre. I also found myself spinning out more with the racing wheel. Of course, playing a racing game with a wheel is more fun…
One thing that is a pity is that you can only have 6 players in multi-player, whereas 8 is usually the bare minimum. However, UbiSoft does facilitate Net play over its free gaming service.
There isn't really anything wrong with the game, but it doesn't seem to have the polish of true excellence that vaulted games like NFS3 and Redline Racer into the 'A' range. Frankly, this game is a bit too goofy for it's own good.
Still, Speed Busters is one truly wild, refreshing ride. Fans of arcade racing who have been troubled by the lack of lighthearted, gimmicky, arcade racers on the PC can rejoice at last. Finally – a PC racing game that the PlayStation bums will be salivating over.