The classic tale of a boy and his pink bunny hippo…
You are Knight, a strange, gimpish stick figure of sorts. You're out doing
your errands, when what should appear before you? A pink, freaky thing by the
name of Baby. Now you must return Baby to his mommy and fight the evil in the
land. Geez, if you're sold by that premise, you're either 5 years old or someone
new to the light of day.
Baby,
best described as the bastard child of the Energizer Bunny and a Hungry-Hungry
Hippo, is actually the most interesting thing about Guardian's Crusade.
In the opening movie, which isn't that bad, a lame-ass stork drops Baby after
being struck by lightning. Unlike all those Warner Brothers cartoons, where
the stork has to bring the baby back to its real mother, that pitiful job falls
into your hands. Where's Elmer Fudd when you need him?
Baby is supposed to be something like a virtual pet for you to raise during
the course of the game. You can feed him a snack, like a tasty bug. You can
tell him to go fetch, and he'll bring you back something. Then, you either praise
him, or yell at him. The options are limited and Baby will change slightly based
on what you do. If you really want a simplistic virtual pet, go to your toy
store and dig in the bargain bins– they're bound to be full of unsold Tamagotchi's
.
How about some magic? Rather than summoning a great god or guardian force (like
FF8) from the depth of some other world, you command the great and awe-inspiring…
TOYS! And not just any toy, but LIVING TOYS! Riiiight. In battle you toss these
toys into the fray, replacing the magic system found in almost all other RPG's.
While it is a challenge to find all the toys hidden in the game, the idea of
battling with toys is, well… childish and not much fun.
Music? When you walk into a cave, rather than music that sets a dangerous mood,
you hear… the musical styling of Kenny G. Now, that is pretty frightening
also, but not in the right way. The sound effects and music sound like they
came from the land of bad generic Midi's.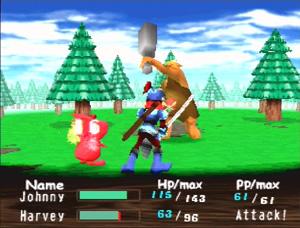 The
graphics reek of a first generation PlayStation title: little shading, blocky
characters, few effects. When you enter battle mode, the screen goes into spasms,
transporting you into a bland battlefield against choppy polygonal enemies.
There's even a stall in the game after you win.
Sometimes you can overlook graphics and sound for the story line. Unfortunately,
there isn't much of that in here either. Just bring Baby back to Mama. A good
RPG holds you to the game; the story as depth and development. In good RPG's,
after a few hours of play, you want to keep playing because you want to find
out what happens to your character. This just isn't the case in Guardian's
Crusade.
In one village from the game, you must choose whether or not to throw a fight.
Could that be a sign of nonlinear game play? Not likely. When you actually face
your competitor, it doesn't matter which option you chose, he immediately beats
the crap out of you. Like others of its genre, Guardian's Crusade suffers
from being linear, and the course of the story is totally fixed. You can only
continue in the game after talking to everyone in each town, finding that "trigger"
person who will set the next event to start. Yawn. Also, in each town, you simply
upgrade your weapon– no customization or strategies to use in weapon selection
and creation.
The translation from the Japanese also could have used more work, with plenty
of misspellings and inaccuracies.
The only people who might like this game are young kids who are starting out
on their very first RPG. They're probably the only ones who can overlook the
faults. The fairy companion offers hints that will help them get through the
game, nothing is ever very difficult or scary, and the battle interface offers
an introduction to RPG's, ensuring future generations of addicted gamers. Still,
even kids deserve better games than this.
If you're a serious RPG gamer, or have been on the planet for more than eight
years, stay clear of this game. It's destined to join its Tamagotchi brethren
in the discount pile of toy stores everywhere.
Fun for the very young

Lack of story

Lousy graphics

Totally linear

Living Toys? Boring.