Should've left it at Jeremy McGrath Supercross World.
Jeremy McGrath's Offroad pratically writes itself: a downloadable racing title featuring offroad vehicles and has a legend of motocross to lend an air of importance and appropriate branding. Instead of skewing toward an arcade or a technical racer, it attempts to ride somewhere in the middle of the road—to its detriment.
That doesn't mean Jeremy McGrath's Offroad is unplayable or unsatisfactory. Players can expect to go through the standard procedure of choosing a buggy or rally racer, picking a skin and perhaps several upgrades, and then speeding through an unpaved dirt track for the best time and first place. As usual, passing should be done aggressively and turns should be taken tightly. A narrated co-driver will call out upcoming turns, like a real rally race, with hairpin turns usually requiring some precision with the e-brake.
The trouble, though, is that nearly everything is predictable. Career mode begins with lower-powered rides and ends with rally cars and trucks with higher horsepower. There isn't much beyond basic racing here, and with only six tracks that don't differ much apart from the scenery, they become worn-out by the end. The arcade mode and eight-player online mode are likewise obligatory throw-ins.
The only interesting note is that players earn experience points for passing cars, drifting, and otherwise performing well. Setting the difficulty to Pro awards a 150% XP bonus, which counts a lot toward upgrading a vehicle.
Complaining about presentation and physics might seem overly critical for a $10 game, but Jeremy McGrath's Offroad feels like a PS1 title. No matter which vehicle you choose, its tires never seem to grip the road, and turning feels like a Slip 'n Slide. The sound effects for drifting hard on the dirt are strangely absent, and everything from the roar of the engine to the blip between menu screens is painfully weak.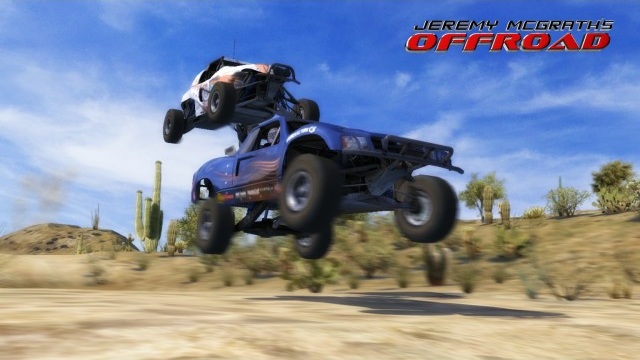 Worst of all, Jeremy McGrath voices tips that appear during loading screens. They're fine the first few times, but they can't be disabled, so the same tips repeat over and over again. I don't know Jeremy McGrath very well, but I already want him to shut up.
The best quality of Jeremy McGrath's Offroad is that it's functional. It may even be slightly enjoyable for a few hours if you're not picky about downloadable games. Otherwise, I recommend spending a little more than $10 and catching DiRT 3 on sale.
Code provided by publisher. Review based on Xbox 360 version.
Earning XP while racing

Does the basics all-around

Floaty controls, poor traction

Weak sound effects

Boring presentation

Must mute Jeremy McGrath