Travel back in time to fight for the future and save the past… or something.
Like many franchises before it, Call of Duty has become a lumbering juggernaut, susceptible to both overzealous fans and dismissive newcomers, as well as the thought that someday… we will all die. How could Treyarch and Activision ensure that their follow-up to the insanely successful Black Ops with a satisfying extension of that Cold War opus?
Clearly, changes needed to be made, across the board, to keep the fan base hooked for just one more level, while also providing a compelling campaign. Could Treyarch pull it off or is the fate of this juggernaut brand a little too black?
Right upfront, Black Ops II locks players in for the most varied Call of Duty campaign, ever. That's not saying much, given every previous title was a linear roller coaster, largely uncomplicated but enthralling in its twists and turns, delivering players from point A to point B. This is not the case in Treyarch's sequel. Players can fail objectives or take responsibility for whether key characters live or die. The choices you make will affect the final outcome, reminding players of Mass Effect's branching character paths.
This mechanic of choice is well-implemented here, but players will largely find themselves unconcerned and unaffected by the conflict here. In fact, it's possible to feel fatigued after it's all said and done, notably because many paths revolve around series hallmarks and repetitive tasks, like "shoot these guys," "go here," and "tap X to overcome the killer nano robot infection."
Still, Treyarch's moving and shaking here is admirable, well-timed, and much needed. They'll never be considered the "A-team" of Call of Duty without putting a significant spin on the easily stagnate first-person shooter genre. Unfortunately, Black Ops II isn't the game to put them over Infinity Ward or many of their industry competitors. Several moments of poor execution and confusion break the campaign experience from truly taking hold.
In one early mission, you're tasked with rescuing your ol' pal Woods. As you throw him over your soldier, the awkward positioning of these two character models makes it seem like the player is riding Woods like a sideways horse. Black Ops II also falters when you take the reigns of an actual horse and zigzag around a deadly battlefield completing objectives. It takes too long to get from one objective to the next, and more often than not, you will be bored while in transit.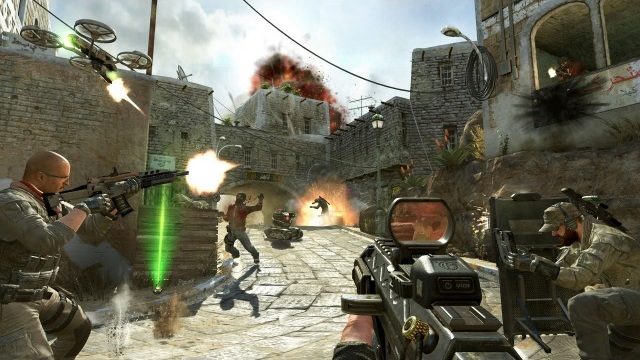 The other end of Treyarch's sweeping changes affects the way players equip their multiplayer soldiers. The Pick 10 system allows you to load up with a mixture of 10 perks, weapons, or attachments. Want two attachments on your primary gun? Trade in your sidearm or grenade. Want to run around the battlefield with 6 perks? You'll have to go with just your knife, but it's possible.
The Pick 10 is a step in the right direction, but the immediate experience leaves multiplayer feeling unbalanced and weighted in favor of experimentation. That's a good thing, but Call of Duty's always bloodthirsty horde of diehard fans will quickly boil the system down to a few playable options. This remains consistent with Treyarch's track record.
The original Black Ops eventually proved unplayable if you weren't willing to learn and exploit the overpowered Famas rifle. I see similar things in this sequel's future, no matter what platform you're playing on.
Zombies mode also returns to add value, whether you get into the secret subplots, like screwing around cooperatively with friends, or will remain completely ignorant of the joys within (like me). It's comforting to know that the replay value of Call of Duty's teamwork mode is available to back up the $60 price tag.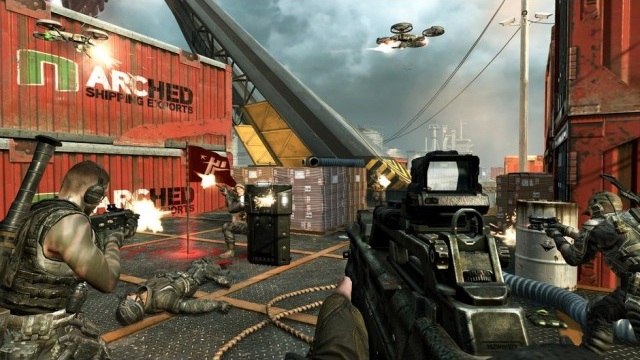 I say that because Black Ops II takes one step backward for every step forward. Embracing the same minute improvements the simulation sports genre has, Treyarch makes an argument for advancement in the series but doesn't seal the deal in execution.
So if you're looking for an excuse to cave and buy yet another Call of Duty? Go ahead! There's enough new to explore and enjoy. But if you're tired of Call of Duty, that's what you're gonna get here, so don't bother feigning surprise when you're disappointed yet again.
Based on Xbox 360 version. Copy provided by publisher.
Branching story paths

Muddled execution

Same ol' objectives

Facial animations, action sequences

Sound design

Pick 10 system

Exploit-abusing community