Off the grid.
It's been a while since I played a fun racing game, and perhaps it owes something to the fact that Grid 2 feels bizarrely more like a combat or variety show-style racing game at times. Grid 2's plot (yeah, a plot!) is that race entrepreneur Patrick Callahan sees promise in a street racer (yourself) and decides that you're his ticket to helping him build his World Series Racing franchise. The idea is fun and makes for a good narrative to hold together the game's style.
Grid 2 is made up of a series of different race styles and types, each with different objectives. There are standard races—most of which take place on city streets, though you do occasionally find your way onto a race track—eliminator rounds, time attacks, car challenges, and event challenges with their own specific goals. The story holds this together loosely by having you as the driver having to impress local racers around the globe in order to get them to join Callahan's organization, which ends in a series of races of different types leading towards a championship event for each season (that must be unlocked by performing well in races to achieve a certain number of fans/experience).
The variety is really fun, though it does start to wear thin as you learn the tracks and curves, and the challenge begins to fade later in the game; with even some early races feeling way too easy. Grid 2 is an arcade racer, and while the cars feel a little more realistic than most, its best attribute is the illusion of speed that it creates (even if it turns out, in playback after the race is over, you were driving at a snail's pace). Grid 2 always feels fast, and any major spin-out or collision can be negated by using the game's flashback feature—introduced in the original Grid, and now heavily copied by competitors.
The biggest problem in Grid 2 is that the AI is often ridiculously aggressive. The worst example of this was in a race type called touge where winning is determined by either who crosses the finish line first or manages to get 5 seconds ahead and where you are disqualified if you make hard contact with the other racer. In the strange way that only happens in video games, the AI aggressively crashed into me, and I was disqualified! The AI's aggression reminded me heavily of Burnout, but without the fun "getting to annihilate your enemies" part. 
Grid 2 clearly has had some money thrown at it; it's not every game that has bumps by ESPN's SportCenter between its seasons. The aforementioned feeling of speed is helped by the clean environments and how excellent the cars look and feel. It also has impressive realistic car damage that inhibits the performance of the car the more heavily damaged it becomes. Luckily, this feature can be turned off as well, if you just wanna watch the thing break down as the AI smashes into you continuously.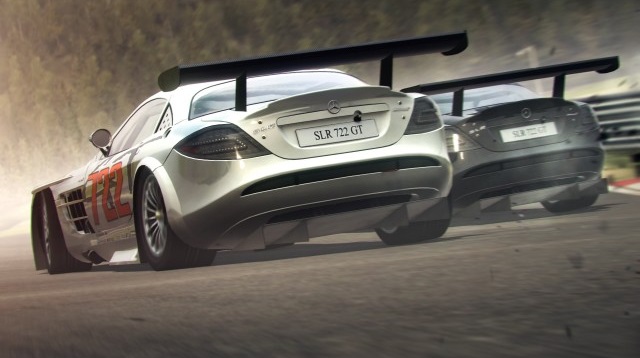 In multiplayer, Grid 2 takes the experience online, earning experience and money purchase cars and upgrades. It's not fundamentally that different from the career mode, though. Perhaps the largest difference, aside from the races including live opponents, is that hitting the flashback button simply places you back on track a few places back from where you had been originally, rather than reversing time. This makes it a little bit more of a precision game in multiplayer, which is hardly surprising. Having relied so heavily on being able to erase my mistakes, I preferred the racing of the career mode, in spite of its issues.
Grid 2 is a fun racing game that has an unfortunately aggressive AI and begins to feel a little stale about halfway through. It's still a strong arcade racing game that's more often fun than frustrating—even if you find yourself spamming the flashback button when clubbed by aggressive drivers who blast you into a spin or are a little too late or early on setting up a drift. It's a fun experience with varied race types, even if it loses some of the exhilaration later on in the game.
 
Copy provided by publisher. Review based on Xbox 360 version. Also available on PS3 and PC.
Impressive feeling of speed

Some races are too easy or stale

Strong variety of race types

Solid visuals

Sometimes overly aggressive AI

Narrative surprisingly holds career together