TURTLE BEACH RECON 500 REVIEW. 
With the Recon 500 headset, Turtle Beach is aiming to deliver a versatile audio solution that can be used reliably across all modern gaming systems at a price that won't break the bank. After testing the Recon 500 with PC, PS5, and Nintendo Switch, it's time for the GameRevolution review and verdict.
Bang for the buck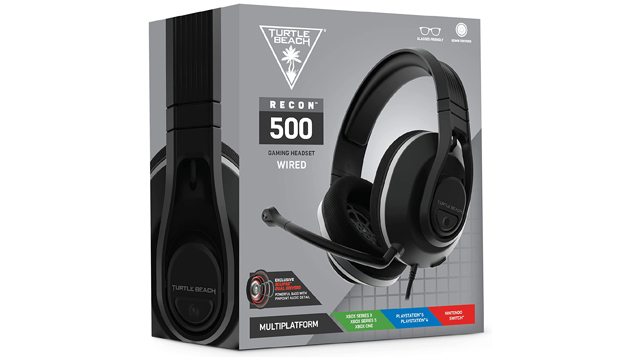 For lower-priced tech, I'm always extra attentive about the unboxing and first impressions process. With the Recon 500, the packaging is still premium and well put together. In the box, there's a quick start guide, Turtle Beach sticker, and the headset itself.
First impressions of the materials are that there's plenty of plastic being used, but also a strong metal frame in the place where it matters most: the headband. This provides a good combination of lightweight materials and a robust design. So long as you're a careful user and aren't frequently sitting on top of your headset, I'm confident the Recon 500 should last.
Buy the Turtle Beach Recon 500 on Amazon here.
The Recon 500 is also reasonably comfortable. At the time of review, the summer heat can make wearing headphones for multiple hours a real burden, but thankfully this headset avoids heat-generating pleather for a still-soft, but more breathable, earpad material. The light weight of the build also sits easily on the head and I didn't feel any discomfort throughout testing.
3.5 mm is all you need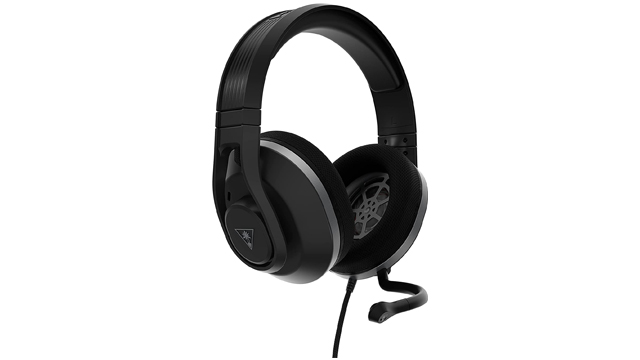 The reason for the Recon 500's versatility and compatibility across so many platforms is not some crazy new technology that Turtle Beach has just come up with. No, it's just a simple 3.5 mm jack that can plug into a wide variety of devices.
Outside of the extreme low-end, modern headsets have moved away from 3.5 mm in favor of USB. USB provides extra power for those that demand bigger volume, in addition to the potential for software support on PC.
Premium gaming headsets using USB might make it seem like 3.5 mm has died a sudden death in this market, but the Recon 500 is here to prove that wrong.
Plugging directly into the PS5 controller provided plenty of volume for me, as I kept the slider at 70-80% for casual games and turned it up to 90% for competitive shooters where hearing enemies is key to winning. Ratchet and Clank: Rift Apart sounded terrific and dialogue was rich, while Call of Duty: Black Ops Cold War was nice and balanced, with clear, but not overbearing bass, and a mix that didn't muddy footstep noise.
The Recon 500 also performed well on Nintendo Switch. Though some games on the system can suffer from poor baked-in audio quality, like The Witcher 3 and Outer Worlds, first-party titles like Mario Odyssey and The Legend of Zelda: Breath of the Wild are a treat.
On PC, the experience was also solid. However, it's worth pointing out that users should absolutely be plugging the 3.5 mm jack into the rear PC port, forgoing the convenience of the front connection unless absolutely necessary. I still use 3.5 mm on my daily driver headphones, as I go through an audio interface. This is yet another use case where 3.5 mm succeeds over USB.
Combining the essentials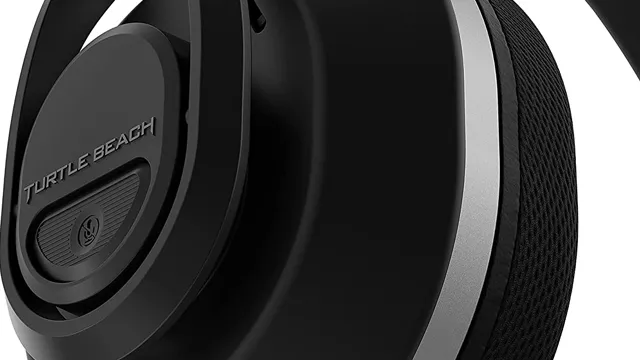 I've never been a big user of surround sound, so the stereo limitation of the 3.5 mm connection isn't an issue for me. The Recon 500 has clear directionality of sounds coming from the left and right, making them great for gaming. Turtle Beach is using "60 mm Eclipse dual drivers" which split the output of highs and lows. While I wouldn't say they are game-changing, they certainly are an improvement over the other 3.5 mm headsets I've used.  The soundstage in particular, when you consider this is a closed-back design and powered by 3.5 mm, is surprisingly wide.
What makes a headset a headset is the microphone bundled with the headphone speakers. I found the Recon 500 mic to be perfectly serviceable for chatting with friends, though it's definitely not suitable as a dedicated microphone for livestreaming on Twitch or anything like that. Keep it to the game chat and talking with friends and it will suffice. Turtle Beach's "TruSpeak" noise-canceling tech does help to cut down on background noise, so you won't be annoying teammates as much.
While I'm happy to see a mic mute button, it is a little large. While that's good for finding it quickly in a pinch, it's a bit detrimental to the overall aesthetic. With that said, I'm a fan of both the stealth black and white camo colorways.
Turtle Beach Recon 500 Review: The final verdict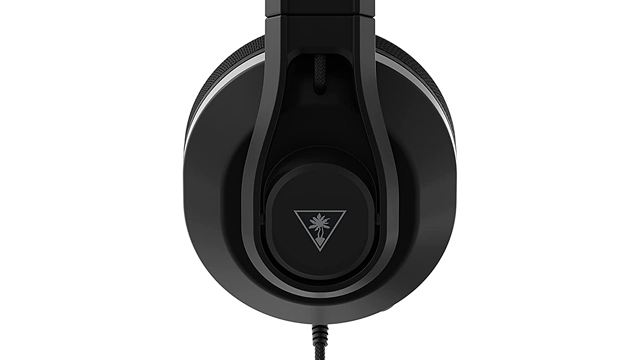 At $79.95, the Turtle Beach Recon 500 headset delivers clean sound that isn't corrupted by overbearing bass or treble, a solid mic for communicating with teammates, and a flexible connection in the form of 3.5 mm. It's also very comfortable, making for a combo that is often tricky to find at this price point.
My very first gaming headset was a budget pair by Turtle Beach that gave me many years of use. It's good to see that the company is continuing to deliver dependable products for the next generation of gamers with the Recon 500.
---
Recon 500 review unit was provided by Turtle Beach.