Treyarch added the infamous Zombies mode to their Call of Duty series on a whim, but it paid off big! Thanks to immense popularity, what once was a simplistic zombie-slaying mission has now turned into a complex mini-game complete with unusual characters, a retro environment, and of course, legions of zombies. In Call of Duty: Black Ops III, zombies are under the control of a malevolent mastermind in a nostalgic noir storyline that's completely separate from the main game.
The story takes place sometime in the 1920s and follows the exploits of four characters: a deadly pugilist, a dirty cop, a selfish stripper, and a killer magician. All four of these characters are quick to sacrifice their morals in order to achieve their goals. Unknown to them, a mysterious stranger with a hidden agenda is watching their every move. This stranger gathers them all together and unleashes a horde of zombies that seem to come from all directions. It's up to the displaced foursome to band together and slaughter the undead in various parts of the city if they want to survive.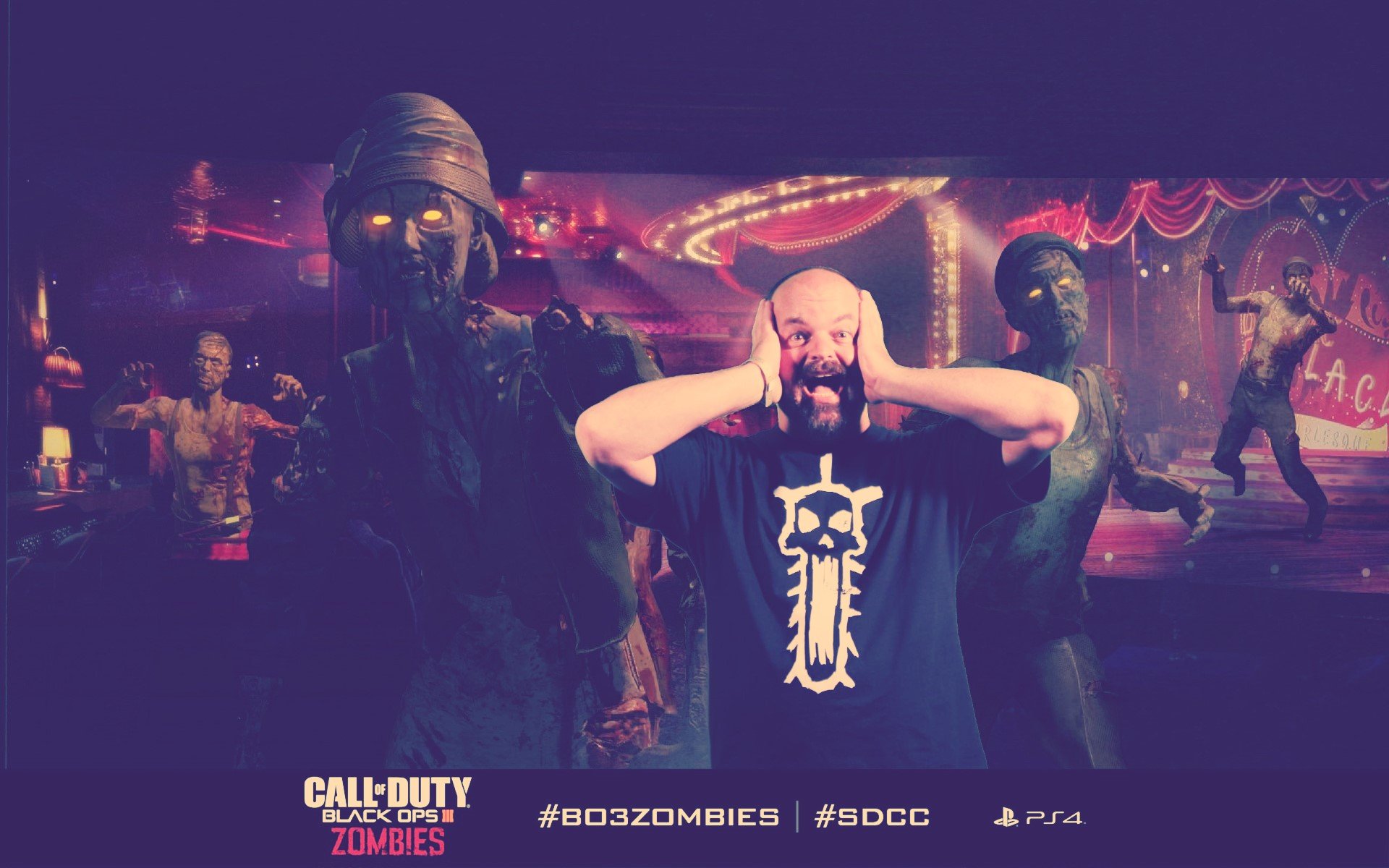 So to promote zombie mode, Activision set up a cool Zombie Escape Room Experience outside of this year's San Diego Comic-Con. It begins with an entrance into the tent where women dressed as 1920s flapper girls have participants sign a liability form before they're ushered into the main room. This room has some minor retro décor, and a trailer for zombie mode is shown. Afterwards, gentlemen donned in old-school suits and authentic fedoras warn participants of what's to come, which is followed by separating everyone into two groups. Each group enters a room, where the doors are locked behind them and the scary fun begins!
I entered the escape room with around a dozen other members of the press, and it was extremely dark except for the illumination of a few antique lights. Scanning the room, I noticed that it was filled with early 1900s items: an old chair, a wooden piano, a cool fireplace, a bookshelf with a few books, a desk with assorted items on top, a window, and an old box with a thick metal chain wrapped around it that was sealed with a lock. Everyone wandered around not knowing what to expect. Some took pictures while others talked among themselves.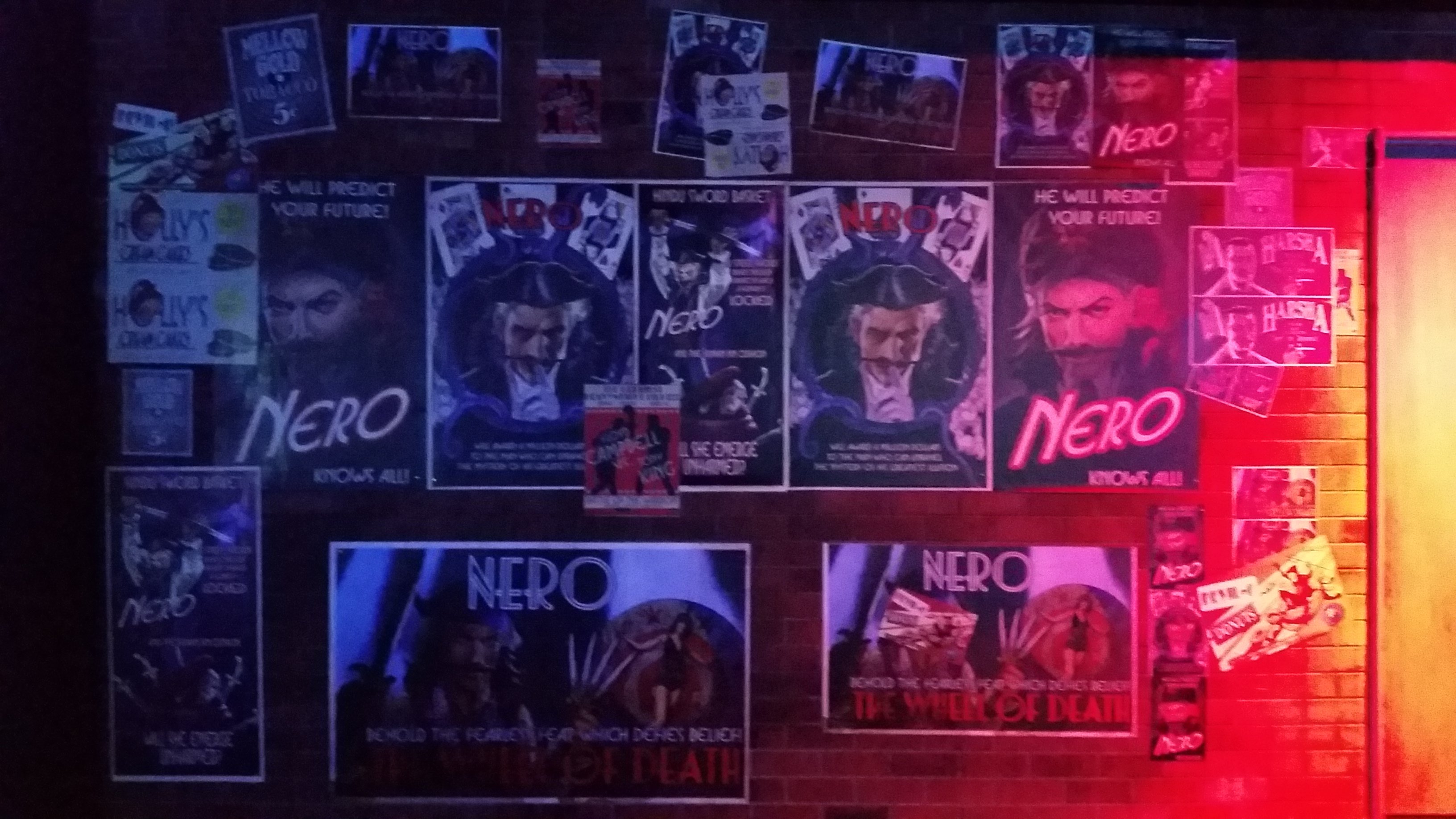 Then a loud voice boomed through a hidden speaker that said we had eight minutes to solve a riddle before the zombie horde would be unleashed. The voice told us that we had to find a secret box, and that the only way to survive is to find a mysterious item and place it in the box. Malevolent laughter followed, and he periodically gave us hints. At one point, a woman was standing in front of the fireplace, and she let out a deathly shriek as a zombie burst through the wooden slats that covered the base of the fireplace and grabber her leg. Then another zombie burst through the window and started reaching in to grab whomever she could.
These zombies really amplified the intensity of the situation, and people were scrambling around trying to figure out the riddle. Only when we all started working together could we find the code to open the lock, grab the boxing gloves inside, and place them in the box that had smoke billowing out of it. This unlocked the back door, and everyone rushed out and breathed a sigh of relief. Even though I knew this whole experience was fabricated, my heart was still racing. Before I left, I took advantage of a cool photo-op against a green screen that places participants among zombies.
I really liked the odd premise of slaying zombies in a retro-themed storyline, and I can't wait to play Call of Duty: Black Ops 3 Zombies when it comes out in November. For those who can't wait until then, the beta will begin on August 19th for anyone who pre-orders the game.