Feel that breeze.
Forza Horizon attempts to do what Test Drive Unlimited 2 did with only partial success: create an open-world driving title with a robust online community. On top of that, developers Playground Studios in conjunction with Forza's mainstay developer Turn 10 Studios want to prove that an open-world racer can exist without sacrificing technical depth and difficulty. It seeks to combine the freedom of the Colorado landscape and the respectful devotion to the car.
Set around the fictional Horizon Festival, a place where participants drive all the way to Colorado just to show off their livery, the player is challenged to achieving mass popularity. This is done mainly by competing in events that begin on the festival ground themselves, with added experience and popularity for upping the difficulty and turning off assists, but a large portion of popularity points will be earned by performing slick maneuvers on the asphalt as you explore the arid landscape. Similar to Burnout's mini-reward system, you can gain small popularity boosts for drifting, smashing into objects, and combining tricks together for a multiplier.
The same goes for merely driving on roads you haven't touched, and from the "4/206 Roads Driven" notification that popped up on the screen, it would seem there's a lot to ground to cover, literally. If you ever get lost, the GPS mini-map can guide you to your next location. By using voice commands with the Kinect, the familiar racing line will appear on the road to give you the best path to your destination. It also seems that you can fast travel to any location you've previously discovered.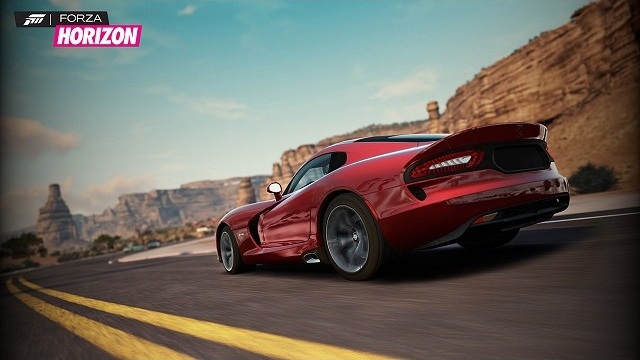 The festival grounds, which look spectacular at night with all the lights, serve as the general hub for all of the modes, including a station of modifications, upgrades, and online events that consist of races on off-road paths or asphalt (or something in between) as well as returning playground modes from prior Forza titles. It looks as though every single-player racing event can turn into a 8-player multiplayer racing event. In between all of the civilian cars on the road, you can also initiate challenges to AI opponents freeroaming the landscape. You can then compare all of your stats with those in your car club or friends in online leaderboards.
Forza Horizon is expected to release October 23, 2012.